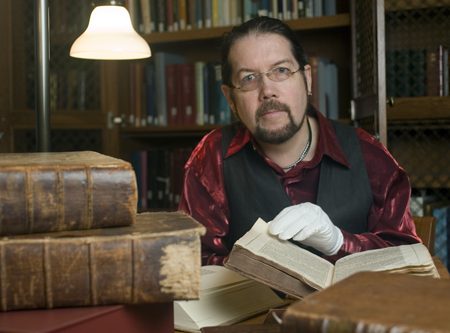 Last year, the publication of "Thomas Middleton: The Collected Works" reincarnated the provocative, long-lost 17th-century bard as "our other Shakespeare." Now, the tour de force critics call "monumental" has earned its lead general editor, Florida State University Professor of English Gary Taylor, one of the world's most prestigious honors for a scholarly book.
Taylor has won the 2009 "Modern Language Association Prize for a Distinguished Scholarly Edition." He is Florida State's first recipient of an award from the MLA, which includes more than 30,000 members in 100 countries. Long renowned as a Shakespeare scholar and now celebrated for his editorial achievement on behalf of a bawdier bard, Taylor collected his award in Philadelphia on Dec. 28 at the MLA annual convention.
The MLA bestows the prize biennially on a scholarly edition published during the previous two years. The 2,016-page "Thomas Middleton: The Collected Works" (2008, Oxford University Press) and its companion volume, "Thomas Middleton and Early Modern Textual Culture," were chosen from among the hundreds of other literary editions published worldwide, in English and virtually every other modern language, in 2007 and 2008.
It took two decades to assemble the two-volume set from Middleton plays, poems and manuscripts scattered for more than four centuries.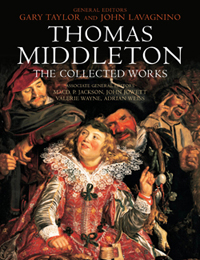 "Editing has always been a large part of my research, and this MLA prize is the best award that an editor can win because it reflects recognition from my peers in the whole world of editing, not limited to one country or one language," said Taylor, the founding director of Florida State's interdisciplinary History of Text Technologies program, a part of the university's ongoing "Pathways of Excellence" initiative. "Such recognition would be rewarding, professionally and personally, for anyone, but it is especially significant to me because it powerfully endorses the claim that Thomas Middleton is indeed 'our other Shakespeare.'"
Taylor served as general editor of Shakespeare's "Complete Works," published in 1986 by Oxford University Press and recently revised, in 2005. Among Taylor's many critically acclaimed editing and writing achievements, four appear on the Random House/Modern Library list of the world's best 100 books on Shakespeare.
But since 2008, Middleton and his "Collected Works" have shared center stage. The book reintroduces darkly funny, politically contentious plays that, before they were banned in subsequent, more prudish centuries, delighted 17th-century English audiences by frankly depicting the co-mingled pursuits of sex, money, God and political power that characterized life in the underbelly of London amid major economic and social change.
"Collected Works" contributors included Taylor's fellow general editor, John Lavagnino, of Kings College London, and 73 other scholars from 12 countries — among them two other faculty members from Florida State's English department, Professor Celia R. Daileader and Associate Professor Dan Vitkus. Taylor and Lavagnino also served as the joint general editors of the companion volume, "Thomas Middleton and Early Modern Textual Culture."
The MLA selection committee's citation for the winning edition reads in part as follows:
"With this stupendous work of scholarship that is at once meticulous, engaging, and innovative, Gary Taylor, John Lavagnino, and their associate and contributing editors do in two volumes what many collected editions require a multitude of tomes to achieve. The work sets the bar high for subsequent collected editions in its field and will remain the definitive Middleton for a long time to come."
"The Collected Works" has already begun to convince critics that Middleton was Shakespeare's equal both as a wordsmith and storyteller, according to Taylor.
"Gary is a visionary scholar," said Joseph Travis, dean of Florida State's College of Arts and Sciences. "He recognizes that bringing Middleton's work to a modern audience is important, and the MLA prize has affirmed that vision. He is also a visionary colleague, serving as architect of the History of Text Technologies program and helping to develop our Pathways of Excellence initiative."
The timing of the MLA award and the light it shines on Florida State are fortuitous, Taylor said, because the Department of English has just launched its new doctoral program in the History of Text Technologies and the new undergraduate track in "Editing, Writing, and Media," which aims to reinvent the major in English for the 21st century.
It also comes just as Oxford University Press prepares to release "The Collected Works" in paperback.
Taylor is the George Matthew Edgar Professor of English at Florida State. He received his doctoral degree from the University of Cambridge. An internationally known expert in contemporary literary theory and criticism, Taylor has written widely about the practice and theory of editing in various periods and genres. In addition to his general editor role for the Oxford editions of Shakespeare's "Complete Works" and "Thomas Middleton: The Collected Works," he is general editor of two series published by Palgrave, "Signs of Race" and "History of Text Technologies." Taylor has authored or co-authored more than a dozen books, including "Reinventing Shakespeare" (1989) — called "the most ambitious book on Shakespeare ever written" by the Shakespeare Quarterly and ranked among the best 100 Shakespeare books in the world by Random House/Modern Library — and "Moment by Moment by Shakespeare," which won a Choice Award for Outstanding Academic Book.
Established in 1883 and dedicated to strengthening the study and teaching of language and literature, the MLA is the largest and one of the oldest American learned societies in the humanities. Its members come from all 50 states and the District of Columbia, as well as from Canada, Latin America, Europe, Asia and Africa.