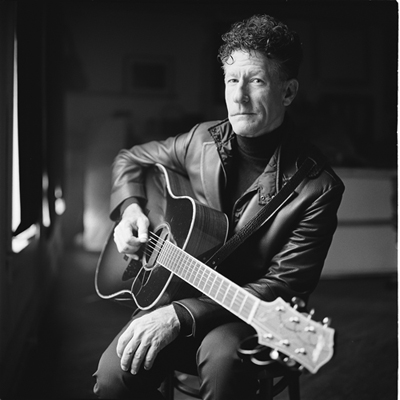 No one writes songs like Lyle Lovett. Finely wrought and full of wit, wisdom and Texas-sized storytelling, the singer/songwriter's catalog is rife with characters and concepts that loom large on the American landscape. You can hear Lovett and his amazing Large Band perform those songs when they take the stage at the Leon County Civic Center on Wednesday, October 28, for a Seven Days of Opening Nights pre-season concert.
Tickets are available now at www.ticketmaster.com, Ticketmaster outlets, and the Civic Center Box Office at 850-222-0400.
Lyle Lovett is a four-time Grammy winner who has led a remarkable career that includes 13 albums and over four million records sold. His music uniquely intersects an array of genres from country and folk to big-band swing and traditional pop as evidenced by such revered albums as Lyle Lovett, Pontiac, Lyle Lovett and His Large Band, Joshua Judges Ruth and The Road To Ensenada. His latest CD, Natural Forces, will be released on Tuesday, October 20, just 8 days prior to his Civic Center performance.
Lovett has been acclaimed throughout his career. His songs contain big, contemporary themes, but it is Lovett's gift to make the deep thoughts slide down like honey. USA Today heralded his "Texas-sized cowboy jazz," as the Wall Street Journal declared Lovett has "been widening the reach of country music for over 20 years," while praising the "tracks that touch on country and folk as well as blues jazz and gospel."
For the last few years, Lovett, who is able to conjure musical magic in a variety of settings, has been alternating Large Band tours with acoustic trio and quartet shows or teaming him with John Hiatt as well as larger songwriter circles also featuring Hiatt, Guy Clark and Joe Ely, a foursome that performed for Seven Days of Opening Nights in 2006.
Another facet of Lovett's career is acting, and this year saw the filming of his latest effort, a role in Michael Meredith's "The Open Road." Meredith also directed Lovett in "Three Days of Rain," but Lovett's longest and best-known filmic collaboration was with the late, great director Robert Altman. He appeared in four Altman films: "The Player," "Short Cuts," "Pret-a-Porter," and "Cookie's Fortune," and scored the music for another: "Dr. T and the Women."
In the end, though, it's music to which Lovett always returns, for it is his own stories and songs that resonate the most. And with Lovett at the helm of his incomparable Large Band, those stories and songs are sure to come through loud and clear.
Visit online: www.lylelovett.com.
For updates and more information about Seven Days of Opening Nights, Feb. 12-22, 2010, visit www.sevendaysfestival.org/ and become a fan on Facebook at Seven Days of Opening Nights.