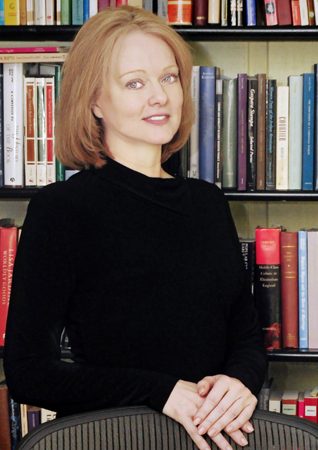 The National Endowment for the Humanities (NEH) has awarded a prestigious, yearlong research fellowship to Anne E.B. Coldiron, an associate professor in the Department of English at The Florida State University.
A specialist in late-medieval and Renaissance literature and a recognized expert on French-English literary relations, translations and printing during those periods, Coldiron will use the $50,400 fellowship in 2010 to help support a year dedicated to researching and writing her third book. To be titled "Printers Without Borders: Translation, Transnationalism, and Early English Print," the tome will analyze the impact that translation and the emergence of printing had on literary culture in the late 15th and 16th centuries, and also will examine the complex misappropriations of French texts by early-Renaissance English printers and translators.
Coldiron joined the FSU faculty in 2007 as part of a cluster of distinguished scholars recruited for the university's unique, interdisciplinary History of Text Technologies (HoTT) program.
"With its highly competitive award, the National Endowment for the Humanities has recognized Anne as one of the nation's best scholars in the humanities," said College of Arts and Sciences Dean Joseph Travis. "We are privileged to have her here at Florida State, where she inspires us all and makes us the envy of colleagues elsewhere."
Directly related to her ongoing HoTT research, Coldiron's forthcoming NEH-funded study will focus on the technology-driven cultural transformation that occurred more than 500 years ago. However, she expects the findings to resonate profoundly in the 21st century.
"In that earlier age of information revolution, two kinds of textual technologies — printing and translation — worked synergistically to create astonishing changes in literature and culture," she said. "In the current information revolution, we, too, are experiencing the transformative powers of translation and 'info-tech' and, together, they connect cultures and shake up our basic assumptions and habits. But, because the analogy between the old and new textual revolutions is imperfect, it needs to be historicized and contextualized. That is the goal of my project."
Over the next year, Coldiron's research will encompass archival materials located in Europe and several rare-books libraries in the United States. Although her NEH award doesn't cover travel-related costs, she nonetheless plans to look at those materials up close — in Paris, London, Oxford, Edinburgh, Washington, D.C., New York City and Austin, Texas, among other places.
At home, digitized images of faraway books can facilitate research, but for Coldiron, technology has its limits.
"While some Renaissance books have been digitized, virtual images are only useful for certain things, since all you really see is a page image," she said. "That's fine for a surface examination, and for ascertaining the literary contents of the pages. But there is a lot we can learn only from contact with the physical book itself. Clues about the production and use of books, such as the grain and watermarks of paper, stubs or threads, patterns of damage, or marginalia, reveal vital information about the book's participation in the culture.
"Digitized images offer us a snapshot, but that is just the beginning of the story."
Time, Coldiron suggested, is what humanities researchers need most. "We don't need labs or much equipment, but we must have extended, uninterrupted time with books for the slow, deep thinking and the exploration of objects in their full historical and social contexts that makes the best humanities research. Fortunately, time is the very gift bestowed by an award from the National Endowment for the Humanities."
Winning just one NEH fellowship during the course of an academic career is an exceptional achievement; Coldiron now has two under her belt. She garnered the first in 1998, two years after earning her doctoral degree from the University of Virginia.
To date, Coldiron is the author of two published books, including "English Printing, Verse Translation, and the Battle of the Sexes, 1476-1557" (Ashgate Press, 2009). Her essays, among them articles on such authors as Chaucer, Spenser, Shakespeare, Donne and Milton, have been featured in prominent scholarly editions and journals. She has held Folger fellowships, earned an ATLAS grant, and served as a Kluge fellow in the Library of Congress.
In 2007, Coldiron was selected to participate in an NEH seminar on the history of the book. In 2009, she was an invited lecturer at England's University of Oxford, where she spoke on "Printers Without Borders." She has been asked to give three international lectures on the topic in 2010.
Created in 1965 as an independent, grant-making federal agency, the NEH supports learning in history, literature, philosophy, and other areas of the humanities.