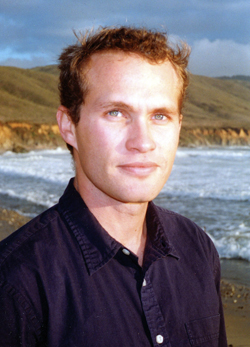 The Florida State University graduate program in creative writing recently made The Atlantic's "Best of the Best" list, and remarkable faculty writers such as FSU Assistant Professor David Vann are a big reason why.
Vann, an author of growing distinction—and a skilled sailor who has logged more than 40,000 miles offshore and barely lived to write about it—has won the esteemed 2007 Grace Paley Prize in Short Fiction for his deeply personal "Legend of a Suicide." The collection of five short stories and one novella drew inspiration from the complex issues surrounding his father's suicide when Vann was 13.
The Grace Paley Prize for Short Fiction, named for one of America's most celebrated short story writers and administered by the Association of Writers and Writing Programs, includes a publishing deal with the University of Massachusetts Press. "Legend of a Suicide" is expected to land on bookstore shelves next year.
"David Vann's impressive and charmed year—in which he has work forthcoming in Esquire, Men's Journal and Outside, much of which entails Vann's tempting the bejesus out of death and then writing about it, which so far he's survived—just got more impressive yet," said author Mark Winegardner, the director of FSU's top-ranked Creative Writing Program.
Born on Alaska's Adak Island and part Cherokee Indian (he's related to Cherokee Chief David Vann), Vann holds a U.S. Coast Guard 200-ton Master's License and has so far sailed a cumulative total of more than 40,000 miles on the open seas. Those adventures inspired his acclaimed 2005 memoir "A Mile Down: The True Story of a Disastrous Career at Sea," which soared—make that sailed—to No. 4 and No. 7, respectively, on the Washington Post and L.A. Times bestseller lists.
Armed with a Master of Fine Arts degree from Cornell University, Vann was awarded the prestigious Wallace Stegner Fellowship and the John L'Heureux Fellowship, both from Stanford University, where he served as Jones Lecturer and taught creative writing. A member of the FSU Creative Writing Program faculty since August 2006, Vann teaches courses in creative nonfiction and fiction.
"I was Grace Paley's student, so it's especially wonderful to win a prize in her name," Vann said. "For 12 years I worked on this book about my father's suicide when I was 13, and the result is a reflection of all the writers I admire most. One story borrows its structure from Chaucer, another borrows language from Elizabeth Bishop, and the longer novella draws from six novels by Faulkner and Cormac McCarthy."
Despite the success of his memoir "A Mile Down," Vann declared "Legend of a Suicide" the work by which he wants to be judged as a writer. "And although the stories have been published inThe Atlantic Monthly and other magazines, they only really make sense read together. At this point, I just feel enormously grateful and relieved," he said.
In addition to past appearances in the Atlantic Monthly, Writer's Digest and other literary publications, Vann's work has been featured in, or is slated for, Esquire (January 2008 and June 2008), Men's Journal (October 2007), Outside Magazine (July 2007 and February 2008), and Outside GO (Summer 2007 and Spring 2008). Twice a nominee for the Pushcart Prize, Vann now has written a second memoir ("Crocodile: Memoirs from a Mexican Drug-Running Port") and a novel ("Cut Adrift")—both expected to be published soon.
"Congratulations to David, not only for cheating disaster at sea time and again, but especially for the Grace Paley Prize," said FSU College of Arts and Sciences Dean Joseph Travis. "This truly is a terrific honor."
To read excerpts from the award-winning "Legend of a Suicide"—set for publication in 2008—visit David Vann's web site at www.davidvann.com.
The FSU Creative Writing Program is ranked among the top five nationally for Ph.D. seekers and among the nation's top 10 overall for graduate students, according to the 2007 special fiction edition of The Atlantic. The program is home to a Pulitzer Prize winner and recipients of the National Book Award; more "Best American Poetry" honorees than any other institution; and the authors (one now retired) who literally wrote the book on creative writing—a bestselling how-to that became the world's most-adopted textbook of its kind. To learn more about FSU's Creative Writing Program, visit the English department Web site at www.english.fsu.edu/.