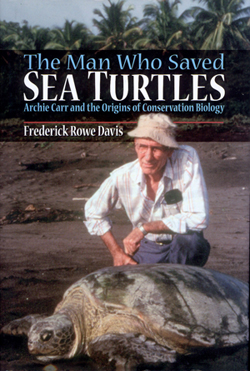 To those in the conservation movement, Archie Carr was one of the great heroes of the 20th century. A pioneering biologist, ecologist and nature writer, he launched an international campaign to protect various species of migratory sea turtles all over the world. In so doing, Carr, who died in 1987, created the template for many successful environmental campaigns that followed.
Now, a Florida State University historian has documented Carr's life and analyzed his lasting impact in a new biography. Frederick R. Davis, an assistant professor of history at FSU, has written "The Man Who Saved Sea Turtles: Archie Carr and the Origins of Conservation Biology," recently published by Oxford University Press.
"Like so many others, I was inspired by Archie Carr's efforts in science and conservation," Davis said. "I've always spent a lot of time outdoors, studying birds and other wildlife. I've also enjoyed reading naturalists' accounts of their travels. So I found him to be something of a kindred spirit.
"What made Carr particularly interesting to me was the way his 50-year career mirrored the overall evolution of naturalist tradition, biology and conservation during the 20th century. As someone whose main research interests are environmental history and the history of science, I found Archie Carr to be the perfect subject for exploring these topics."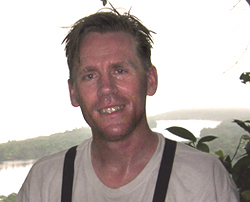 Born in Mobile, Ala., in 1909, Carr grew up in Savannah, Ga., where the family's backyard was filled with cages of snakes, lizards and turtles. He earned a doctorate in zoology from the University of Florida in 1937, and remained on the UF faculty for the rest of his life.
Early in his career, Carr's work was predominantly in the field of taxonomy — the systematic classification of plants and animals. He described numerous species and subspecies that were new to science. However, he went on to teach biology in Honduras from 1945 to 1949. This gave him the perfect opportunity to study Central American wildlife — and
to encounter sea turtles, which became his life's work.
"From a conservation standpoint, perhaps his greatest discovery was that a beach known as Tortuguero in Costa Rica is the most important nesting site of the endangered green turtle in the entire Western Hemisphere," Davis said. "In documenting their migratory patterns, he showed that these large turtles, which can grow in excess of 300 pounds, travel all over the Caribbean — even to the Florida Keys — but return to Tortuguero to reproduce.
"By protecting just one beach, then, he demonstrated how it might be possible to save an entire sea turtle population from extinction. Fortunately, Costa Rican government officials championed Carr's cause, and Tortuguero National Park was established in 1975. The turtle-tagging program that Carr began there in 1955 continues today, and recently, record numbers of turtles have nested at Tortuguero."
Through the Caribbean Conservation Corporation, which he helped found in 1959, Carr came to be recognized as the world's greatest authority on sea turtles. Subsequent studies took him to eastern African, Papua New Guinea, Australia and numerous other locales across the globe, where his message of international cooperation to save endangered species gained popularity.
A gifted nature writer, Carr wrote 10 books, some of which ("The Windward Road: Adventures of a Naturalist on a Remote Caribbean Shore," 1955, and "Ulendo: Travels of a Naturalist In and Out of Africa," 1964, in particular) were quite successful among general audiences and helped spread the message of conservation to the masses.
"For all of his many accomplishments, Archie Carr's greatest talent may have been his ability to build consensus," Davis said. "He conveyed a folksy, non-threatening demeanor that enabled him to interact with local fishermen and even sea turtle poachers, but he also was able to build successful sea turtle conservation alliances with governments around the Caribbean and the globe."
Additional information about "The Man Who Saved Sea Turtles: Archie Carr and the Origins of Conservation Biology" is available from Oxford University Press.