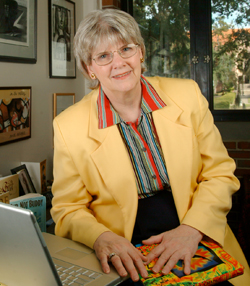 A Florida State University professor who has devoted her career to literacy and children has been named the winner of one of the American Library Association's most prestigious awards.
Eliza Dresang, the Eliza Atkins Gleason Professor in the College of Information, will receive the 2007 Scholastic Library Publishing Award June 26 during the ALA Annual Conference in Washington, D.C. The award is bestowed on a librarian whose extraordinary contribution to promoting access to books and encouraging a love of reading for lifelong learning exemplifies outstanding achievement in the profession. Dresang will receive a citation and a $1,000 prize donated by Scholastic Library Publishing.
"I am deeply honored to have been chosen as a recipient of this award that has previously gone to so many who have been an inspiration for me," Dresang said. "A major focus of my research, teaching and service is to further understanding of young people and to encourage respect for them and their abilities and needs in relation to reading in all of its many digital-age manifestations. I really could not be more pleased."
Throughout her career, Dresang has demonstrated her commitment to the 21st century child's right to equal access to knowledge and diverse literature with content and form that addresses the unique outlook of children and their different ways of reading. Her revolutionary viewpoint has had a significant impact on professionals in a variety of literacy related fields, according to the ALA's announcement of Dresang's award.
Dresang is perhaps best known for her 1999 book, "Radical Change: Books for Youth in a Digital Age," which is now a staple in the study of children's literature and has influenced countless librarians and teachers and the children they serve, according to the ALA. Her 1977 article, "There Are No Other Children: Special Children in Library Media Centers," was reprinted as one of the best articles of the past 50 years in a 1996 School Library Journal.
"Dr. Dresang has enriched the lives of countless librarians by her passion for children, books and teaching as evidenced by the many professional accomplishments she has achieved throughout her career," said Lydia M. Acosta, chair of the 2007 Scholastic Library Publishing Award Jury. "She is very worthy of receiving this prestigious award."
FSU College of Information Dean Larry Dennis said the recognition of Dresang's accomplishments is the latest for the esteemed college, which tied for first place in the 2006 U.S. News and World Report rankings for education and research in the area of services to children and young adults.
"Dr. Dresang's books and teaching are having a tremendous impact on the way that the nation thinks about information services for youth," Dennis said. "Her ideas about the impact of technology on youth information services are influencing information providers throughout the nation and have influenced a generation of FSU graduate students who apply these ideas to their leadership of school media centers and libraries."
Dresang currently serves as one of 11 advisers to the Laura Bush Foundation for America's Libraries and is a member of the national Jane Addams Children's Book Award Committee. She also has chaired or served on a variety of ALA committees, including the Newbery, Caldecott and Batchelder award committees.
In addition, she has helped to shape the now well-known and prestigious Pure Belpré Award, presented biennially to a Latino or Latina writer and illustrator whose work best portrays, affirms and celebrates the Latino cultural experience in an outstanding work of literature for children and youth.
Dresang holds a bachelor's degree from Emory University, a master's in library science from the University of California at Los Angeles and a doctorate from the University of Wisconsin-Madison.
Scholastic Corporation is the world's largest publisher and distributor of children's books and a leader in educational technology. Scholastic Library Publishing creates a multitude of products, both in print and online for the school and public library market under the imprints of Grolier, Children's Press, Franklin Watts and Grolier Online.