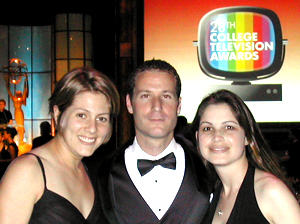 With a recent top-three finish at the 28th Annual College Television Awards in Hollywood, Calif., the Emmy-winning tradition continues at Florida State University's College of Motion Picture, Television and Recording Arts—best known as The Film School.
Its latest win makes 22 times in 16 years that works written, produced and directed by FSU film students have beaten hundreds of entries from other prestigious film programs across the country to claim a first, second or third prize from the Academy of Television Arts and Sciences. Along the way, FSU set an Academy record by winning five of the College Television Awards in 2004 alone, the most ever for one school in a single year.
This year, The Film School took home third-place honors in the highly competitive Drama category for "Abe"—the mini-saga of a dog's life after the death of his owner forces him to find a new home. The eight-minute-long film was produced by FSU graduate student Erika J. Harvey of Madison, Wis., and written and directed by fellow grad student Khen Shalem of Kibbutz Nir-David in Israel. In fact, Shalem wrote "Abe" as part of his Film School application.
The College Television Award-winning production began as a "D3" assignment for the students—meaning it had to be shot in three days. Harvey and Shalem did just that at locations throughout the Tallahassee area such as downtown's Galley Alley, the Florida A&M University campus, the Leon County Animal Shelter and the neighboring town of Monticello.
The Humane Society helped Shalem find the film's star—an engaging Golden Retriever called "Ammo"—though he notes that "Abe" features other (human) actors as well.
By far the most challenging part of the filmmaking—besides a three-day shoot on a $2,000 budget—was directing a dog, Shalem said. "Once, Ammo answered a call of nature during a shot. Then there were the jealous neighborhood dogs that wouldn't stop barking…."
For Harvey, the best part was working with Shalem—including the late nights at Tallahassee's All Saints Café—to make a film of which they were both justifiably proud.
"This was my first major film award and it feels great," Harvey said. "The FSU Film School taught us how to put together amazing productions under an acute timeline and work effectively as a team. From pre-production to post-production, it's all very professional."
Her most difficult role as producer: "Dealing with so many locations with such little time to do so and working with an animal, although Ammo was well trained and wonderful," she said.
"Erika Harvey and Khen Shalem are remarkably talented graduate students whose careers have just been jump-started by a distinguished recognition from the Television Academy," said Film School Dean Frank Patterson.
For each winner, that jump-start includes an all-expenses-paid trip to Los Angeles for the gala awards ceremony, a cash prize, a product grant for film stock, and most notably, mentoring from television professionals. What's more, the winning films are screened for industry bigwigs and the general public. Through its annual College Television Awards, the Academy of Television Arts and Sciences seeks to spotlight the producer's role in the filmmaking process, but also honors the director and other major players.
"This year's award gives us 22 top honors from the Academy in 16 years and offers further proof that Florida State is a leader in U.S. film education," Patterson said.
Shalem and Harvey both expect to earn their Master of Fine Arts degree from FSU in August 2007. After that, what's next for the College Television Award winners?
Director Shalem already has a short film in pre-production—"On the Road to Tel Aviv"—that he hopes to shoot next fall in Israel. "This will be the first time that the FSU film school has undertaken an international narrative project," he said. "The film deals with the Israeli-Palestinian conflict and the correlation between fear of terror and racism, and I'm excited about it because it's based on my personal experience as an Israeli."
Producer Harvey hopes to write and direct commercials, music videos, and short and feature films. "My ultimate goal is to start my own production company with my brother, my friends and of course, some FSU Film School colleagues," she said.
Recognized by the Directors Guild of America for its distinguished contributions to American culture, the FSU College of Motion Picture, Television and Recording Arts—best known as The Film School—encompasses one of the largest and best-equipped facilities devoted wholly to film education, while its undergraduate and graduate programs rank among the most highly regarded in the world. To learn more, visit filmschool.fsu.edu.