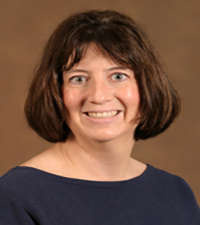 Florida State University Associate Professor of English Nancy Bradley Warren has won a prestigious fellowship to support research at the renowned National Humanities Center for the 2007-2008 academic year.
A recognized expert on women and religion in medieval and early modern culture, Warren is one of just 35 fellows chosen from a distinguished international pool of 430 applicants.
Located in North Carolina's Research Triangle Park, the NHC is the only major independent American institute for advanced study in all fields of the humanities. Since 1978, it has provided a national focus for the best work in English and the liberal arts by outstanding scholars from across the United States and more than 30 other nations.
"As the most productive medievalist of her rank in the country, Nancy Warren is helping our university build a world-class program in medieval and early modern literature," said Joseph Travis, dean of FSU's College of Arts and Sciences. "She richly deserves this honor from the National Humanities Center and the exceptional research opportunity it bestows."
During the tenure of her yearlong fellowship at the center—a prize worth $35,000 plus financial support for travel and research expenses—Warren plans to complete the manuscript of her book-in-progress, "The Embodied Word: Female Spiritualities, Contested Orthodoxies, and English Religious Cultures 1350-1700" (under advance contract with the University of Notre Dame Press). She describes the work as a comparative study of medieval and early modern women's distinctive ways of writing about religious experience that will challenge long-established distinctions between medieval and early modern culture, Catholicism and Protestantism, and orthodoxy and heterodoxy.
"This recognition for Nancy is simply splendid for FSU and for our state, because it makes clear that the work of our faculty sets the terms of discussion for cultural, ethical and religious issues throughout the nation and world," said English department Chair Ralph M. Berry. "We're very proud of her achievement and delighted that she's part of our department."
"I feel extremely honored to be chosen for this award," said Warren, who also holds a courtesy associate professor position in the FSU religion department. "Fellowship and grant support for research in the humanities is difficult to come by, and this fellowship is both prestigious and generous. It will provide uninterrupted time to complete research and much of the writing for my current book project—something that, in terms of my professional development, means more to me than the award's monetary value."
The NHC fellowship isn't Warren's first national nod—in 2004, she won the Gustave O. Arlt Award from the Council of Graduate Schools. That coveted prize honors a professor who has written, early in his or her academic career, a book deemed to be an outstanding contribution to scholarship in the humanities. Warren's contribution was "Spiritual Economies: Female Monasticism in Later Medieval England," published in 2001.
A 1991 summa cum laude graduate of Vanderbilt University (B.A., English and French), Warren earned her doctorate in 1997 from Indiana University and joined the FSU faculty in 2003. Her areas of specialization encompass medieval literature and culture with emphases on women and religion; intersections of gender, religion and nationality; and the ongoing importance of medieval religion in the early modern period.
"Through its various grants that encourage and support faculty research, FSU has enabled me to perform the critical archival groundwork for my current book project, including work with manuscripts and early printed materials in Spain and France," Warren said. "Since my arrival in 2003, that support—and especially the intellectual generosity of my English department colleagues—have helped me to compete nationally and even internationally with the best scholars in the humanities to become a National Humanities Center Fellow."
Literature professors in the FSU English department have received some of the most distinguished fellowships available from the National Endowment for the Humanities, the American Council of Learned Societies, the Folger Library and now, the National Humanities Center. To learn more, visit the English department's Web site at www.english.fsu.edu.