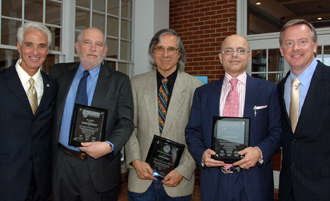 Two faculty members in Florida State University's College of Motion Picture, Television & Recording Arts, better known as the Film School, have been selected to receive awards for their contributions to the art of filmmaking in Florida.
Film School filmmaker in residence and Academy Award winner Stuart Robertson was honored by Film Florida, a not-for-profit collective of film industry professionals and professional organizations that honors filmmakers each year. A plaque presented to Robertson reads, "Appreciation of Outstanding Professional Achievement in Film and as an Educator Building the Future of Florida's Film and Entertainment Industry."
"I am deeply honored and thrilled to take part," Robertson said of the award. "I am also glad to have had the opportunity to work with the wonderful students and faculty at the FSU Film School and consider these years of teaching here to be some of the best years of my life."
Robertson is a visual-effects artist who has created some of the most memorable visual sequences in American cinema, including his work on the film "What Dreams May Come," for which he earned an Oscar in 1999. His film credits also include "Terminator 2," "The Abyss," "Backdraft," "Ghost," "New York Stories," "Oedipus Wrecks" and "Zelig, for which he was nominated for a British Academy Award.
Victor Nunez, also a Film School filmmaker in residence, received a "Member of Distinguished Honor" award from the Advisory Board of Film in Florida, which advises the Governor's Office of Film and Entertainment (www.filminflorida.com). Nunez was honored for his contributions and dedication to Florida filmmaking, as well as his service as a member of the Advisory Board of Film in Florida.
A writer and director, Nunez has been called a "national treasure in independent filmmaking." His critically acclaimed films include "Ruby in Paradise" (1993), which won the Grand Jury Prize at the Sundance Festival, and "Ulee's Gold" (1997), which received a Best Actor nomination for its star, Peter Fonda. Nunez also has had three of his films selected for Director's Fortnight screenings at the Cannes Film Festival.
Both Robertson and Nunez were honored at a Florida Film Industry Reception hosted by Florida Gov. Charlie Crist at the Governor's Mansion last Wednesday. Film School Dean Frank Patterson praised both men for their contributions to education and filmmaking in Florida.
"In addition to their national reputation as leading filmmakers in the industry, Victor and Stuart are excellent teachers who are genuinely valued by the students at the Film School," Patterson said. "So it's especially rewarding to have Gov. Crist recognize them for their contributions here at home in the state of Florida."
In Florida, film and entertainment is a $3.9-billion industry, representing more than 5,500 businesses and employing more than 34,000 Floridians at an average salary of $53,000 per year. Currently, Florida offers a $20-million Entertainment Industry Financial Incentive that reimburses up to 15 percent of a production company's expenditures incurred in the state, up to $2 million. Gov. Crist has stated his support for making the incentive a transferable tax credit and has recommended spending $75 million per year for the next three years to attract film and television productions to Florida.