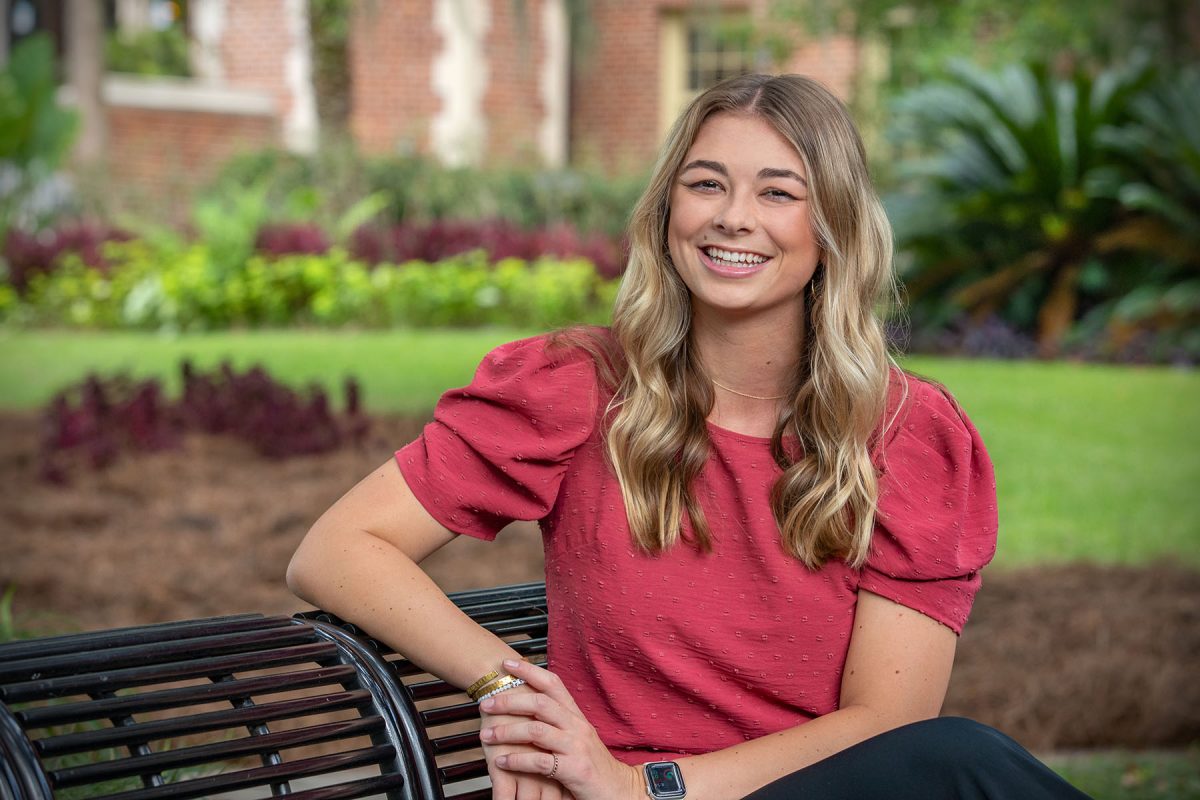 "I am confident the FSU community has been key to fulfilling my potential during my undergraduate years and laid the foundation for excelling in the future.""
Fast Facts
Involvement: Founded the student organization "The Maji Project"
Volunteer: FSU Medical Response Unit and Patient Care Assistant at Tallahassee Memorial Hospital
Unique Talent: Can sing the alphabet backwards
Half Marathon: Ran her first half marathon with 30 of her Chi Omega sorority sisters
During her time at Florida State University, recent alumna Ansley Bilyeu's passion for human rights led her to numerous leadership, service and pre-health opportunities that prepared her for a career in medicine.
Bilyeu says it was the community-oriented feeling and opportunities on campus that drew her to choose Florida State for her degree in International Affairs.
"It was a combination of the head and heart that led to me choosing FSU," she said. "I felt invited to join a larger family and experienced an eagerness from a college to pour into its students."
As a graduate of the Honors Program, Bilyeu was a member of the first-ever Honors Cohort for Human Rights, where she and four other students represented FSU at the Oxford Consortium for Human Rights. This experience allowed Bilyeu to meet, learn from and present to human rights experts from all over the world.
"My experience with this cohort only further amplified my passion for being an individual of change in the human rights sector and inspired in me a multitude of thoughts on how to do so," she said.
With this and previous experiences in mind, Bilyeu was eager to utilize the resources FSU provided to further her work toward human rights solutions. In 2015, she traveled to Landanai, Tanzania for two weeks providing medical care to the community and forming friendships along the way. She returned to Tanzania in 2019, where she realized the discrepancy of access to human rights that exists globally.
Her experience in Tanzania inspired Bilyeu to consider human rights research and advocacy that led her to establish "The Maji Project," a recognized student organization at FSU that serves to fight the global water crisis and its consequences through a variety of fundraising, educational and awareness initiatives.
While at Florida State, Bilyeu was involved in numerous organizations on campus, including Chi Omega sorority, the Migrant Refugee Education Alliance and the Medical Response Unit. Off campus she was involved with the organization Neighborly, where she served as a medical advocate accompanying local refugees to medical appointments.
With interests in global and public health, Bilyeu complemented her degree in International Affairs with minors in Spanish and chemistry. While pursuing a career in the medical field, she will teach English in Spain for seven months.
"Above all, I hope that I have been impactful through the simple, individual interactions and relationships built with classmates, sorority sisters, coworkers, professors and everyone in between, as it is in these moments that I feel we are really able to change the worlds of others," she said.
---
What does The Maji Project do and how was it starting a student organization?
While leading The Maji Project as president, our organization successfully executed multiple local community clean-ups, bi-monthly meetings with guest speakers from around the country, collaborative awareness events with organizations across campus, as well as a fundraising initiative allowing for the delivery of 120 portable water filters to Landanai, Tanzania. It has been a learning experience, a joy and an honor to lead a group of students and faculty willing to come together for one another's passion and leave equally as inspired to create positive change within the human rights/environmental area as well as in relation to their own personal passions.
What led to your major and minors?
As a pre-medicine student with interests in global and public health, I wanted to enhance my theoretical, future career in medicine with an educational background that supported these specific interests. The diverse coursework offered through an International Affairs major looked as though it would do exactly this! I chose a concentration in Spanish due to my interest in the language and hope to be better equipped to serve Spanish-speaking patients in the future. Lastly, my minor in chemistry came from fulfilling pre-medicine coursework and inadvertently introduced me to several of my favorite undergraduate courses.
How has Neighborly allowed you to give back to the community and work towards human rights solutions?
Neighborly is a "relationship-based poverty relief organization… whose mission is to deinstitutionalize charity by helping you become friends with those at a disadvantage." Through serving as a medical advocate by accompanying refugees to medical appointments, as well as on the "breakfast brigade" where we serve and eat breakfast with day laborers in Tallahassee, Neighborly has been pivotal in affirming the power of service that encourages mutual friendship rather than one-way charity. Furthermore, Neighborly has solidified that serving and being with others is where I find my greatest purpose and fulfillment.
What leadership opportunities have you had and why is leadership important to you?
Through my leadership opportunities such as president of The Maji Project, vice president of Chi Omega Sorority and member of the Honors Cohort for Human Rights, I have tried my absolute best to reveal the strengths of others and encourage them in their own interests. My hope is that through my leadership, others will be inspired to lead and a ripple effect will be seen among the FSU community.