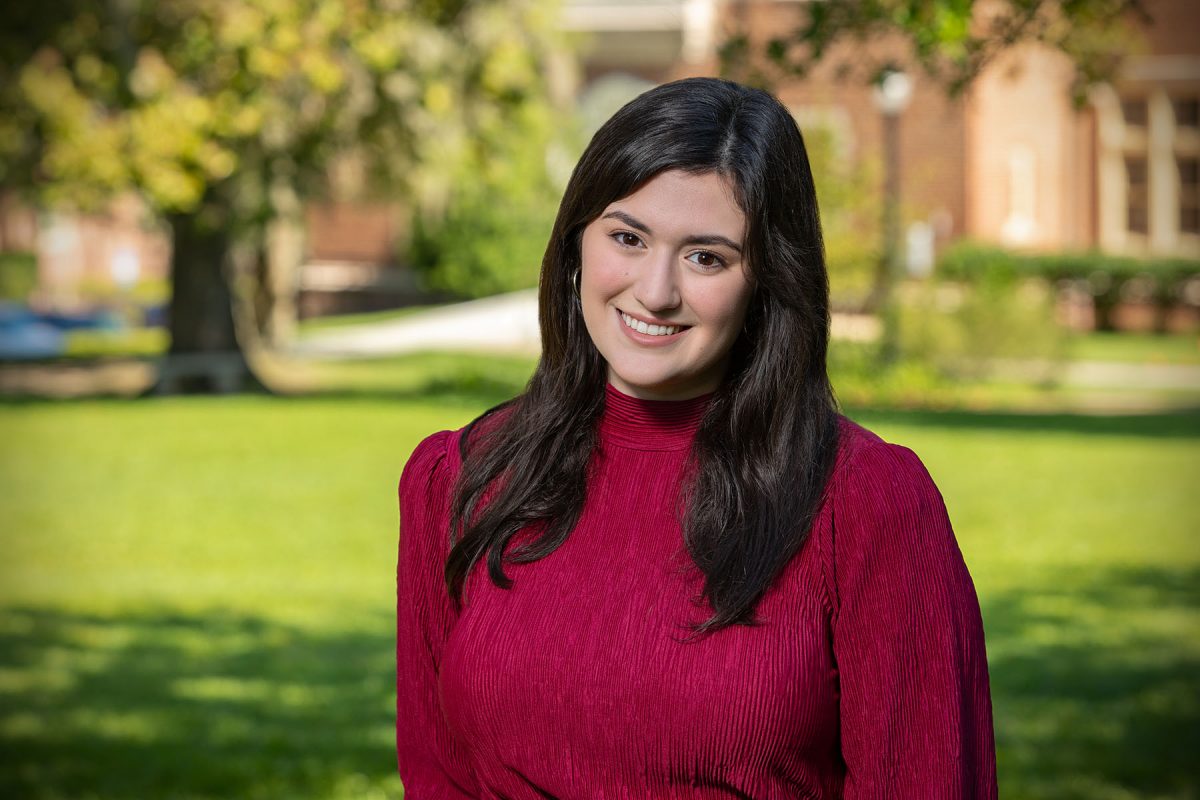 "I found a home and community at FSU, and with all of the resources at my disposal, I have been able to forge a path toward my future that I never thought possible."
Fast Facts
Favorite campus spots: FSU Visitors Center and the Landis Hall sky lounge
Internships: Lifesong Kenya, Orleans Public Defenders, Innocence Project of Florida
First time out of the U.S.: Studied abroad with FSU in Valencia, Spain
Music lover: Has been to five Taylor Swift concerts and once rapped with MC Hammer
Presidential Scholar Annie Blanchard has been on a journey of self-discovery while making a difference at Florida State University. 
As a participant in the Undergraduate Research Opportunity Program (UROP) at FSU, Blanchard discovered a passion for criminal legal reform.  
Blanchard was a research assistant on "As If We Were Already Free: Unmaking the Myths of American Justice," a book being written by journalist and FSU doctoral candidate Dyan Neary. This allowed Blanchard to dive into historical research on the nation's prison system.  
Blanchard found primary resources on the early prison system of New Orleans in her home state of Louisiana. She also uncovered information about the first prisons built in America by European explorers. She presented that research at the Undergraduate Research Symposium. 
"That was a perfect end to a year of work that informed my future goal to be a criminal defense attorney," Blanchard said. "I want to fight for the justice that is currently missing from our criminal 'justice' system." 
As a member of a Global Scholars cohort, Blanchard served as social media campaign manager for Lifesong Kenya, a juvenile justice nonprofit in Nairobi. There she learned about the challenges of community-based nonprofits working to help young people leaving the prison system.  
This experience led her to create her capstone project, "Comparative Models of Juvenile Justice: The United States and Kenya," which she presented at the Florida Undergraduate Research Conference at the University of Central Florida.  
Blanchard's dedication to social justice and human rights led her to participate in the Oxford Human Rights Consortium, where she learned from leaders in law, sociology, environmental science and conservation. She and other members of FSU's inaugural cohort presented research on the impact of climate change on the Seminole Tribe of Florida. 
After her experience at the Oxford Human Rights Consortium, Blanchard helped organize the first Human Rights Involvement Fair at FSU, which brought together social justice and service-based organizations from across the university.  
Blanchard has been an executive board member of Power of We, a civil discourse organization at FSU. She played a key role in organizing events like Agree to Disagree and the Longest Table to celebrate diversity and foster understanding on campus. 
Beyond her academic and community achievements, Blanchard is also an FSU Ambassador.  
"After touring FSU, I was amazed by the warmth and hospitality of every person I encountered, and immediately knew that I would have a home here," she said. "My tour is what sold me on Florida State, and being able to be a tour guide for future Noles is an absolute blast." 
Blanchard hopes her journey at FSU encourages others to explore opportunities attending college has to offer. She believes that saying "yes" to new experiences can lead to exciting paths and passions. 
"The resources and opportunities that Florida State had to offer were unlike anything I could find elsewhere," Blanchard said. "The Presidential Scholars Program provided me with the support I needed to have an undergraduate experience like no other." 
---
In what ways has your work with UROP influenced the mark you want to make in your intended field?
Being able to complete in-depth historical research on the foundation of our nation's prison system, and in particular the prison system of my home state of Louisiana, helped me discover my passion for criminal legal reform. I am now preparing to apply for law school to pursue public interest law with a focus on criminal defense or impact litigation. 
What are your proudest accomplishments at FSU or what do you think you'll remember most?
My time working with Lifesong in Kenya was unlike anything I had ever experienced, and I learned so much from their director, James Ouma, about the challenges facing community-based nonprofits working to help young people exiting the prison system. Another experience I will never forget from my time at FSU was attending the Oxford Human Rights Consortium, where I was able to learn from leaders from the Oxford Institute for Ethics, Law and Armed Conflict; the Oxford Sustainable Law Program; and Red Cross Red Crescent Climate Centre. I'm thankful to the FSU Honors Program for allowing me and my fellow cohort members access to this incredible learning opportunity. However, I think the memories I'll cherish most are those from my time serving as an FSU Ambassador.  
How did you get involved with the Power of We?
I was introduced to Power of We through its faculty adviser, Ross Moret, with whom I've had the pleasure of taking several classes. Moret encourages civil disagreement and discussion in his courses. He invited his students to attend Power of We's spring event, Agree to Disagree, where students could discuss current events with peers. I had so much fun at the event I had to get involved. We've been able to host events with topics ranging from health care to civil rights for FSU students to learn from those who may think differently from them.  
How do you hope your college journey inspires other students?
I hope that my college journey encourages other FSU students to take advantage of the incredible resources at our fingertips. When I came to college, I had no idea what I wanted to pursue, but by saying "yes" to everything Florida State had to offer and trying as much as I could, I was able to discover my passion and have fun along the way.