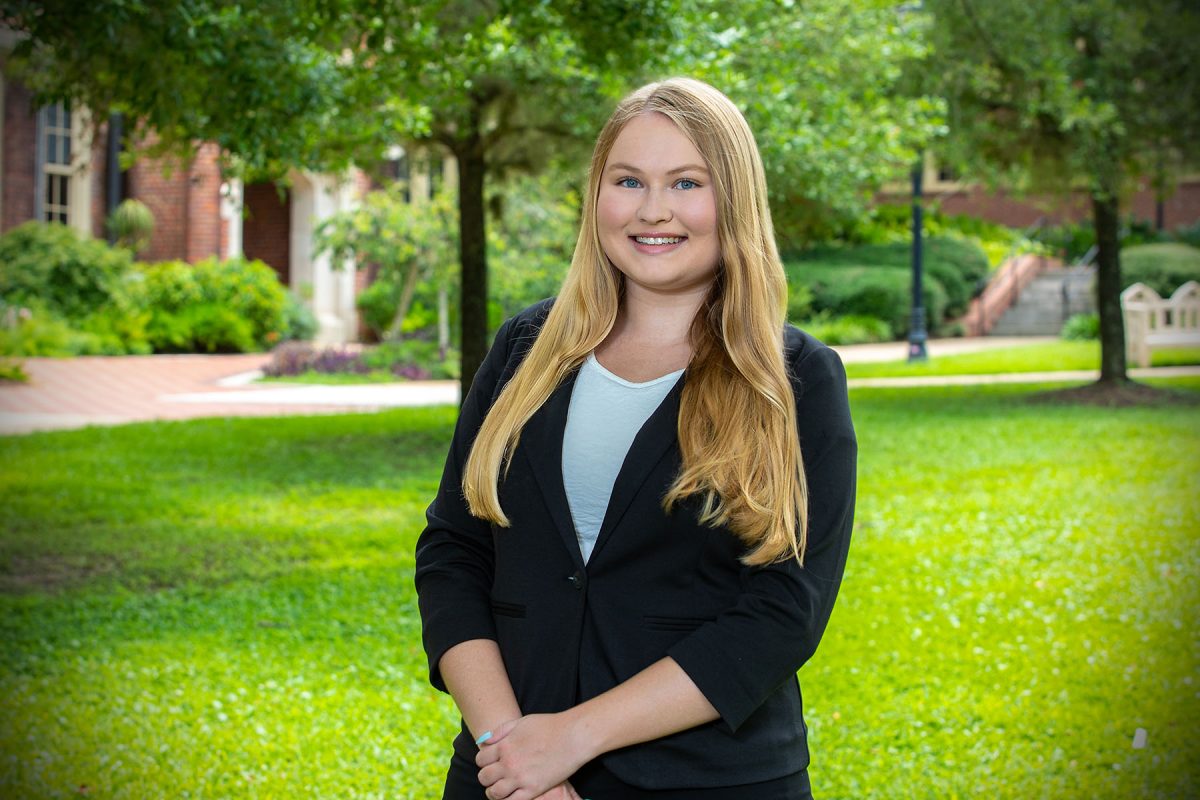 "The connections I've made at FSU have made my college experience more enjoyable, balanced and made me feel like part of a community."
Fast Facts
World Traveler: Has been to nine countries
FSU Family: Younger sister attended FSU alongside her this year
Free Time: Enjoys gardening and owns 12 plants
Academics: Named to the Dean's List or President's List every semester
First-generation student and recent graduate Samantha Salisbury seized opportunities at Florida State University to create formative experiences that prepared her for a career in the medical field.
Passionate about community service, Salisbury quickly found ways to get involved that aligned with her personal and career goals.
Through Phi Eta Sigma, she participated in community service events like road cleanups, food drives and book drives for local organizations. Her pre-med focus led her to volunteer with FSU's Medical Response Unit and work as a certified clinical medical assistant (CCMA) in the Tallahassee area.
"As a CCMA, I had many interactions with patients that only spoke Spanish," Salisbury said. "It was from these experiences that I noticed the importance of speaking another language to better treat patients in health care settings. By minoring in Spanish, I hope to become fluent so that I can provide my future patients with the best medical care possible."
At freshman orientation, Salisbury attended an information session about FSU's International Programs and immediately knew it was something she wanted to do before she graduated.
Three years later, Salisbury immersed herself in Spanish at FSU's Valencia Study Center as a recipient of the prestigious Benjamin A. Gilman International Scholarship, which enables American students to gain proficiency in diverse languages and cultures to enhance academic and career development.
"I consider receiving the Gilman Scholarship to be one of my most significant accomplishments because I would not have had the opportunity to study abroad without the support it provided," Salisbury said. "It provided me with the opportunity to completely immerse myself in the Spanish language and culture while continuing to take Spanish classes for my minor."
Before she applies to medical school, Salisbury is off to Chicago where she will work as a full-time CCMA . With her leadership roles and experiences at FSU, she looks forward to what the future holds as she works toward her ultimate goal of becoming a cardiologist.
"My experiences at Florida State have made me a more compassionate and empathetic person and have taught me invaluable leadership and teamwork skills that I believe will make me a better doctor in the future."
---
How do you feel you found your place at FSU?
FSU has so many incredible organizations and it can be very overwhelming to decide which ones to become involved in. I feel very fortunate to have found such amazing organizations like Phi Eta Sigma and the Medical Response Unit that truly made my collegiate experience great. I have met many hard-working and like-minded people through these organizations who have become some of my closest friends.
Tell me more about the community service aspect of being a member of the Medical Response Unit.
One of my most influential involvements that has shaped my collegiate experience has been volunteering with the Medical Response Unit (MRU). In the MRU, we volunteer for weekly shifts and respond to any medical emergencies that arise on campus, as well as shape our skills through practice scenarios. It has been rewarding to help those on our campus when they are experiencing these emergencies. These experiences have taught me about the qualities of a good health care provider and confirmed my decision to pursue a career in medicine and dedicate my life to caring for others.
What was most memorable about your Florida State experience?
My most memorable experience at FSU was my time studying abroad in Valencia. During my time in Valencia, I met so many great people and formed strong relationships with my roommates and other people in the program. I have many great memories of exploring the city and experiencing Spanish culture with my roommates that I will always look back on. I also had the opportunity both during and after the program to travel around Europe and part of Africa. The nine countries that I visited completely changed my perspective on the world and inspired me to experience as many cultures as possible. I highly encourage those interested in studying abroad to pursue this unique opportunity if they have the chance as it truly is a once-in-a-lifetime experience.
What has driven you the most throughout your time at FSU?
As a first-generation college student, I feel very fortunate to attend Florida State University and to have had so many amazing experiences and opportunities. My family has always supported me and encouraged me to chase my dreams and succeed at the highest level. I have always felt driven to seize all the opportunities that come my way and to make the most of my college experience since my parents did not have these opportunities at my age. The support of my family and their confidence in me has motivated me to make them proud and achieve my overall goal of becoming a doctor.