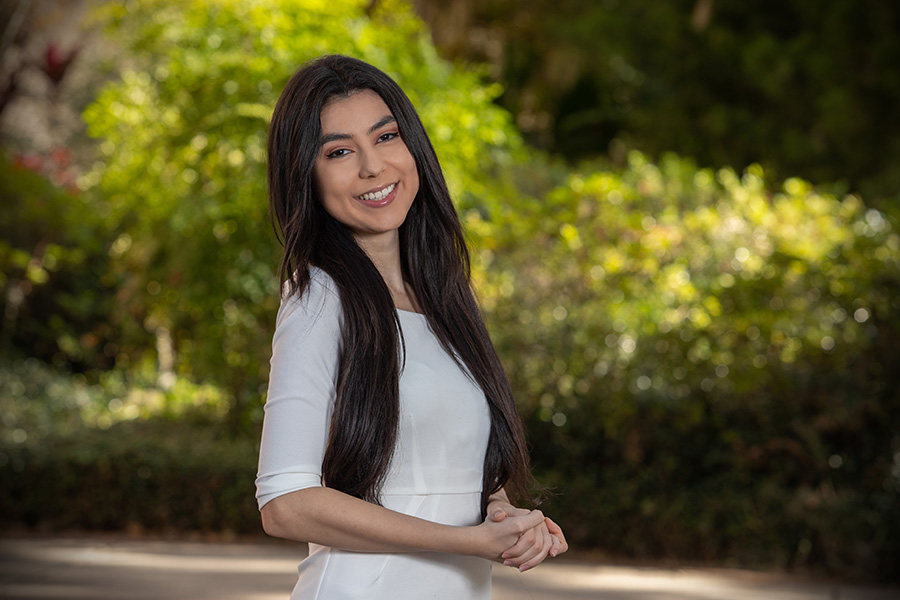 "FSU has introduced me to a variety of organizations and programs that influenced me to apply to medical school."
Fast Facts
Around the Globe: Has lived in Texas, Oregon and Costa Rica 
To relax, I...: Go to the FSU Rez 
Finding Community: Joining the Health Living-Learning Community 
Favorite Study Spot: Dirac Science Library
Helping My Peers: Served as an Organic Chemistry tutor and an Undergraduate Research Opportunity Program leader 
Senior Priscilla Reyes entered Florida State University eager to learn about public health. And learn she did, through her involvement in campus health programs, volunteer opportunities and establishment of an organization for future health care professionals.
Now, she's ready for graduation and prepared to further her education.
Reyes' public health major coursework led to her involvement in organizations such as the Undergraduate Science Students Together Reaching Instructional Diversity & Excellence, or USSTRIDE, program and Big Bend Hospice.
Her interest in public health came from personal experiences.
She said problems she experienced in the public health system led to disenchantment, which led to action. She established a student organization, "Make Medicine Human," which would allow speakers with disabilities and disorders to share their stories.
Reyes said she hopes the speakers' presentations will inspire her organization's members to become more empathetic future health care professionals.
She emphasizes the power of firsthand experience in the medical field to students, and inspired by her involvement with USSTRIDE, she is a certified medical assistant at Tallahassee Memorial Hospital.
Reyes participated in the FSU-FAMU Global Health Collaborative Project, in which she engaged with the health care needs of rural people in Honduras. She credits the project team for her decision to further her education.
"The empathetic and passionate medical students and staff on the team have inspired me to pursue medical school," Reyes said.
When not working at the hospital or on campus, Reyes volunteers to serve in Tallahassee's vulnerable communities. She credits her FSU mentors for keeping her motivated while balancing work, academics and involvement in student organizations.
---
How has your time at Florida State shaped your plans after graduation?
FSU has introduced me to a variety of organizations and programs that influenced me to apply to medical school. USSTRIDE tremendously supported me in this goal by providing scholarships for clinical experiences and tutoring. The opportunity inspired me to volunteer and work as a certified medical assistant to gain more experience before applying to medical school. Being an Organic Chemistry tutor and an Undergraduate Research Opportunity Program leader further fostered my enjoyment in teaching, which I hope to continue. 
How has your involvement with the Global Health Collaboration Project developed your career goals?
The Global Health Collaboration Project introduced me to concepts such as culturally cognizant intervention and the foundations of intricate and productive teamwork. Working through the challenges of rural medicine developed my new goal of aiding uninsured and rural communities. 
What inspired you to start your organization "Make Medicine Human," and what impact do you hope it will have at FSU?
"Make Medicine Human" was an idea that stemmed from my freshman year at FSU. My mother's epilepsy brought my attention to both positive and negative experiences within the medical system, and I wanted to prevent the problems we faced from occurring again. My Health Living Learning community adviser, Angela Sehgal, guided me in establishing my campus organization that invites speakers to discuss their disease or disability and medical experiences with future health care professionals and conduct a Q&A session for the members. At the end of each presentation, the speaker advocates for an outside organization to donate our members' funds. 
In what ways has your work at the Tallahassee Memorial Hospital impacted your career trajectory?
My job as a certified medical assistant at Tallahassee Memorial Hospital with the Internal Medicine office further fueled my passion and curiosity in primary care specialties. The experience taught me the essential aspects of the dynamic and direct patient care experience necessary to become a well-rounded, future health care professional. I am incredibly grateful for my job because it further confirmed to me that I am running toward a goal I genuinely feel excited about and determined to achieve. 
How has your volunteer experience influenced the kind of mark you hope to make in your intended field?
Providing companionship to patients at Big Bend Hospice introduced me to how a hospice functions and the amazing health care team that comprises it. Working with the elderly population in the hospice center invited me to consider adult or geriatric medicine for the future. Once I become a medical professional, I strive to project the compassion and empathy shown toward these patients. Though it isn't related to medicine, I also volunteer at the Kearney Center, a homeless shelter where volunteers can work in the kitchen. Serving a community outside of your field is important in valuing the work other individuals contribute to society. The Kearney Center has introduced me to compassionate staff and chefs who serve the homeless community and inspire me. 
How did you overcome any challenges you faced during your academic career?
When a challenge arises in my academic career, I seek advice from my mentors — staff, professors and advisers at FSU. They provide me with the motivation to keep moving forward. Every challenge poses a potential solution, and I foster the perseverance to find it through the support from my family and friends. Being a certified medical assistant also serves as a daily reminder of what my future holds as I go through these challenges.