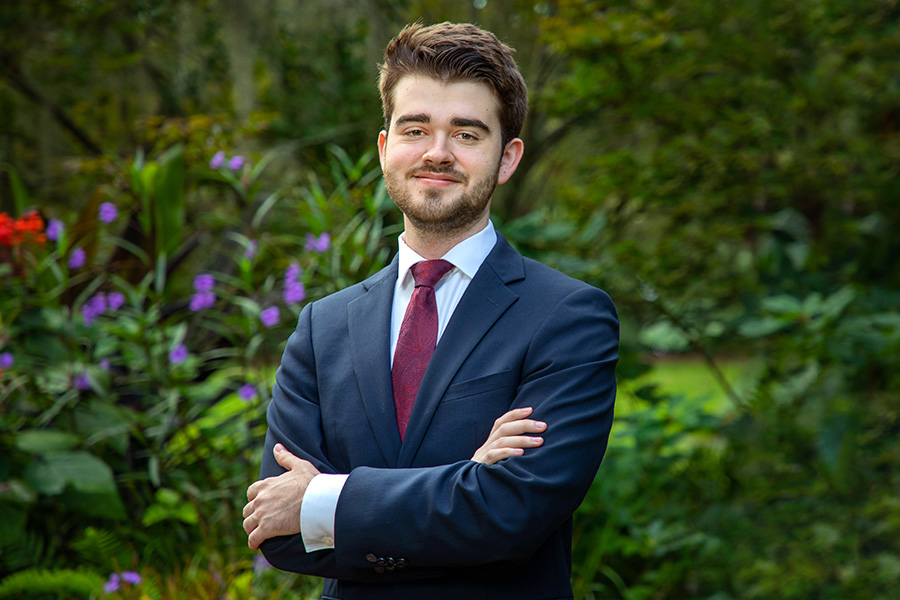 "FSU provides a learning environment where exploration outside the classroom is encouraged and you're given the flexibility to pursue the specific interests that motivate you."
Fast Facts
Initially, couldn't afford college but made it happen "with help from the right scholarships and generous people in my life."
His dad attended FSU in the 80s, making him a legacy student.
Learned that no matter what kind of person you are, "you won't find inner peace or happiness if you don't say, 'I love you,' back to Ms. Killings and hug her before leaving the dining hall."
Plays chess on and off and loves watching recaps from grandmaster-level games.
His family has been in the funeral-home business for five generations, paving the way for what he calls an "ironic transition to the life sciences as the first in my extended family to pursue a STEM degree."
He speaks fluent Spanish "from a lifetime of formal education and practice with my Colombian family."
Andrew Taylor always held an interest in science and a persistent curiosity. Now he holds a prestigious distinction at Florida State University as well.
Taylor, a senior biological science major, recently won the Helen Louise Lee Undergraduate Research Award, an IDEA Grant for an FSU in the Department of Biological Science. The award allowed him to spend the summer conducting his own independent research on the activity of DNA repair genes in cancer, which he hopes will contribute to a better understanding of tumor development.
It's part of a scientific journey that has solidified Taylor's passion for genetics. For that, he credits FSU, which he said has supported and guided him as he has ventured outside his comfort zone.
Through participation in campus organizations such as FSU's International Genetically Engineered Machine (iGEM) team, the Tri-Beta Biological Honor Society and the Center for Undergraduate Research and Academic Engagement (CRE), Taylor found unique ways to interact with other students interested in biology.
Inspired by this sense of community, he has undertaken the positions of design team lead for iGEM and treasurer of the Tri-Beta Biological Honor Society.
"FSU provides a learning environment where exploration outside the classroom is encouraged and you're given the flexibility to pursue the specific interests that motivate you," he said.
How has FSU aided you in your efforts to promote scientific literacy on campus?
In addition to expanding my own scientific knowledge through coursework and FSU-based outreach programs like "Meet the Scientist," I've also been able to use platforms such as iGEM, the biological honor society and a spot in this year's presidential showcase to promote a better understanding of areas I'm knowledgeable in. Research experience and iGEM have gone a long way in solidifying my understanding of biology and being treasurer of the biological honor society puts me in a position where I'm a liaison between the organization and students wanting to join — so naturally, I'll have more opportunities to interact with and be a resource for them. Research experience made all the difference for me, so I hope I can help people with similar inclinations find the same level of fulfillment. 
What impact do you hope your research project on the role of DNA repair genes will have on cancer treatment?
I hope the findings from my research project will help identify targets for cancer therapeutics and contribute to a better overall understanding of tumor development. Historically, gene functions have been uncovered through assays like mutational loss of function screens — providing insight into gene function and regulation by asking what goes wrong when you remove something from the picture. My project in the Bangi Lab has allowed me to take this methodology further by conducting similar loss-of-function studies in genetically altered backgrounds that incite tumor growth, providing more insight into the context dependency of gene function. To understand a system better, you must perturb it, and doing so in the context of multigenic screens should reveal some general insights in addition to improving our understanding of the genetic backgrounds that vary among patients.  
What inspired you to study cellular senescence and replicative stress in colorectal cancer?
The questions of cellular senescence and replicative stress come up naturally in cancer biology when looking at genetically diverse and sometimes overactive clonal populations of tumor cells. Cellular senescence is a response involving halted replication of cells triggered by oncogene expression, which, despite its seemingly anti-cancer functionality, can lead to tumor growth. Replicative stress is a contrasting phenomenon where tumor cells exhibiting overactive DNA replication and transcription experience deleterious effects due to excessive activity. These phenomena are just two examples of the many interactions that make cancer so challenging to treat, and further study of them is necessary to improve our understanding of cancer. 
What did receiving the Helen Louise Lee Undergraduate Research Award mean to you?
Being afforded the opportunity to work on an independent research project for an entire summer allowed me to connect with my motivations on a deeper level and reaffirmed my interest in research. The experience of being on the cutting edge of biological research filled me with the same sense of wonder that motivated me to pursue genetics in the first place. Like most people, I've had friends and family affected by cancer, and the research I've conducted gives me better insight into the process of scientific discovery and how findings can contribute to better treatment. 
How does your research project relate to your participation on the iGEM team?
In my mind, a lot of the beauty inherent to the natural world comes from the amount of coordination and self-regulation required for the world as we know it to exist. In biology, a lot of that richness can be found in gene regulation, whether you're looking to improve the production of the compound cercosporin in a synthetic biology project or attempting to modulate gene expression in the compromised cell-signaling pathways found in tumor cells. Either way, you're leveraging modern genetic tools to better understand and manipulate the interactions that govern living systems, so on a deeper level, they are very much connected. As far as the interplay between the two projects, involvement in one led me to the other. I got involved with iGEM after guidance from David Montez, an associate director at CRE who coordinates both IDEA grants and iGEM. It turned out to be exactly what I was looking for to expand my understanding of molecular biology and the team-oriented work environment I'd experienced in the biotech industry. 
How has your experience at FSU allowed you to grow as a leader and refine your goals?
FSU has given me the opportunity to step out of my comfort zone and not be afraid to fail. I have always had something to prove to myself and known that if I abandoned my dreams, my sense of fulfillment would go with them, so pursuing my goals was never a question; it was just a matter of finding an institution that would allow me to do it on my own terms and a supportive faculty that would help me along the way — specifically, those that have entrusted me to take responsibility for substantial projects and instructors who have gone the extra mile to help me succeed. Overall, I gained a level of confidence cultivated by the learning environment here that naturally translated into leadership roles, where I'm given the opportunity not only to lead by example but to speak on the values I'm passionate about.