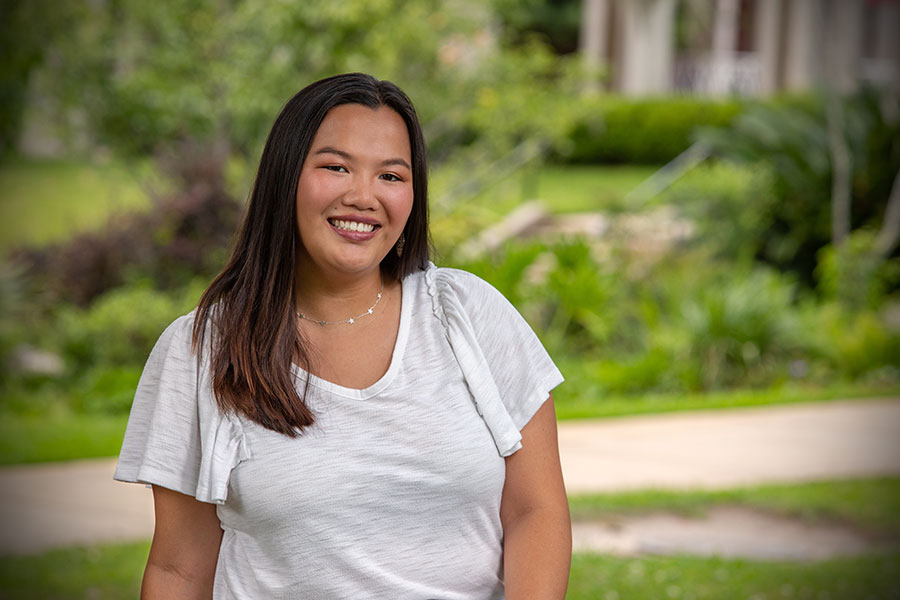 "At FSU, no one just does any one thing. Everyone has so many different skillsets, and the fact that it's encouraged here has helped me find what I'm passionate about and what inspires me."
Fast Facts
Instrument: Has played the flute for more than a decade.
FSU Research: Awarded an IDEA grant to map the musical communities of Tallahassee.
Involvement: Former member of the Marching Chiefs and current member of the international music fraternity Sigma Alpha Iota and the Flute Association.
Post-graduation: Wants to pursue a master's degree in ethnomusicology.
Dual passions: Decided to double-major in English after being a staff writer and then an editor for the FSU chapter of "Her Campus."
Like so many others, Brenna Miller learned to play the recorder in elementary school. But unlike most of her peers, her encounter with the woodwind instrument inspired a passion for playing the flute.
Now a senior at FSU, Miller has turned her activity into achievement — double-majoring in woodwind performance in the College of Music and English in the College of Arts and Sciences.
From Port Orange, Florida, Miller graduated from Spruce Creek High School, recognized as a 2004-2007 "Music Demonstration School" by the Florida Department of Education. She was a member of the SCHS High Steppin' Hawks, a model for high school band programs in Florida and throughout the country.
After arriving at FSU in 2019, Miller joined the world-renowned Marching Chiefs. She stayed on during the 2020 season at the height of the COVID-19 pandemic and helped maintain the band's status as an FSU game-day staple.
As a freshman, Miller wrote for "Her Campus," an online magazine with more than 400 campus chapters that target the female college student demographic. This experience prompted her to earn a degree in English along with her woodwind performance degree.
While at FSU, Miller has also participated in a research project with Jen Atkins, an associate professor in the School of Dance who recently won acceptance into the Fulbright Roving Scholars Program. Miller also earned an IDEA grant for her project "Mapping the Musical Communities in Tallahassee, Florida."
"FSU has given me amazing opportunities to pursue my passions, because I've been able to do more than just perform on a stage and write," she said. "They've really been encouraging of me studying different disciplines, and I've been able to pursue what I'm interested in."
Why did you choose Florida State University?
I chose to attend FSU for its amazing music program and flute professors. As soon as I stepped onto campus, I fell in love with the community and the atmosphere of the school. I also chose FSU because of its amazing opportunities for undergraduate research and interdisciplinary studies.
Please elaborate on how you picked up playing the flute as a hobby.
I played recorder in elementary school, like I'm sure almost every American child raised in public school did, and I said, "You know, band would be fun." I knew nothing about instruments besides the recorder, but they asked me if I wanted to play the flute, and I was like "OK," and here we are.
Explain the effects of your experience with "Her Campus."
I started writing for "Her Campus" my freshman year because I was in the Marching Chiefs and one of the people in the flute section was a leader for the FSU chapter. So I was like, "I know one person, why not do it?" I wrote for two semesters and edited for one, and I really liked being outside of the College of Music because it can get super saturated. Especially in the first two years, because it's all theory, aural skills, piano lessons and ensembles. You don't really get to choose what you want until your third or fourth year, so I thought English would balance it out, so I can have a space outside of music. I realized I really liked the writing, that I missed writing and I missed writing for fun instead of writing papers and stuff. I thought it was a good pairing, and I think it has really helped me not burn out on music.
What kind of research have you done at FSU?
My undergraduate research project was working with Jen Atkins, associate professor in the School of Dance, on a Fulbright project. We made workshops for high school students in Norway that were about dance and popular culture, using dance and American popular culture to teach about American cultural issues. It was a lot of preliminary background research and also some research into better pedagogy for students, like what is more engaging for them, because these are going to be very interactive workshops.
My IDEA grant is more of a musicology project. I'm mapping the musical communities of Tallahassee. There's a lot of different music communities here — we have a really strong Old Time Group, with fiddling and contredanses, which are kind of like square dances. We also have a fledgling Sacred Harp singing group, which is where all your vocal parts sit around a circle and someone in the middle leads. There's also a big Irish community in Tallahassee. There's also jazz, of course, especially with FSU, and there's a lot of Blues — you can't talk about music here without talking about the Bradfordville Blues Club. I'm focusing on a very select few, because obviously this project could go on forever and ever, so the scope right now will focus on five communities. One community will be educational institutions here, like FSU, FAMU, TCC, Leon High School and Lincoln High School. And then I'm also focusing on Old Time, Irish and Western Classical. Those are the big ones right now and then there's a couple of standalones. There's a form of African drumming that stems directly from Tallahassee, so I'm looking into things like that as well.
What are the implications of your musicology project?
I'm using a combination of archival research with interviews and personal narratives that will be hosted on a CreateFSU webpage and will be a public archive of music here in Tallahassee. I'm hoping to provide a resource for people interested in music in Tallahassee and to tell the stories of the people who have been participating in it. The community is really cool. There's a lot here, there's a lot of music going on and there's a lot of people who love to make that music. I hope to just inspire that and even inspire students who may be interested in these communities. We think about how music does kind of play into all this, and I don't think these stories get enough recognition.