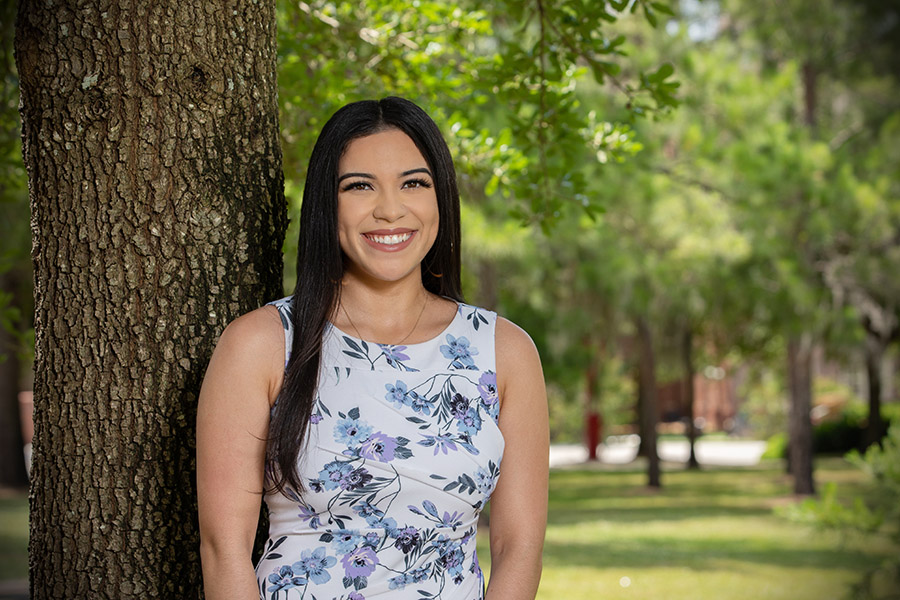 "FSU has aided in my contribution to the Tallahassee community through the Service Scholars program, which has educated me on how to efficiently engage in service."
Fast Facts
Favorite FSU Resource: The Office of National Fellows to help with scholarship applications 
First Language: Spanish
College Bound: FSU was her first choice
FSU Morning Routine: Working out at the Leach and getting in the hot tub
Favorite Study Spot: Strozier second floor 
Florida State University Department of Sociology graduate Guissella E. Cruz Rodriguez found FSU's location in the state's capital city the ideal backdrop for her interest in service, social justice and law.
Inspired by her own experience as a survivor of sexual violence, Cruz Rodriguez is dedicating her life to helping those in need.
"I want my legacy to be a story of overcoming adversity as well as embodying resilience and strength," she said. "As a low-income Latinx survivor of sexual violence, I overcame a lot of adversity to attend and excel at Florida State."
As a freshman, Cruz Rodriguez enrolled in the FSU Service Scholars Program, which promotes civic responsibility. Admission to the program is reserved for first-year students who have demonstrated excellence in service and leadership in planning and promoting community involvement among peers.
"The Service Scholars program taught me how to be a servant leader and make space for a community — to express their needs, rather than assume them," she said.
While at FSU, Cruz Rodriguez stayed actively involved through the Service Scholars Program, Center for the Advancement of Human Rights, Undergraduate Research Opportunity Program, Honors in the Major Program, Noles Engaged in Politics, Women's Leadership Institute, Institute of Politics, Global Scholars Program and Social Science Scholars Program.
After her experience as a 2021 Social Science Scholar, Global Scholar and IDEA Grant recipient, she presented her research at the 2021 Presidential Showcase, 2021 Global Scholars Showcase, 2022 Florida Undergraduate Research Conference and the 2021 and 2022 Undergraduate Research Symposiums.
Cruz Rodriguez was recognized as a 2021 Torchbearer 100 for her research, advocacy and service at FSU. This research empowered her to launch her small business, Divine Survivor Candles, which "uplifts the experiences of survivors and encourages uncomfortable conversations that inform the communities on how to support survivors of sexual violence and to understand what sexual violence and consent are."
Her experiences at FSU helped pave the way for her current role as a Community Outreach Specialist at Legal Services of North Florida, where she works with attorneys and community partners to organize pro bono legal clinics serving vulnerable communities in Leon County.
Cruz Rodriguez plans to eventually pursue a joint J.D. and Ph.D. in sociology and to further advocate for legislative and legal practices that center on survivors of sexual violence.
"The legacy I leave at Florida State is one of empowerment, especially among those who have been disempowered through sexual violence," she said.
---
How did your research opportunities help guide your academic experience at FSU?
My first research experience at FSU was through the Undergraduate Research Opportunity Program, where I had the opportunity to conduct research with assistant professors Brandon Lantz and Marin Wenger. We investigated the relationship between Confederate monuments in comparison to hate crimes and hate groups in the U.S. Through this program, I learned the importance of research and how it truly demonstrated the need for social reform. I had the opportunity to present this research at the 2020 Undergraduate Research Symposium and 2021 Florida Undergraduate Research Conference, which allowed me to explore urgent social issues through research initiatives. 
This research also paved the way for me to do research at the Center for the Advancement of Human Rights through an assistantship with Terry Coonan and Vania Aguilar that investigated human trafficking resources and trends in the state of Florida. This experience inspired me to take part in a directed individual study, which then became my honors thesis investigating the consequences of image-based sexual abuse victimization among youth. 
Discuss your previous role as an intern at the FSU Center for the Advancement of Human Rights.
The FSU Center for Advancement of Human Rights provides the opportunity to support undocumented people, specifically women and families who have endured sexual violence, through the Violence Against Women Act, to help them obtain their citizenship and start new lives for themselves. 
As an intern, I conducted research on human-trafficking trends throughout Florida and offered support in creating a statewide directory on human-trafficking resources. I also found community partners to provide resources for survivors of human trafficking.  
The research I have conducted and the service opportunities I have had the privilege to take part in have empowered women, Black and indigenous communities and people of color, as well as undocumented people and families. I'm incredibly grateful to have had the opportunity to serve marginalized groups. 
Explain the impact you are making with your small business.
My experiences at FSU inspired me to start Divine Survivor Candles, which is dedicated to providing a platform to survivors of sexual violence in order to disrupt false narratives on what sexual violence is. My platform aims to empower survivors to take control of the narrative since that's often taken from them.  
Oftentimes, people do not understand what sexual violence is. Many victims and survivors do not recognize the abuse they are enduring until many months — or even years — later. My goal is to disrupt that, to help people understand what sexual violence is, how to talk about it openly, understand what consent is and how to recognize sexual assault. This is all with the goal to reduce victimization and prevent re-victimization, especially among youth.  
In order to do this efficiently, each candle is dedicated and designed by a survivor of sexual violence who wants to share their story. One hundred percent of our profits go toward research to prevent victimization and re-victimization.  
What do you consider the most influential learning experiences during your time in Service Scholars and Social Science Scholars?
The Service Scholars Program taught me how to approach service in an efficient and effective manner within Leon County, specifically among marginalized and vulnerable communities, including survivors of sexual violence. We are taught how to serve and make a real impact in a way that's sustainable and truly empowers the people we're serving.  
In the Social Science Scholars Program, we were encouraged to have summer experiences that allowed us to tackle a social need, so for my project, I investigated youth who were victimized by image-based sexual abuse (IBSA), read hundreds of survivor stories and conducted extensive research on the consequences of IBSA on adults. I also compared the impact of IBSA victimization among adults to youth and then to those impacted by sexual violence and human trafficking. This experience allowed me to learn about the importance of research and the need for it. 
These programs provided a space to learn from my peers and their own experiences, which supported me in becoming the leader that I am today.