---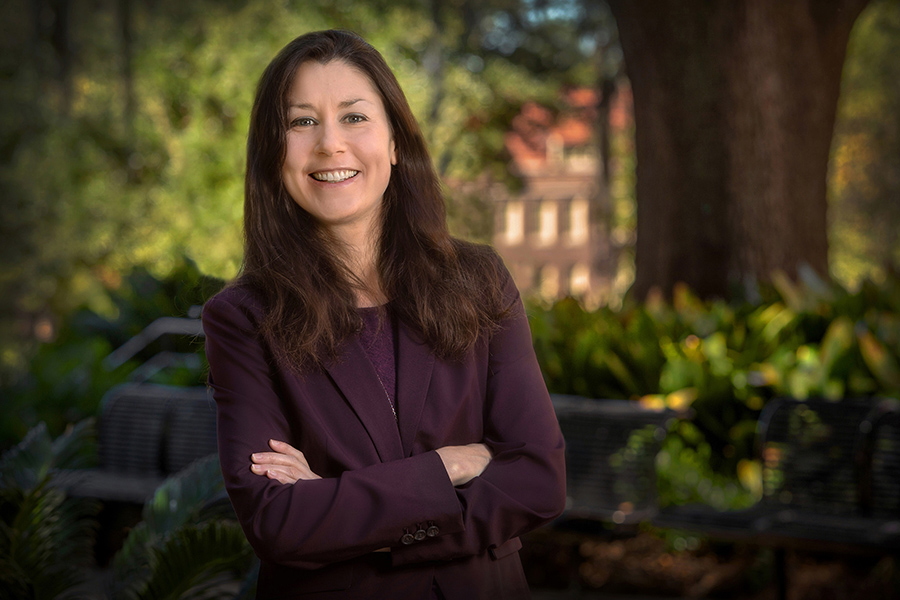 ""When I was first admitted to the Creative Writing Program, I felt incredibly lucky and grateful. That feeling has only grown since I moved to Tallahassee and started taking classes because now I have seen firsthand how talented my classmates are and how much effort they put into their work.""
FSU creative writing student turns published poet
Major: English Ph.D. (Creative Writing)
Graduation: Spring 2021
---
Eleanor Boudreau came to Florida State University in Aug. 2016 with the utmost admiration for FSU's Department of English poets. Now, nearing graduation with her Ph.D. in English, she is an accomplished poet herself.
"When I was first admitted to the Creative Writing Program, I felt fortunate and grateful," Boudreau said. "That feeling has only grown since I moved to Tallahassee and started taking classes because now, I have seen firsthand how talented my classmates are and how much effort they put into their work."
Upon arriving at Florida State, Boudreau was all but ready to give up on a project she had spent more than 15-years working on titled "Earnest Postcards."
Boudreau worked alongside Barbara Hamby, the professor of one of her first workshops at FSU, who encouraged her not to abandon these ideas. This project later became an integral part of her first book of poetry, "Earnest, Earnest?"
Boudreau finessed the manuscript over the next year but felt it wasn't ready to publish as a book. Instead, she chose to attend another workshop with James Kimbrell, professor of creative writing, poetry and translation at FSU, hoping he would provide additional insight.
Both Kimbrell and Boudreau's classmates provided valuable insights in the early stages of "Earnest, Earnest?" and Boudreau emerged from Kimbrell's class with a cohesive book, along with gratitude for the feedback she had received.
"The book follows the speaker, Eleanor, as she writes postcards to her on-again-off-again lover, Earnest," Boudreau said. "The fact that her lover's name is Earnest and that their relationship is fraught raises questions of sincerity and irony, and whether both can be present at the same time. While Earnest can be read literally as Eleanor's lover, he is best understood as another side of the poet's self."
The ambiguity at play in "Earnest, Earnest?" is embodied in the text/image form of the 'Earnest Postcards' that structure the book — these poems are experimental in their use of images and formal in their dialogue with the sonnet.
"Thus, 'Earnest, Earnest?' is a question of tone, address and form," she said.
"Earnest, Earnest?" was selected from a pool of 639 manuscripts as the winner of the 2019 Agnes Lynch Starrett Poetry Prize and published by the University of Pittsburgh Press on Sept. 8, 2020.
While at FSU, Boudreau has also done a significant amount of scholarly research on the role of consolation in modern elegy. She has focused on two camps of poets working at opposite ends of the 20th century, World War I soldier-poets and the AIDS elegists. Boudreau presented her papers on this topic at the University of Oxford and the University of California, Berkeley.
Boudreau has also designed and taught poetry writing and literature courses at FSU. In 2018, she served as co-course designer and pilot instructor for Introduction to English Studies, FSU's newest required course for English majors. She also has tested new course designs for the department and served as a pilot instructor for Freshman Composition and Rhetoric.
Boudreau has received numerous awards while at FSU, including winning one of FSU's Graduate Research and Creativity Awards and being nominated for the Outstanding Teaching Assistant Award.
As to the question of why she is a poet, Boudreau said, "I don't think I ever had a choice. Poetry, for me, is a compulsion."
After completing her doctoral degree, Boudreau plans to write another book and teach poetry and writing to students next generation.