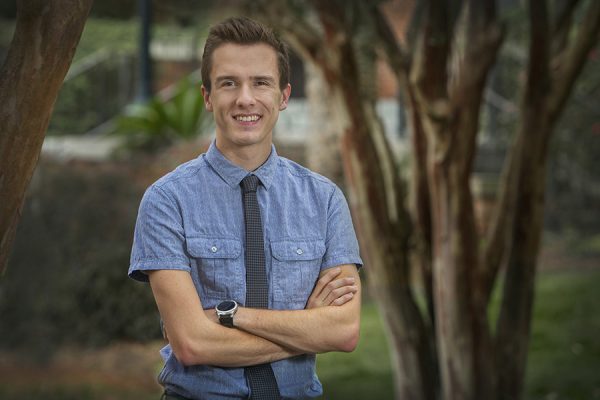 "FSU exudes a confidence and passion that succeeds in doing away with most of the pressures that come with most big universities."
When he was considering where to attend college, Florida State University senior Terry Beck wanted a place to grow and build the skills necessary to pursue his dream of becoming a filmmaker.
He thought he would have to attend a school in New York or California, but as soon as the Wisconsin native saw FSU had a highly esteemed and intensive motion picture arts program, he knew he had to be part of it.
"Upon touring Florida State, I was certain it was the place for me," Beck said. "I was inspired by the ingrained sense of pride and awestruck by the beauty of the campus and the fact that it promoted the confidence to express oneself in unique ways. FSU exudes a confidence and passion that succeeds in doing away with most of the pressures that come with most big universities."
The motion picture arts major has made the most of his time on campus, becoming an advocate for social justice through film. He began his film career at FSU creating a personal documentary called "Us Thereafter," which shared the story of one a high school friend's murder and her father's mission to spread love over hate by sharing his daughter's legacy.
"With the topic of the piece being a tragedy that I personally lived through in very close proximity, it presented a unique set of challenges that I had to overcome," Beck said. "I've learned that people value art that promotes social justice because it can act as a call to action."
Beck worked alongside film professors Ian Weir and Valliere Auzenne, who helped him to professionally execute and edit his film.
"Terry is a very dedicated and talented young filmmaker who has a deep sense of empathy for people, which shows in his work," Weir said. "It was a pleasure to work with Terry on his documentary film 'Us Thereafter,' which was a great example of him putting his heart into his craft."
Beck's was nominated for the President's Humanitarian of the Year Award for his dedication to social justice through the film by the College of Motion Picture Arts, as well as for the FSU Global Citizen Award.
"The recognition from this film motivated me to continue channeling my life experiences into my art," Beck said. "The darker moments of my life fuel my desire to create, inform and entertain."
Beck's love for the arts doesn't stop at film. He also has a love for music and was a member of the world-renowned FSU Marching Chiefs.
"My proudest achievement throughout my time at FSU has to be the opportunity to be a Marching Chief," Beck said. "It was a once-in-a-lifetime opportunity to feel a truly unique sense of Seminole pride."
When Beck isn't behind the camera, he is front and center on stage with "No Bears Allowed," an improvisational comedy troupe on campus. The troupe also raises money for different charities through shows and bake sales.
"I became involved with No Bears Allowed as a shy and introverted freshman, but with the leadership and support within the group I was able to embrace my sense of humor," Beck said. "This group has improved my self-confidence, self-esteem and general outlook on life."
Beck also dedicates his time to a cause that he has personally been affected by since he was a child — juvenile idiopathic arthritis. Even though he is currently in remission, Beck still serves as an advocate for this disease.
Over the past 10 summers, Beck attended Camp M.A.S.H., (Make Arthritis Stop Hurting) as a camper and volunteer counselor. Located in his home state of Wisconsin, the camp serves as a weeklong respite and summer getaway for children and teens who suffer from arthritis or a related chronic condition.
"It's a privilege to help these children feel a sense of hope, awareness and normalcy in their lives," Beck said. "Camp M.A.S.H. is like a second home to me, and I'm honored to be able to make it back every year for the incredible kids that come."
After graduation, Beck plans to continue learning about the film industry, focusing primarily on directing and producing as potential career paths.
"FSU has provided me with the opportunities and tools to jump-start my career," Beck said. "In the process of teaching us how to craft beautiful stories, the College of Motion Picture Arts also prepared us for what the film industry is really like. FSU has created such an amazing environment for film students to let our imaginations run wild. I owe all my accomplishments to the amazing network built by the FSU community."
---
By Ali Buis, University Communications Intern
Produced by the offices of Information Technology Services, the Provost, Student Affairs, Undergraduate Studies and University Communications.