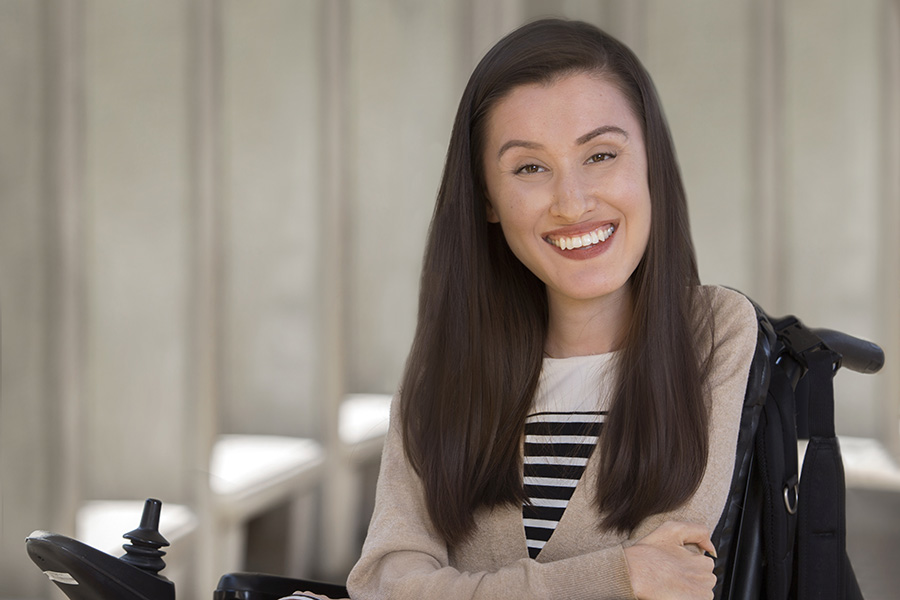 "I have more confidence and faith in myself to go out into the world and pursue my goals from the knowledge, experience and mentoring I have received while at FSU."
Florida State University graduate student Demi Nicks has built her college career around her love of music. As a teaching assistant in the College of Music, she hopes to spread that passion to her students.
"Music as an art has an infinite amount of possibilities," Nicks said. "With or without spoken language, music can evoke every possible emotion and has the ability to connect people across all sorts of boundaries."
Nicks found joy in music when she was a little girl. She started taking voice and piano lessons when she was only 8 years old.
"My parents played a lot of music around the house when I was a child, and I loved to sing along and put on 'concerts' for my family," Nicks said. "I have always enjoyed music and knew I wanted to pursue a career in it from a young age."
After graduating from Stetson University with a bachelor's degree in music theory, she began searching for a graduate school that would best suit her needs.
"Florida State is known for their top-notch music department that features highly accomplished faculty who are kind, helpful and have a strong desire for their students to succeed," Nicks said. "After visiting the campus, I knew that FSU was the school for me."
The Jacksonville native was excited to explore all the opportunities that FSU offered after attending a smaller undergraduate school.
"The most significant adjustment coming to FSU from Stetson was the largeness of everything — the number of people, the campus and the school spirit," Nicks said. "I've enjoyed the change to a larger school while still being able to keep the feeling of a tight-knit community."
One of the things Nicks enjoys the most is teaching and sharing her passion for music with undergraduate students.
"I love making others excited about musical concepts, and it makes me happy to think that the knowledge and skills I'm sharing with my students will help them on their journey to becoming better musicians," Nicks said.
Nicks also delved into research and worked on a project titled "Something 'Freakish': Disability and Narrative in the Music of György Ligeti," which combined music analysis and disability studies. She presented the project at FSU's 2018 Music Theory Forum and also at the Music Theory Southeast Conference.
"One of the deeper messages in my paper is that difference does not mean deficit," Nicks said. "This is true in music and in life. Modern visual arts use representations of the disabled body and mind as an artistic tool."
The message is personal for Nicks, who uses a wheelchair and has a congenital condition called spinal muscular atrophy that causes muscle weakness from birth.
"I know that for some of my students, I may be their first personal encounter with a person with a disability," Nicks said. "I hope seeing me on a weekly basis demonstrates that people with disabilities can be cheerful, earn a degree, have a career and be out in the world contributing to society."
Teaching in a normal classroom could be difficult, but she hasn't let her disability impact her dreams. With the help of FSU's Student Disability Resource Center and the College of Music, Nicks is able to pursue her passion for teaching and playing music in an accessible and inclusive environment.
"FSU has been extremely accommodating to all of my needs," Nicks said. "I teach in a technology enhanced classroom where all the equipment is within my physical reach or controlled via remote. A document camera is set up on a special table that enables me to write on the whiteboard, and there's a piano of appropriate height — all in a room that is spacious so that I can move about freely and work with students."
Nicks' natural skill for teaching and her talent as a musician inspire her mentors, colleagues and students.
"Demi is at the very beginning of her career, but she is already establishing herself as a teacher and researcher," said Nancy Rogers, a music theory professor and Nicks' academic adviser. "She is a well-trained musician, both academically and as a performer, and utilizes all of her talents in the classroom to foster the perfect environment for learning."
Nicks is a member of the FSU organization University of Choice (UoC), where she promotes awareness, inclusion and accessibility for persons with disabilities. She wants to help change the way that they are perceived, break stigmas and inaccurate assumptions and set a positive example for others.
"UoC is a new organization on campus with the primary goal of making FSU a 'university of choice' for those with disabilities," Nicks said. "I hope UoC can help remove the stigma around disclosing a disability. It is an inevitability of life that shouldn't be awkward or shunned from the conversation. An impairment only becomes a disability when society creates or allows environments with barriers."
Nicks highly recommends FSU to anyone, including those with disabilities, who want to get a high-quality education on a lively campus.
"I have gained so much knowledge from my courses and professors, along with the opportunity to teach," Nicks said. "FSU provided me with the resources and tools I needed to succeed as a student and instructor with a disability."
After graduation, Nicks plans to pursue a doctoral degree and continue studying music theory. Her long-term goal is to become a professor of music theory and make significant research contributions to the music world.
"My experience at FSU has been great, and I have come to know myself better as a scholar, teacher and person," Nicks said. "I have more confidence and faith in myself to go out into the world and pursue my goals from the knowledge, experience and mentoring I have received while at FSU."
---
By Susan Hansen, University Communications
Produced by the offices of Information Technology Services, the Provost, Student Affairs, Undergraduate Studies and University Communications.