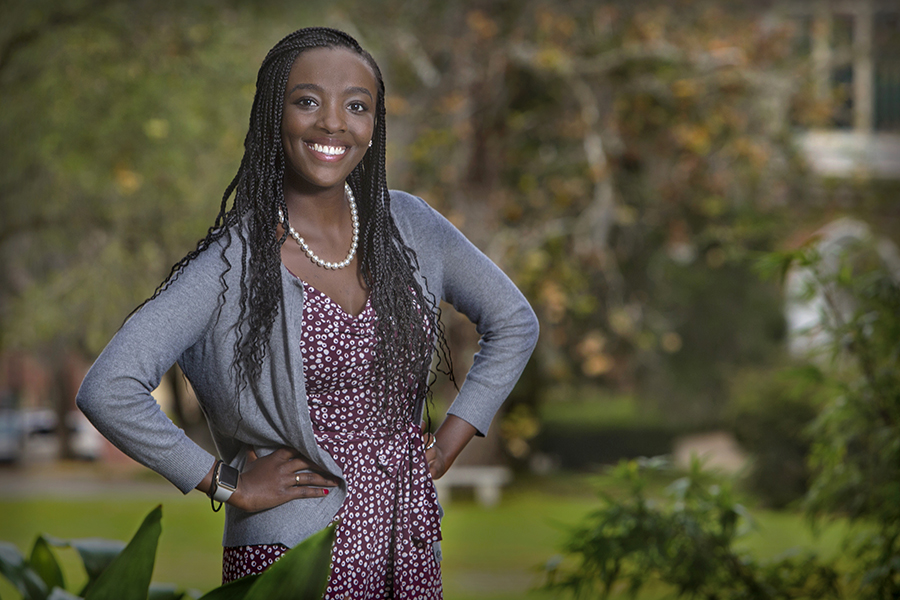 "The support of my Florida State family has helped shape, guide and encourage me to excel in every area of my life."
Senior Shalom Chege has used the boundless opportunities at Florida State University to get one step closer to making her dream of being a physician a reality.
Chege, a premedical student with a passion for teaching, was born in Nairobi, Kenya, where she lived with her family for seven years until moving to the United States.
"The support system that Florida State provided from the beginning of the application process was so incredible," Chege said. "I never experienced that level of personal attention and kindness at any other school, and it became clear right away that FSU was going to become my home away from home."
Chege cultivated a love of medicine from an early age, aspiring to be like her father, a physician and faculty member at the FSU Family Medicine Residency Program at Lee Health in Fort Myers, Florida.
"My father is a family medicine physician, and ever since I can remember, I have always looked up to him," Chege said. "When I was little, he explained to me how he gets to use all this cool stuff to make people feel better, as an actual job. I knew immediately that was what I was meant to do."
Her decision to attend FSU was solidified after being accepted into the Honors Medical Scholars Society (HMSS), a prestigious professional-track program that helps students to become exemplary scholars on the path to medical school.
Chege also received the University Freshman Scholarship each semester and a Benacquisto Scholarship, covering the total cost of tuition.
From her first semester on campus, the honor student hit the ground running — pursuing her dream of becoming a physician, while also exploring her love for teaching and giving back to the community.
"The first day I came to campus, the focus was on what the university could do for students to help them pursue their interests and passions," Chege said. "I knew I had found a family, not just a school."
During the summer of 2016, Chege conducted research at the Advanced Pain Management and Spine Specialists Center in Fort Myers, Florida, where she worked under nationally renowned spine specialist Jonathan Daitch. Her research analyzed how patients respond to low habit-forming analgesics.
"Many of the patients had spent years on an opioid drug for their pain, and Dr. Daitch was attempting to combat the current crisis by turning to alternative methods for pain relief," Chege said. "It was absolutely fascinating, and I learned so much from being able to do work that contributes to ending a crisis that affects so many people today."
In addition to her rigorous premed coursework and research, Chege still found the time to get involved on campus. She served as service chair for the Honors Medical Scholars Society and as co-president of the organization the following year. She is an honors delegate for the FSU Honors Program and a member of the Academic Recruitment Organization (ARO), where she works alongside high-achieving students to recruit academically talented high school students to FSU.
Chege has combined her interest in medicine with her commitment to service through teaching and volunteering, logging hundreds of service hours at nursing homes, homeless shelters, charity farms and other places in various capacities.
"Through my service, I was able to cultivate a spirit of compassion and humility, which will help shape me into the type of physician that I hope to be one day," Chege said. "I owe so much to the various organizations that provided opportunities for me to serve. In doing so, I have learned valuable lessons about how to put others before myself."
Currently, Chege is an Algebra I teacher at Gadsden County High School through the Science Students Together Reaching Instructional Diversity and Excellence (SSTRIDE) Program.
"I am so humbled to be a part of a program like SSTRIDE that works tirelessly to motivate and invigorate the minds of the future," Chege said. "Teaching has helped me appreciate the quality of the education that I have received and to be grateful for it. Such anecdotes are what I hope to be my legacy at FSU."
Miranda Mack, Chege's supervisor at SSTRIDE, said she was impressed with how dedicated Chege was to teaching while still managing a full course load at FSU.
"Shalom is an excellent teacher and has the unique ability to convey information on the learner's level — a skill that will prove useful as she transitions to medical school and begins her journey in patient care," Mack said. "Physicians are teachers, and the students have great respect for her. She has been a valuable asset to our program."
In spring 2016, Chege served as a teacher's assistant for the Honors Colloquium class where she led breakout sessions on the topics of service, research, leadership, entrepreneurship and global involvement for other FSU honors students.
Even with her wide array of extracurricular activities, Chege has made the Dean's list every semester, earning minors in psychology, chemistry and biology. She also scored in the 91st percentile on the Medical College Admissions Test (MCAT) and is a member of the Phi Eta Sigma National Honor Society.
Chege's hard work paid off — she has been accepted into the Florida State University College of Medicine Class of 2022, where she will continue working toward her dream of becoming a primary care physician.
"In all of my time at FSU, my main goal was to make a positive impact on the school to which I owe so much of my success," Chege said. "I am so blessed to be able to attend such an incredible university. The support of my Florida State family has helped shape, guide and encourage me to excel in every area of my life."
---
By Brooks Lockett, University Communications Intern
Produced by the offices of Information Technology Services, the Provost, Student Affairs, Undergraduate Studies and University Communications.