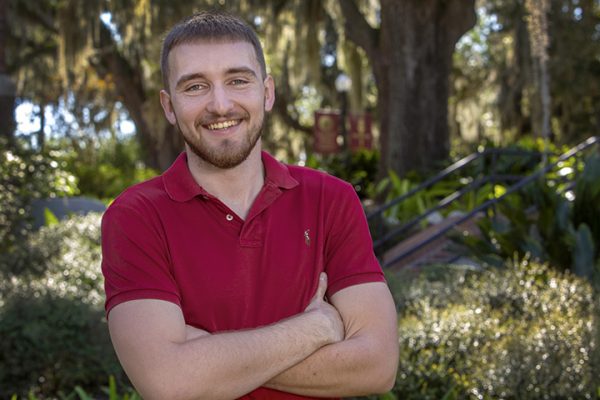 "The abundance of experiences at FSU is astounding and allows you to learn a lot about yourself."
Senior Will Boose has combined his passion for Latin American studies with a desire to make a direct impact in the community during his time at Florida State University — and the result has been an exceptional collegiate experience.
The native of Naples, Fla., remembers the day he decided to go to FSU. He had just been selected to the inaugural class of the Presidential Scholars Program, the most distinguished scholarship the university offers, and that solidified his choice to attend Florida State.
"I immediately blasted the war chant in my house and knew that Florida State would be my new home," Boose said. "The financial support and sense of community drew me here, and those factors will keep me passionate about our university until the day I die."
Beginning in his first semester, the double major in history and Spanish, got involved on campus and explored the breadth of opportunities FSU had to offer.
"The abundance of experiences at FSU is astounding and allows you to learn a lot about yourself," Boose said. "The sooner you can identify what goals are important to you, the sooner you can unapologetically pursue your future."
One of Boose's most outstanding accomplishments at FSU was co-founding the Academic Recruitment Organization (ARO), a student-run association that recruits top high school students via high school visits, handwritten letters, personalized campus tours and personal phone calls.
During the 2016-2017 school year, ARO reached more than 3,500 students, traveled to 10 states, launched a handwritten letter campaign and gave tours to over 100 high school students.
"My proudest legacy from my hundreds of hours with ARO is that I have empowered students to directly participate in Florida State's climb toward being one of the top 25 public universities in the nation," Boose said. "ARO is a fantastic pipeline for high-achieving students that will only grow as it gets older."
As a freshman, Boose completed the Undergraduate Research Opportunities Program (UROP), which provided him with the foundational skills needed to pursue a larger, independent research project. His UROP research resulted in an IDEA Grant Award of $4,000.
Boose then utilized his IDEA Grant funding to travel to Peru in the summer of 2016, where he served as a teaching assistant at La Universidad de la Amazonía Peruana. During his stay, he also completed an independent research project that focused on how the indigenous peoples of Amazonía use myths and storytelling to cope with the environmental and economic catastrophes brought about by unrelenting market pressures. He is currently expanding on this work in his honors thesis.
"I have since pursued my research interests with generous funding from the Presidential Scholars and IDEA Grant programs," Boose said. "Without those entities, I would not have been able to conduct fieldwork in the Peruvian Amazon — an experience which is proving instrumental as I apply for graduate programs to pursue a master's in Latin American studies."
Robinson Herrera, associate professor of Latin American history at FSU said it is incredibly rare for an undergraduate student to undertake the sophisticated fieldwork Boose has completed.
"Will possesses a voracious intellectual curiosity, and consequently he has immersed himself in Latin American history and literature," Herrera said. "I consider Will truly exceptional. He is genuinely committed to using his education in a socially conscious manner."
Boose also served in the Student Government Association (SGA) as secretary of academic affairs and deputy chief of staff. Through these roles, he was able to allocate $3,000 to UROP and establish an undergraduate research information session during incoming freshman Preview Days. He also partnered with the FSU Office for Student Sustainability to host a "Green Senate Session," during which SGA went paperless and set forth an initiative for students to recycle.
He has made Dean's or President's list every semester and is also vice president of membership for the FSU Garnet and Gold Key, a society that represents top student leaders at Florida State. Through his role, he will have the honor of admitting the fall 2017 and spring 2018 classes of exceptional leaders and scholars.
After graduation, he plans to earn a master's degree in Latin American studies, working toward his goal of serving in the U.S. Foreign Service or working for the government of a Spanish-speaking nation.
"Once I have established myself in my career, I plan to engage with the FSU community as a mentor for undergraduates who wish to work in a similar field," Boose said.
---
By Brooks Lockett, University Communications Intern
Produced by the offices of Information Technology Services, the Provost, Student Affairs, Undergraduate Studies and University Communications.