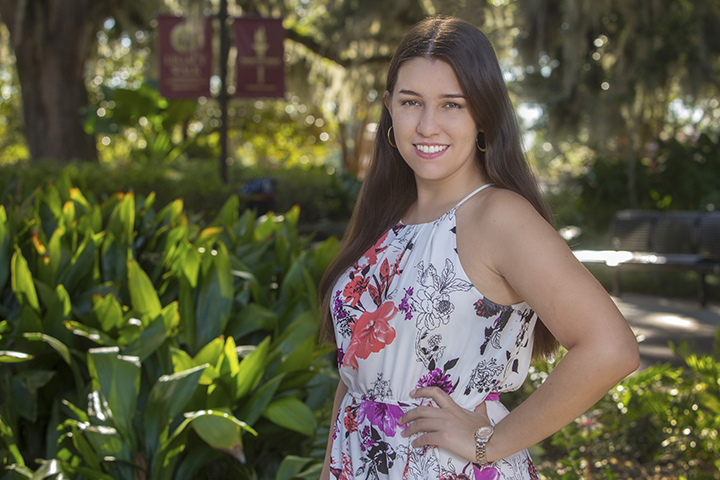 "The values of Vires, Artes and Mores are values to live by not only in college but through all of life."
Florida State University senior Ciara Bennese is really making the most of her college experience and using it to chart a course in support of human rights.
Over the past three years, she has excelled academically, landed an FSU IDEA Grant that allowed her to pursue research in Puerto Rico and worked hard to make a positive difference as an active member of FSU's student life.
Bennese said she knew from the start that Florida State was the right place for her.
"When I first visited FSU's campus, I was awestruck by how beautiful the campus was and how friendly everyone was," Bennese said. "Not only was the atmosphere wonderful, after learning more about the different programs, opportunities and extracurricular groups, I was sold."
Bennese has consistently mastered academic challenges and earned spots on dean's and president's lists as a member of the Phi Kappa Phi, Phi Eta Sigma and Phi Beta Kappa honor societies.
A double major in international affairs and political science, Bennese said joining her high school's Model United Nations team in Cape Coral, Fla., helped spark her interest in those areas, including human rights.
"I spent four years participating in research and debate conferences, focusing on topics like nuclear nonproliferation and humanitarian aid," Bennese said. "Through those experiences, I became passionate about international issues, diplomacy and foreign affairs."
Bennese was able to explore those career options this past summer thanks to an FSU IDEA Grant. It provided funds to travel to Puerto Rico to research the local culture for a project she designed called, "The Puerto Rican Identity: Boricua Across Borders." She presented a report on the project at the President's Research Showcase this fall.
"Spending a month in Puerto Rico gave me a perspective that I never would have gotten by visiting for a week or two," Bennese said. "Living in a normal apartment instead of staying in a hotel allowed me to fully understand what life for native Puerto Ricans is like and see the Puerto Rican identity for myself."
Anel Brandl, a teaching professor of Spanish, encouraged Bennese to pursue research of Latin America, Central America and the Caribbean.
"Professor Brandl helped me sort through my ideas and decide on a plan," Bennese said.
Together, they created a proposal to apply for different grants to help fund her research.
"I admire Ciara's determination," Brandl said. "She is one of the most intelligent and disciplined students I've had. She sets high standards for herself and that will help influence her in the future."
Bennese has also set high standards as an active member of FSU's social community.
She is a leader in Amnesty International, serving as the director of the FSU chapter and as a state legislative coordinator for the national group.
She is a member of Delta Nu Zeta, a local service sorority, where she has served as philanthropy chairman, as well as vice president of community activities.
She has participated in the World Affairs Program — Florida State's Model United Nations team — and that experience has helped her develop exceptional debate skills. Bennese has won numerous awards along the way.
"In my opinion, going to class is only half of the college experience," Bennese said. "While it is the half that gives you a degree at the end, the other half that includes campus organizations and making friends is what helps you figure out what you want to do with your life and who you want to be."
Earlier this year, Bennese interned with Sen. Darryl Rouson at the Florida Capitol where, she worked on constituent issues, tracked legislation and helped brainstorm ideas with staff members.
"Interning for Sen. Rouson helped me learn about Florida's legislature and how the laws they pass are so important to our everyday lives," Bennese said. "Knowing how the legislative process works has helped me effectively lobby for human rights on the state level."
In addition, Bennese held a job on campus at Chick-fil-A, working 20 to 30 hours a week. It's a busy schedule juggling schoolwork, a job and student activities, but Bennese said she's developed valuable time-management skills in the process.
"There have been many late nights and early mornings, but being so busy has made me really skilled at managing my time, prioritizing and multitasking," Bennese said.
After graduation, Bennese plans to move to Washington, D.C. and work for an organization that specializes in human rights. Eventually, she wants to pursue a graduate degree in international affairs with the hope of serving as a foreign service officer in the United States government.
Bennese believes that without FSU, she wouldn't be where she is today.
"The values of Vires, Artes and Mores are values to live by not only in college but through all of life," Bennese said. "Every student is valued at FSU and there is a place for everyone, which is something that not all universities have."
---
By Ali Buis, University Communications Intern
Produced by the offices of Information Technology Services, the Provost, Student Affairs, Undergraduate Studies and University Communications.