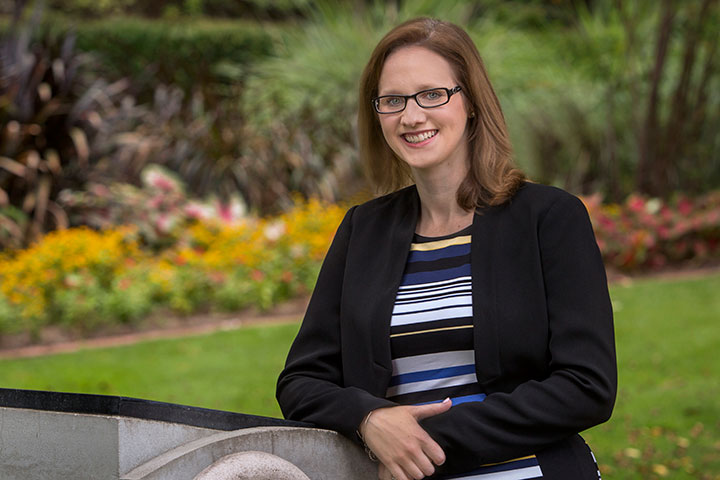 "I think an interesting life before law school provides an excellent perspective through which to learn the law."
For most, returning to college after starting a family isn't easy, but Valerie Chartier shatters the norm.
For Chartier, a third-year student at the FSU College of Law, returning to school was a chance to pursue an opportunity she had always dreamed of but passed up.
"I applied and was accepted to several law schools almost 10 years ago," Chartier said. "But it wasn't until two years ago that I was finally able to make it to law school."
Chartier, a South Florida native, has a background in business and environmental science. She earned a bachelor's degree from the University of Miami and, later, a master's of business administration from Florida Atlantic University.
Faced with a decision between law school and a "dream job" as an environmental consultant with one of the biggest engineering firms in the world, she chose the latter.
"In the intervening years life just, well, happened," Chartier said. "I got married, I got promoted several times at my job, and we welcomed a daughter into our family. When my daughter was born I began to reevaluate my priorities."
Chartier knew she had to go back and get her law degree.
"I came back to law school for a new experience, a challenge and a change of pace," Chartier said. "I want to find a career following law school that I can do something good for the world, hopefully in the environmental field."
As far as where she would go to school, there was no doubt in Chartier's mind that FSU College of Law was where she wanted to be. It had "the whole package" she was looking for.
"FSU Law was my number one choice," Chartier said. "I waited 10 years after undergrad to come back to law school, and it needed to be the perfect fit for me and my family."
Florida State's College of Law is recognized as one of the top law schools in the nation. It features one of the best student to professor ratios in the country and sees high percentage of students who pass the bar. While these were critical factors in Cartier's decision, it was ultimately the community that FSU provided that won her over.
"Tallahassee and the FSU College of Law felt like home from the first time that we came to visit," Chartier said. "I have never seen a university where the 'open door' policy is so real. The deans, my professors and my classmates all welcomed me and my family with open arms."
The impact that FSU Law's professors have had on Chartier has been substantial.
"From the first day of classes, it was clear that everyone at FSU wanted me to succeed," Chartier said. "From my first semester at FSU Law, I had access to Ivy League-educated professors and a few weeks into law school, I was having afternoon tea with my civil procedure professor."
This summer, Chartier worked with another one of her professors, David Markell, helping him update one of his textbooks on environmental law.
"Valerie is a delight to work with," Markell said. "She is a very engaged student and helps to elevate the quality of discussion in the classroom. She is very deserving of the honors she has earned at the College of Law."
At FSU, Chartier has been able to garner new experiences and create exciting possibilities for her future. She has been a contributing member of both the FSU Law Review and the Journal of Land Use and Environmental Law, as well as earning a place as a Goldstein Environmental Law Scholar and the Dean's List both semesters in her 1L and 2L years. She also worked as an extern for the Florida Department of Transportation and the U.S. District Court in Tallahassee.
In addition, Chartier is a student ambassador, helping to encourage and inspire other potential law students.
"I often meet non-traditional students like myself who think they are too old or too set in their job or life to come back to law school," Chartier said. "I wholeheartedly encourage them to give it a try. I think an interesting life before law school provides an excellent perspective through which to learn the law. It's never too late."
After finishing law school, Chartier hopes to commission as a U.S. Navy JAG officer so she can serve as a lawyer for our nation's sailors and eventually specialize in environmental law in the Navy.
Ultimately though, it's Chartier's family that drives her. Returning to school would not have been possible without the love of support of her daughter and husband.
"Law school seems so much easier than undergraduate because of my family," Chartier said. "I have a constant support network and escape for days that are stressful. Coming home to my husband and daughter at the end of the day makes all my worries melt away."
---
By Chris D'Avanzo, University Communications Intern
Produced by the offices of Information Technology Services, the Provost, Student Affairs, Undergraduate Studies and University Communications.