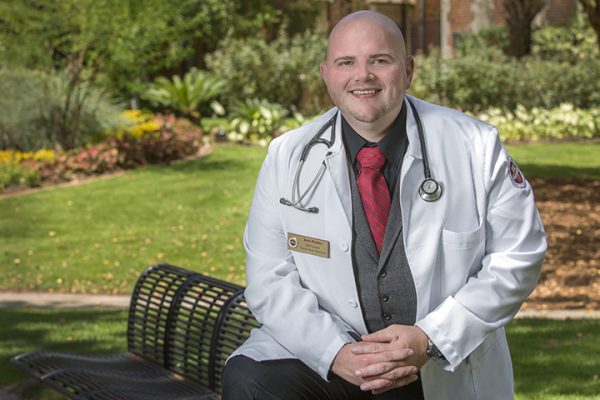 "I chose to further my education so that I would possess the additional skills necessary to impact lives on a broader scale."
Zach Powell's mantra is simple.
"If you want something bad enough you will find a way to make it happen," Powell said.
At every turn Powell, a graduate student in Florida State University's College of Nursing, has worked to live in the spirit of those words.
"You can achieve anything you put your mind to," Powell said. "Even though it won't be easy — the best things in life require hard work and dedication."
Those traits of hard work and dedication are fundamental to Powell's success as an Advanced Practice Registered Nurse (APRN). He previously earned a bachelor's degree in nursing and since starting at FSU in 2015 has been working on earning his Doctorate of Nursing Practice (DNP).
Powell is familiar with creating his own opportunities. The Bronson, Ga. native is the first DNP student to earn Academic Common Market, allowing him to pay in-state tuition rates despite being an out-of-state student. The Academic Common Market (ACM) program that gives students a chance to pursue opportunities not available to them in their home state. In fact, Powell said the only way he could afford to attend FSU's out-of-state tuition was through the ACM.
Powell's interest in nursing is based on his desire to help other people. To him, it's the ability to help others that makes working as a nurse so worthwhile. It means a lot to him to possess the gift of being able to aid those in need, often in dire need of medical care.
"I find joy in many aspects of my life," Powell said. "However, one of the greatest rewards hasn't been associated with money, fame or success but presented itself in the ability to help others."
Powell specializes in infectious disease and primary care, as well as nursing education. His decision to ultimately attend FSU boiled down to being wowed by the College of Nursing's prestigious reputation.
"I chose to further my education so that I would possess the additional skills necessary to impact lives on a broader scale," Powell said. "One of the main reasons I chose FSU was its renowned nursing program. I truly feel that some of best professors in the country are employed through FSU."
Powell's admiration of the College of Nursing's faculty dates back to before he even was a student. From his very first interaction with the staff at FSU, Powell remembers being blown away by the compassion and professionalism that he was met with.
"I remember calling to speak with someone at the College of Nursing to inquire about the DNP program," Powell said. "I was immediately transferred to Susan Porterfield. She took the time out of her busy schedule and spoke with me for at least 30 minutes that day and ended the conversation with 'I hope to meet you one day.'"
Shortly after talking with Porterfield, Powell called his wife and told her that he found the graduate program he wanted to be a part of.
Powell's phone conversation with Porterfield proved to be the beginning of a fruitful connection. While he was not initially accepted by the FSU College of Nursing, it was with the help of Porterfield that he was able to ultimately get in.
"A few weeks after I received my rejection letter I called Dr. Porterfield back and asked her what I needed to improve on my end to meet criteria for 2016 admission," Powell said. "To my surprise she not only remembered speaking with me months prior, but stated that she would review my application again."
Later that same week, Powell would receive a letter stating that he had been accepted into the College of Nursing.
"She took a chance on me, and I have vowed to never take that for granted," Powell said.
The influence that Powell's professors have had on him is one that he says he will forever be grateful for.
"Zach Powell is a man of integrity, is goal minded and a very hard worker," said Porterfield. "I have had Zach in two classes and he is always attentive. When the time comes I will be proud to call Zach an FSU graduate."
Powell plans to give back by inspiring other students much like his professors have inspired him.
"Zach is a wonderful example of hard work and determination housed in a warm, outgoing personality," said Roxanne Hauber, associate dean for academic affairs at the College of Nursing. "He is going to be a wonderful ambassador for the FSU Nursing Program. Fortunate will be those who come under his care."
After graduating with his DNP, Powell plans to use the tools and knowledge he learned at FSU to help care for patients and educate other nursing students by becoming professor as well as working as a nurse practitioner specializing in infectious disease.
---
By Chris D'Avanzo, University Communications Intern
Produced by the offices of Information Technology Services, the Provost, Student Affairs, Undergraduate Studies and University Communications.