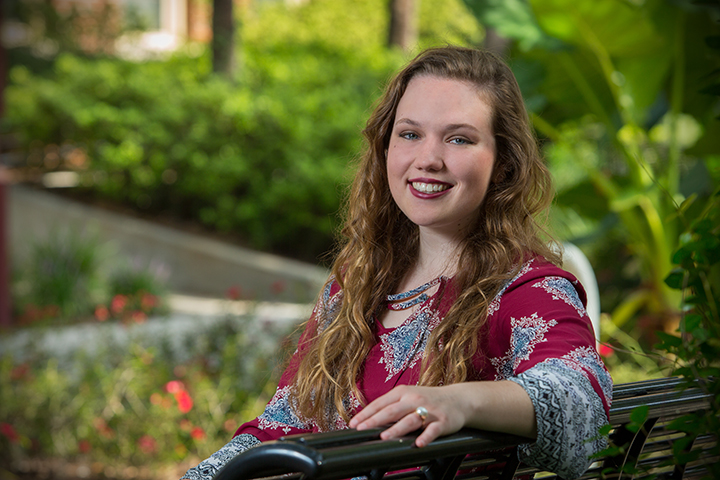 "To me, living life to the fullest is done best when we serve, give and do for others. That's exactly what I plan to do."
When Florida State University student Alexa Hatcher was five years old, her grandmother was diagnosed with an incurable, progressive lung disease that restricted airflow to her lungs and made breathing difficult and painful.
Unable to care for herself, Hatcher's grandmother moved in with her and her family with Hatcher's mother assuming the role of primary caretaker.
Alongside her mother, Hatcher attended to her grandmother during her treatments, dutifully refilled her nebulizer and provided compassionate and conscientious care as her condition gradually declined. It was during this time that Hatcher began to feel the vocational draw of a career in healthcare.
"I knew at a very young age that my calling in life was to help care for those who could not care for themselves," said Hatcher, a native of Fort White, Fla. "I watched my precious grandmother slowly lose her memory, her ability to walk and her ability to breathe without the help of an oxygen concentrator. While I so desperately wish I could change the circumstances that ultimately led to my grandma's death, I realize now that I was being molded, strengthened and directed toward a career in the medical field."
Now a junior honors student in FSU's College of Nursing, Hatcher has made enormous strides toward realizing a dream that she's harbored since she was barely old enough to read and write: to help people through the powerful marriage of medicine and meaningful human connection.
"It was the human element of the nursing profession that really captivated me," Hatcher said. "I am very much a people person, so I want my life ministry to be directly with other humans."
After graduating as the valedictorian of her high school class, Hatcher shifted her focus to finding a university that could both facilitate her academic development and position her well for the career to which she believed she was called.
She was looking for a university that could boast a robust and vibrant research culture without sacrificing carefully tailored, personal relationships between students and professors.
Most of all, she wanted a school where she didn't have to idly wait out her undergraduate years before she could start making a significant and material difference.
She found a home at FSU.
"I've heard stories about other research universities that don't allow freshman or sophomores to be involved in research," Hatcher said. "However, at Florida State it's not only allowed, it's encouraged, and programs are set in place to help students find research that best suits them. That's why I enjoyed my time as an Undergraduate Research Ambassador so much. Being a URA allowed me to give back to my university by helping other students take advantage of the great research opportunities at FSU."
As a freshman, Hatcher wasted no time plunging into high-level medical research. After being admitted into the lab of Yanchang Wang, FSU associate professor of cell biology, Hatcher began conducting sophisticated experiments aimed at revealing the elusive genetic and cellular properties of Huntington's disease, a heritable neurodegenerative condition in which nerve cells in the brain degrade and die over time.
Hatcher credits Wang for taking a chance on her as an inexperienced aspirant and for helping her to flourish as a driven and ambitious young researcher.
"Professor Wang has been incredibly instrumental in my success," Hatcher said. "He allowed me to enter his lab as a freshman with little biology and chemistry background and for that I am forever grateful. He has always been very encouraging and kind, and I would not be the student I am today without his help. He is a brilliant professor and is truly an asset to this university."
Wang praised Hatcher's discipline and her ability to negotiate a busy schedule by carefully budgeting her time.
"Alexa has been working in my lab since the very beginning of her freshman year at FSU," Wang said. "Her perseverance and time management skills position her well for success in the future."
In addition to her own lab work and her service as an Undergraduate Research Ambassador, Hatcher promoted undergraduate research through her role as an associate editor for The Owl, FSU's undergraduate research journal. At The Owl, Hatcher was exposed to academic writing from a range of fields and disciplines, an experience that she found profoundly educational.
"Scientific research papers usually follow the same guidelines: abstract, introduction, methods etc., so it was interesting to read papers that didn't follow these guidelines," Hatcher said. "It was the creative writing in the nonscientific research papers that really intrigued me. I believe that this experience has helped me to be a better-rounded student and writer."
Hatcher plans on pursuing a graduate degree in FSU's College of Nursing with the ultimate goal of working as a nurse practitioner or a certified nurse anesthetist. Wherever her life takes her, she is certain that she'll be leading a life devoted to serving others.
"No matter where I live after I complete my studies at FSU, I know that I will joyfully serve my community in a hands-on way," Hatcher said. "To me, living life to the fullest is done best when we serve, give and do for others. That's exactly what I plan to do."
---
By Zachary Boehm, University Communications
Produced by the offices of Information Technology Services, the Provost, Student Affairs, Undergraduate Studies and University Communications.