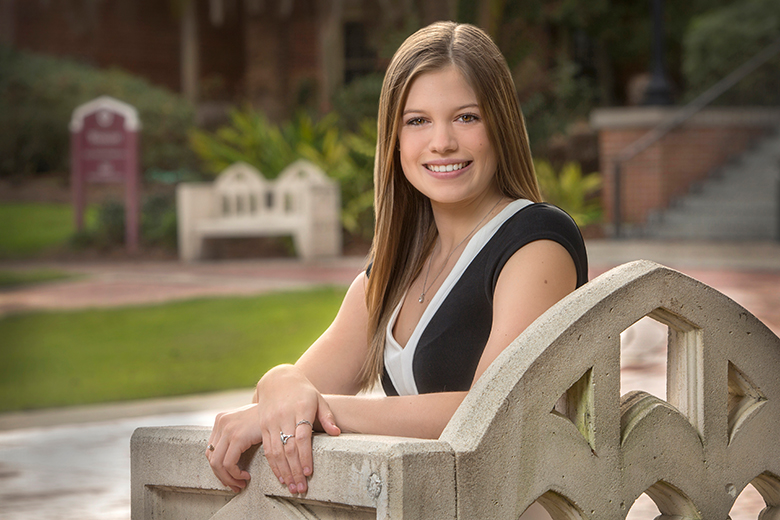 "The FSU community is so multi-faceted that I have striven to dip into many areas and make an impact in each."
Savannah Savadel has crafted a unique experience for herself at Florida State University over the past three years, combining her ambition in academia with her positive spirit for community service outside of the classroom.
The Sarasota native hit the ground running the moment she arrived at FSU. Knowing she wanted to get involved in as many aspects of campus life as possible, she entered as a member of the exclusive Honors program and volunteered her time giving tours of Landis Hall.
"The FSU community is so multifaceted that I wanted to dip into many areas and make an impact in each," Savadel said.
As a freshman, Savadel completed the Undergraduate Research Opportunity Program (UROP) where she performed hands-on research in the lab of FSU Professor of Biological Science Hank Bass. She went on to receive an IDEA Grant which provided her a stipend to continue her research dealing with protein behavior due to stress response.
Savadel presented this work at the President's Showcase of Research Excellence in the fall 2016. She also presented her research at the 59th Annual Maize Genetics conference in St. Louis, Mo. attended by more than 600 researchers and scientists.
With the solid foundation she gained through UROP, Savadel went on to become a leader within the program where she led a weekly colloquium and was both a mentor and a friend to freshmen.
"My favorite part of being a UROP leader was being able to attend the symposium and see my students present their posters that they had worked so hard on," Savadel said. "I was really proud to know that I played a role in their success."
As an undergraduate researcher, Savadel has published work in Plant Signaling and Behavior, a respected and peer-reviewed scientific journal, and she is currently working on her Honors thesis.
She has made the President's List every semester at FSU. She is a member of the prestigious Phi Beta Kappa Honor Society and an active member of Alpha Epsilon Delta, a pre-health honor society.
Savadel's accomplishments go far beyond the realm of academia. As a member of the Lady Spirithunters, she spreads FSU spirit and tradition on campus at sporting and philanthropic events such as Relay for Life and Dance Marathon.
"By becoming a part of these events, I feel I have impacted FSU while it has simultaneously impacted me," Savadel said. "I hope to remain involved with the FSU community for years to come."
Savadel's involvement in the Student Alumni Association (SAA) has also made her experience at FSU noteworthy. She serves as the director of recruitment for SAA and is instrumental in connecting students to alumni as well as planning events.
She is confident in her future in medicine and plans to attend medical school to become a surgeon or obstetrician. She hopes to combine her love for tedious, intricate projects with her passion for helping others as she practices medicine.
"Medicine is the right career for me because of my personal skills, my willingness to work hard and my passion for others," Savadel said.
---
By Zoe Patrick, University Communications Intern
Produced by the offices of Information Technology Services, the Provost, Student Affairs, Undergraduate Studies and University Communications.