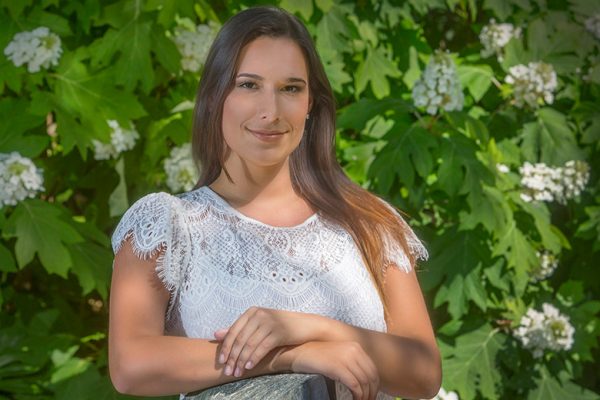 "After four years, I've learned that one person can make a big impact if they put in the effort."
On the eve of her first visit to Florida State University in 2013, Kristina Urdaneta wasn't sure what to expect from university life. Like so many future undergraduates, she was worried that the transition from high school to college would be fraught with pitfalls.
Soon after stepping foot on campus, the Miami native realized she had found a new home.
"When I first toured FSU, everyone was so welcoming," Urdaneta, a Miami native, said. "I could sense that everyone wanted you to get the most out of the university experience. They wanted to show you everything that FSU had to offer so you could try it all and find your fit."
During her time in Tallahassee, the FSU senior has done just that. Along with pursuing a dual degree in finance and risk management insurance, Urdaneta has been inducted into countless prestigious honors societies and has conducted sophisticated research within FSU's distinguished Undergraduate Research Opportunity Program.
Additionally, Urdaneta has taught and helped ease the adjustment periods of fellow undergraduates as a Freshman Interest Group (FIG) leader and she spearheaded service campaigns that have made enduring differences in her community.
In the classroom, Urdaneta has always remained ambitious. When she graduates, she will boast a medallion from the rigorous Florida State Honors Program, two degrees and a minor in economics.
She says that her interest in finance evolved from a fascination with the way that money animates human lives.
"I was originally an economics major, but after taking a finance class I realized that was what I really enjoyed," Urdaneta said. "Financial engineering and the relationships between money, people and human behavior is very interesting."
After completing her finance degree, Urdaneta realized she had a surplus of available credits. She saw it as an opportunity to broaden her expertise.
"When I finished the finance degree, I had so many credits left but I wasn't ready to graduate," Urdaneta said. "I took an introductory risk management and insurance class and found it interesting, so I decided to pursue it as a second degree."
Between earning two degrees, teaching other students and conducting high-level research, Urdaneta still found the time to make meaningful contributions in her local community.
She helped establish an FSU chapter of Autism Speaks, where she has overseen initiatives that have raised upward of $25,000 dollars for autism research. She also served as the vice president for Light the Night Walk, where she has helped raise more than $160,000 for the Leukemia and Lymphoma Society.
While her involvement in Light the Night stems from experiences with leukemia in her own family, Urdaneta said that founding a local chapter of Autism Speaks fulfilled a different kind of desire to serve.
"It started in my apartment with my roommate, who was working at the FSU Autism Institute," Urdaneta said. "I have a cousin with autism, but I didn't know about it the way my roommate did. It's such a complicated disorder, and as I learned about the spectrum I began to realize that I wanted to do some volunteer work myself. We looked for an Autism Speaks chapter in Tallahassee, but couldn't find one. So, we contacted the national chapter and made one ourselves."
Her intelligence and enterprise meant that success was always Urdaneta's likeliest outcome, but that doesn't mean that she never had help.
She recalled one class, early in her time at FSU with professor of economics Laura Holcombe as being especially formative for her as an aspirational young student.
"Professor Holcombe genuinely cared," Urdaneta said. "She really wanted her students to succeed. If there was anything we needed, she was always the first to volunteer and help out. I was just a student in her class, and it was amazing to see how much she cared about me."
Holcombe said that Urdaneta's exuberance for new experiences and her appetite for taking on weighty concepts made her a dream student.
"Kristina is just the type of student you hope for every semester," Holcombe said. "She is bright and interested in ideas, not just in learning material for an exam. She is a great ambassador for FSU and has accomplished so much in her short time here. Her positive attitude shines through in everything she does. I always look forward to seeing Kristina and finding out what new adventures she is experiencing."
After graduation, Urdaneta will move to Jacksonville where she's secured a job as an associate analyst for the global professional services firm EY. She is eager to continue her education and pursue a master's degree.
Urdaneta said her experiences at FSU instilled in her a confidence in her abilities and a belief that individuals can make a significant difference.
"In high school, I thought that coming to a university I would be a tiny fish in a huge pond," she said. "After four years, I've learned that one person can make a big impact if they put in the effort. Going out into the world with that in mind means I'm not scared to try. No matter where I go, I'll always do my best to make an impact."
---
By Zach Boehm, University Communications Intern
Produced by the offices of Information Technology Services, the Provost, Student Affairs, Undergraduate Studies and University Communications.