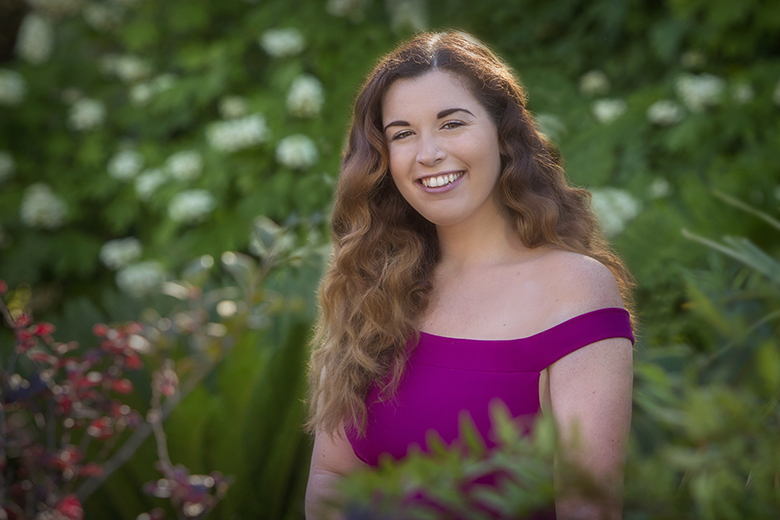 "I've had so much hands-on experience with different types of research. I've been able to do everything that I wanted to do here as an undergraduate."
Though Corinne Carlton didn't arrive at Florida State University knowing precisely what to study or exactly how she'd map out her four years as an undergraduate, there was one thing she knew for certain: she wanted to hit the ground running.
Carlton, a senior from East Lake, Fla., was looking for a university that wedded a robust and rigorous research culture with a strong sense of community. Her dream school was one that provided the platform and the institutional support for ambitious undergraduates to conduct consequential research and to learn by doing. She wanted a university that made her feel comfortable but also pushed her to seek out the kinds of crucial practical laboratory experiences that would advantage her in the long run.
FSU was the perfect fit.
"You have so many opportunities to get involved here as a freshman, rather than having to wait until you graduate," Carlton said. "Instead of just making you do scut work, FSU focuses on really training you in the lab. I've had so much hands-on experience with different types of research. I've been able to do everything that I wanted to do here as an undergraduate."
A psychology and biology double major, Carlton discovered a fascination for human neurology after taking a brain and behavior course during her freshman year. Quickly, she began to realize that her newfound interest in the fundamental mechanics of the brain could be translated into profound research and transformative service.
"I was interested in neuroanatomy right away, and it inspired me to join different clubs on campus and to meet people who suffer from social anxiety and other disorders," Carlton said. "It's evolved from 'Wow, I really like learning about the brain' to 'I can really find a way to help people who are having a difficult time'."
As a sophomore, Carlton began work in a social neuroscience lab under the supervision of Elizabeth Hammock, assistant professor of psychology and neuroscience. Carlton has spent three years in Hammock's lab researching the ways that neurochemistry dictates development — how complicated human behavior can be traced to the molecular biology of the brain.
Carlton said that her work in Hammock's lab has been so enriching, in part, because of how Hammock establishes an environment based as heavily on respect and relationships as on rigor.
"Dr. Hammock really cares," Carlton said. "She takes such a genuine interest in the students. She makes you feel at ease, and she always takes the next step — asking about your life and how you're feeling. In the mission statement for her lab, she made clear that we are a community, and that sense of camaraderie definitely helps to improve our research."
Hammock said that Carlton herself has been integral in the success of the lab.
"Corinne helped my lab get started here at FSU, and she has been a mature and constant presence in the lab for the past three years," Hammock said. "Her long-standing commitment to the mission of the lab and enthusiasm for the work stand out. It will be bittersweet to see her graduate: I am happy for her, but we sure will miss her can-do attitude."
Eventually, Carlton decided to capitalize on her growing expertise in neurobiology and serve as a Freshman Interest Group (FIG) leader, where she helmed a freshman neuroscience colloquium.
As a FIG leader, Carlton incorporated the lessons learned in Hammock's lab into her own interactions with the students she taught and mentored. She strove to assemble a curriculum personalized to the goals of her students, and she worked hard to be an outlet for support and an enthusiastic advocate for the freshmen as they adjusted to university life.
Carlton said that few experiences compare to her work as a FIG leader.
"Being a FIG leader was one of my best experiences at FSU," Carlton said. "Every semester, I would take my students' ideas and incorporate them into the lesson plan. My personal teaching philosophy is a lot like Dr. Hammock's: we're all here to learn from each other. It's been so rewarding."
In addition to her work with the FIG program, Carlton has also been actively involved with RENEW, an undergraduate mental health advocacy group based out of the University Counseling Center.
Carlton has worked extensively with the FSU Psychology Clinic, a mental health service, training and research center operated by the Department of Psychology. There Carlton gained valuable experience working in sensitive clinical situations and learned firsthand what it means to administer treatment as a clinical psychologist.
Carlton said the diversity of her activities illustrate the myriad opportunities offered by the university.
"There's a place for everyone at Florida State," Carlton said. "I've never felt excluded, and I've always felt that I'd have my goals supported no matter what."
After graduation, Carlton will take a research assistantship at FSU. She plans to attend graduate school and pursue a Ph.D. in clinical psychology.
Carlton said that she is thankful for the ways that FSU has positioned her for success.
"I have friends from other universities who haven't had the same kind of comprehensive hands-on research experience that I've had here at FSU," Carlton said. "I think FSU is doing an amazing job."
---
By Zach Boehm, University Communications Intern
Produced by the offices of Information Technology Services, the Provost, Student Affairs, Undergraduate Studies and University Communications.