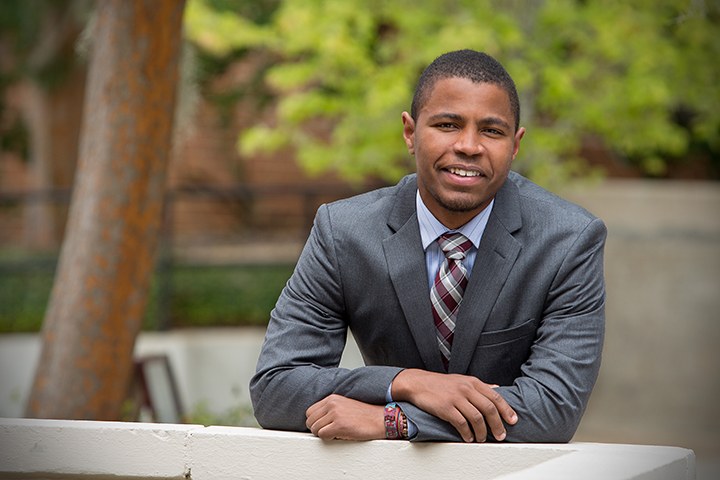 "There doesn't seem to be any better way of setting up a community for future success than pouring into the lives of the youth.""
Florida State University senior Andrew McMillan has always had a passion for math.
"Math instills a beautiful ordering on natural processes," said McMillan, a double major in mathematics and economics. "It's much like a system of ethics, which instills a social ordering within community processes."
For McMillan, this examination of social order in community processes is just as essential. In 2016, he worked as a research contributor for a graduate seminar in economics, focusing on the dynamics of incarceration and prison reform from a mathematical perspective.
McMillan's interest in the subject sprouted when he began to look into poverty traps, and asked the question, "why does poverty exist in the world?" This prompted him to begin research on the communities most affected by poverty, the high correlation between crime and poverty and how education contributes to the rehabilitation of marginalized and suffering communities.
McMillan's continued commitment to service and his zeal for mathematics also led him to found the math circle program at Holy Comforter, where he helps tutor elementary and middle school students in the community.
"It's a program to get kids excited and exposed to higher-level math, presented in a way that's engaging and approachable," McMillan said. "I want to get them excited at a young age. There doesn't seem to be any better way of setting up a community for future success than pouring into the lives of the youth."
McMillan's knack for tutoring flourished during his 2016 service trip to Huaraz, Peru. In Huaraz, he worked as a community math tutor for Seeds of Hope, an organization dedicated to breaking the cycle of poverty in Huaraz through education.
"I got the opportunity to teach math to kids ranging from the ages of 4 to 20," McMillan said. "The other volunteers and I tutored kids for about 30 hours a week."
McMillan is also a tutor for FSU's Academic Center for Excellence (ACE) where he employs the tutoring techniques he's learned both at home and abroad.
"My experience in Huaraz changed they way I tutor," McMillan said. "I used to see activities as opportunities to motivate the subject, not just the individual. Usually the subject itself is enough to inspire and demand attention. The kids at Seeds of Hope really taught me to start treating the subject as such."
McMillan's talents don't end with at mathematics. He is also the editor for "The Owl," a research journal for Florida State students.
"I wanted to see what the dance, biology, music, history, criminology majors, etc. were contributing to our campus," McMillan said.
After graduation, McMillan hopes to earn a doctoral degree in mathematics and ultimately find a career teaching at a research university.
---
By Erica Frederick, University Communications
Produced by the offices of Information Technology Services, the Provost, Student Affairs, Undergraduate Studies and University Communications.