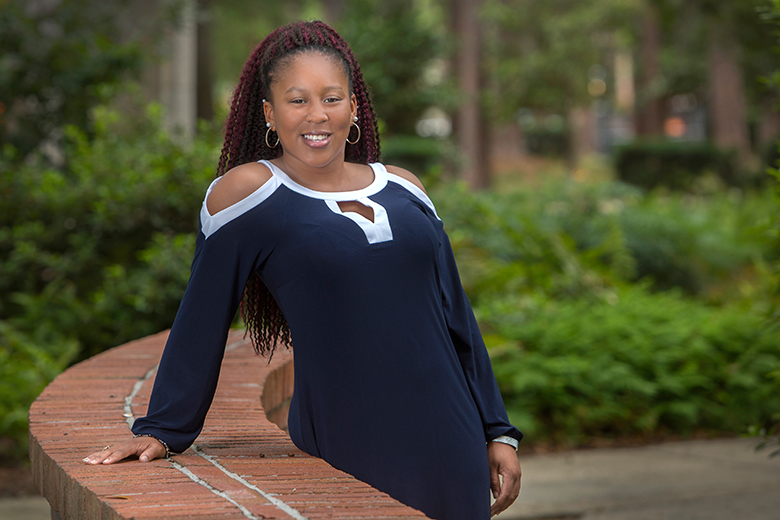 "I felt like I had been here before I even came to campus. I didn't choose to go to FSU. FSU chose me."
Recent graduate Briana Whitehead knew even from afar that Florida State University was the right choice for her.
"I felt like I had been here before I even came to campus," Whitehead said. "I didn't choose to go to FSU. FSU chose me."
The biology major, wants to pursue a career researching mechanisms on a molecular and biochemical level, was also drawn to FSU's status as a top research university.
"The top aspects of FSU were the different possibilities of research I could be involved in," Whitehead said. "I am very good in biology, so why not pick a major that I can see myself doing as a career while also enjoying every minute of it, whether it was in classes or honor societies or speaking to the faculty in the department."
Another dynamic that attracted the Miami native to FSU was the CARE Program. Whitehead is the first in her family to attend a university and attributes much of her success in college to CARE.
"Being a first-generation student I had no idea what to expect coming to college," Whitehead said. "The CARE program gave me guidance and support. I didn't have to go through college alone and was able to be with others from similar backgrounds as myself. Because of that, I felt comfortable during my journey as a college student."
The honors student was very active in programs and organizations from the moment she stepped foot on campus. As a freshman, she joined the Florida Georgia Louis Stokes Alliance for Minority Participation, a program designed to help underrepresented students complete undergraduate degrees in STEM fields.
"As a female minority STEM student at FSU I felt as though there were so many opportunities available to me," Whitehead said. "There were so many helping and guiding hands, so many loving and caring mentors on this campus that helped me to be as successful as I was."
Whitehead is the recipient of numerous awards and a member of prestigious organizations. She received the Hotchkiss Award given to CARE students for academic success, she was inducted into the W.E.B. Dubois Honor Society and given their Spring 2014 award for excellence, and she was inducted into the National Collegiate Scholars Society.
On top of making the dean's list her first two years, she was a member of the Phi Eta Sigma Honors Society and a peer leader for the organization, helping and mentoring incoming exploratory students find their way on campus.
Whitehead also traveled to Hoedspruit, South Africa as a Global Scholar in the summer of 2015. As a part of her volunteer work, she helped a fellow volunteer conduct research on the rehabilitation of wild animals in rehabilitation sanctuaries.
"I think giving back to the community is important and a vital part in making the future a better place," Whitehead said.
While participating in the Undergraduate Research Opportunity Program (UROP) Whitehead worked under Associate Professor Timothy Megraw in the FSU Department of Biomedical Sciences and was awarded a Benjamin A. Gilman International Scholarship from the U.S. Department of State. The grant allowed her to travel and study abroad in Germany during the summer of 2016.
"Briana's combination of academic, work experience and community service comes packaged as a friendly, respectful, and caring human being that is well organized and diligent," said Director of Advising First Rose-May Frazier. "She is a highly self-motivated student who exhibits outstanding promise, drive and enthusiasm that will only help to fortify her becoming a professional and succeed in all future academic endeavors. I am truly excited to see how Briana changes the world with her research and commitment to her community."
Whitehead has showcased her research at the FSU Undergraduate Research Symposium, the Florida Undergraduate Research Conference and the ACC Meeting of the Minds.
"I have had such a great research career here at FSU," Whitehead said. "It was perfect for me and the path that I wanted to take. Being at a preeminent research university gave me so many opportunities to get involved with research through the programs offered."
It's clear that Whitehead left her mark on FSU's campus, and her blazing trail of success has inspired and shown other students that the sky is limit.
"I know many students who, after hearing about the many different opportunities I was able to take advantage of during my years, asked for help and guidance in the direction they want to go," Whitehead said.
Whitehead graduated in Spring 2017 and is working over the summer and traveling across the nation. In the fall, she will attend Fisk University with a fully funded Bridge to Doctorate program and then study at Vanderbilt University to obtain a doctorate in biology.
In the future, Whitehead hopes to work for a government agency like the Centers for Disease Control and Prevention (CDC) as a microbiologist or serve in the Air Force and work as a biological scientist or geneticist.
---
By Susan Hansen, University Communications
Produced by the offices of Information Technology Services, the Provost, Student Affairs, Undergraduate Studies and University Communications.