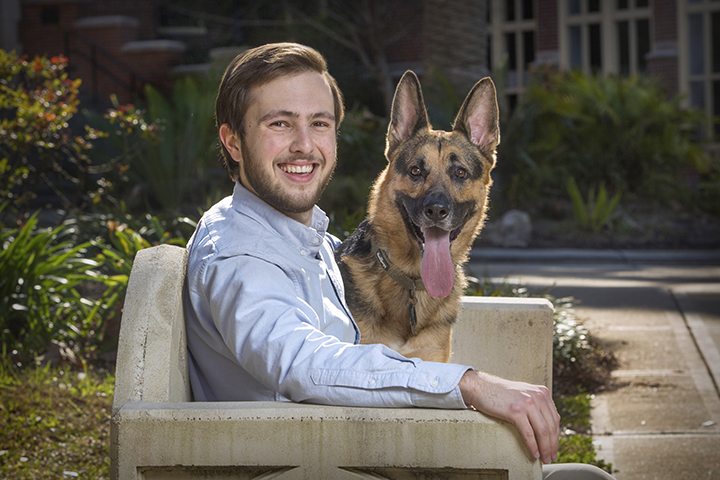 "You have to go into things with an open mind, in science and in life"
Hunter Carlock, a junior computer science student, is interested in tackling a career in in-space medicine.
While Carlock has taken traditional routes on his way to becoming "Dr. Astronaut" by working in research labs on campus, the Boca Raton resident has also taken an out-of-the-box approach to attain his career goals. Carlock volunteers at the Kearney Center Homeless Shelter in partnership with Project Downtown Tallahassee.
"These people have affected the way I approach situations and have widened my horizons," Carlock said. "I wish more people could experience talking with these individuals as it will change their values as well."
The undergraduate chemist believes his science experience and his volunteer experience have one common attribute — unknown variables.
"You have to go into things with an open mind, in science and in life," Carlock said. "One man I met at the homeless shelter used to be a professional welder. Volunteers have told me they've met homeless doctors and other professionals before. You never know. It's similar to how in the lab you think something is going to work and the complete opposite happens."
Academically, Carlock received an IDEA Grant, an FSU program that rewards students to continue research on original and unique projects.
The project satisfies his urge to study space. Along with Christian Bleiholder, Carlock is studying miniature jet propulsion systems that will create future opportunities for long space travel. Bleiholder believes Carlock is on an extremely advanced level considering his age.
"He's really far beyond others in his age group," Bleiholder said. "I've rarely seen an undergrad student as curious as he is. He doesn't do it for credentials, and that's important because some people do it for that."
Carlock discussed how lab work is stressful sometimes, especially considering he's working with an instrument worth more than one million dollars. Regardless, he thanks his lab work for giving an understanding application of science in ways a book cannot teach.
"A lot of stuff you learn in class, you don't really learn in the lab. You can't even study that in a book," Carlock said. "It helped me grow as a researcher. It's more application. It's been a cool experience."
Carlock believes with his work in the lab along with classes, his volunteer work and his experience living and working at Florida State will create opportunities for him in the space or space medicine field in the future, despite concerns of the current availability of the field.
"The best part about Florida State is how friendly and welcoming everyone is," Carlcok said. "The market demand (for space careers) isn't the highest but if possible I want to be in some sort of instrumental or medical development. By the time I'm done with grad school hopefully the demand will be up."
When asked if he would go into space himself whether it's to involving medicine or engineering, he laughed, "maybe, if I had good enough training."
---
By Ross Toback, University Communications Intern
Produced by the offices of Information Technology Services, the Provost, Student Affairs, Undergraduate Studies and University Communications.