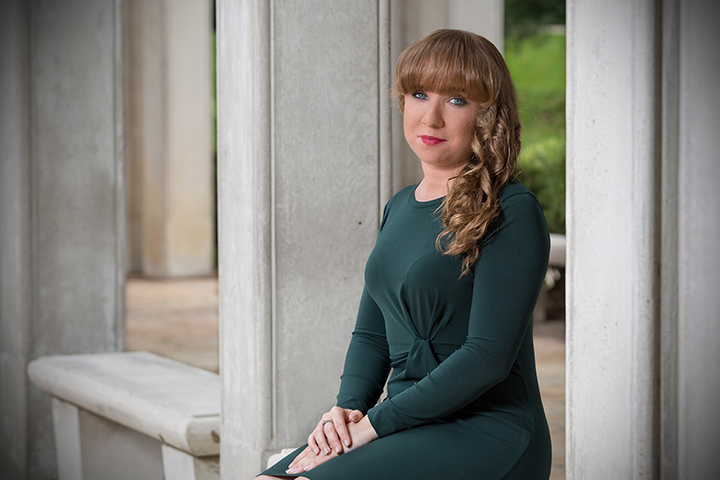 "I've made great friends by being involved in the history department, and I've learned more than I could have ever imagined."
Taylor Kocher was only a freshman when her fascination with the investigation and instruction of southern American history was piqued.
"After hearing my first professors lecture and seeing how passionate they were about the subject matter, I was hooked," said Kocher, a senior from Coral Springs, Fla. "I realized as a freshman that I wanted to spend my life researching and teaching college students."
Kocher had always been a precocious and passionate learner — the type to read an encyclopedia cover to cover. However, her experience as a first-generation college student was not without its difficulties.
"I didn't have the guidance that most people have entering college," Kocher said. "No one was there telling me to fill out my financial aid paperwork, to register for on-campus housing early or help me figure out how to best manage my time."
While the process of acclimating to a demanding and unfamiliar university lifestyle presented challenges, Kocher believes the experience afforded her an enriched and valuable perspective.
The knowledge she gained as a first-generation university student rendered her well suited for her role as a Freshman Interest Group (FIG) leader, where she teaches and mentors first-year undergraduates.
"Everything I've learned about college and about myself so far, I've learned from my own mistakes or from faculty or student mentors," Kocher said. "While my first-generation college student experience wasn't easy, I like to think it made my FSU experience unique. The lessons I learned, I pass on to my FIG students each fall."
In her own academic pursuits, Kocher has consistently excelled. She is a multiple recipient of Dean's and President's list honors, a member of the National Society of Collegiate Scholars, the national history honors society Phi Alpha Theta and a founding executive board member of the Undergraduate History Student Association.
Over the summer, through an IDEA Grant awarded by FSU's Center for Undergraduate Research and Academic Engagement, Kocher traveled to New Orleans to conduct extensive archival research of 19th century New Orleanian's responses to the Haitian Revolution.
With her research, Kocher tried to fill an important gap in our understanding of slave revolts and their consequent influence.
"Research has been conducted on the influence of slave insurrection in the United States, but there was nothing I could find that was even remotely similar to my idea," Kocher said. "New Orleans had (and still has) incredibly strong influences from both its time as a French colony and the migration of thousands of emancipated slaves from Haiti at the turn of the 19th century, so to me there had to be connections between all of these movements and regions that no one had yet made."
In addition to pursuing her ambitious research goals, Kocher prioritized active and sustained involvement in FSU's history department. As the history liaison for the College of Arts and Sciences Student Leadership Council, Kocher acts as a representative of the history department throughout the larger university community and helps prospective history students orient themselves in the department and find their niche.
Kocher says that departmental engagement is crucial for students looking to get the most out of their university experience.
"Active departmental participation opens students up to countless opportunities within their majors," she said. "I've made great friends by being involved in the history department, and I've learned more than I could have ever imagined."
Kocher says that her academic success at Florida State would not have been possible without the guidance of her mentor and thesis director, Assistant Professor of History Katherine Mooney. It was Mooney's class on the Old South that inspired Kocher's zeal for American history, and Mooney's continued direction that allowed Kocher to realize her own academic objectives.
"Dr. Katherine Mooney has been an incredible mentor to me throughout my time at FSU," Kocher said. "I aspire to get other students involved with faculty mentors in their major departments in hopes that they will have an experience similar to mine with Dr. Mooney."
Mooney praised Kocher's creative thinking and commended her willingness to ask difficult, incisive questions.
"Taylor has an extraordinary ability to pinpoint questions that no one has asked before; she thinks boldly and clearly. Her skills are going to push her field in new directions," Mooney said. "She has the determination and discipline to do the work that will ground her ideas."
Kocher is currently in the process of applying to Ph.D. programs with the intention of continuing to develop her talents for research. Ultimately, she hopes to become a university professor, where she would like to continue researching and teaching the unique cultural history of the southern United States.
---
By Zachary Boehm, University Communications Intern
Produced by the offices of Information Technology Services, the Provost, Student Affairs, Undergraduate Studies and University Communications.