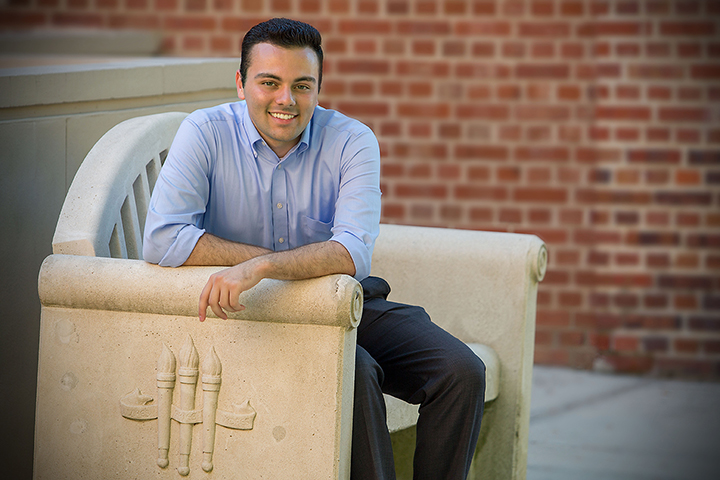 "My strong interest in politics — my passion for government — led me to first search out involvement and opportunities in FSU's Student Government Association."
Joseph Brown always had a passion for politics. Even before he became a student at Florida State University, he knew he wanted to pursue a career in government.
Brown, now a senior at FSU, has spent the past three years working with student government organizations to positively impact the FSU community.
"My strong interest in politics — my passion for government — led me to first search out involvement and opportunities in FSU's Student Government Association," Brown said.
As a freshman, Brown quickly discovered the Freshman Leadership Institute, an organization that provides freshmen with the necessary tools to become active leaders in the FSU community.
Brown became a part of the organization's sponsorship committee, which gave him the responsibility of planning events and reaching out to local businesses in order to secure donors. He was profoundly affected by his time in the Freshman Leadership Institute because of all the leadership experience he gained.
"Coming to a huge campus can be intimidating, but the Freshman Leadership Institute provided a community of people with whom I have developed many close friendships and have seen grow into amazing leaders on campus today," he said.
After his freshman year with FLI, Brown became even more interested in political organizations on campus. He made it his mission to become a member of the FSU Student Senate, the Student Government Association's legislative body.
He was elected to represent the division of undergraduate studies, and eventually he was appointed to the Judiciary committee. Through the experience, he came to appreciate the opportunity to communicate with other organizations on campus and enjoyed being able to vote in favor for funding their projects.
"Whether it was voting to fund organizations to travel out of state for a competition or orchestrating an event, the senate gave me the opportunity to expand my knowledge of what was happening on campus," Brown said.
After having such a positive and fulfilling experience with the Student Senate, Brown decided to commit a part of his busy schedule to another organization at FSU, the SAA Leadership Council, now known as the Alumni Ambassadors.
Brown currently serves as vice president of the Student Alumni Association. The organization plans events and activities such as the Homecoming Parade and staffs the President's Box at FSU home football games.
His beneficial experiences with the Student Alumni Association eventually prompted him to apply for its executive board, and he soon became their associate secretary, working directly with the vice president in order to coordinate many of the organization's events.
"I had such a fruitful experience — meeting alumni and working with a diverse group of student leaders who I might not normally have come into contact with," Brown said.
Carolyn Harris, assistant director of the FSU Student Government Association, describes Brown as a driven student who is passionate about improving the political issues on campus.
"Joe's passion for politics, compassion for people, intelligence and drive have really put him in a place of great influence," she said. "I know that Joe will continue to do great things and be influential in creating positive and sustainable change in this community."
Despite his impressive commitment to many organizations on FSU's campus, Brown admits that the greatest highlight of his college career was when he interned for Vice President Joe Biden at the White House.
Brown had interned for many other politicians in the state of Florida, but believes his time in Washington impacted him the most and furthered his passion for politics.
"Looking back, it was probably the single most life-changing thing I have done," Brown said. "Getting to walk into the White House every day is not something I took nonchalantly. It is an experience that I have been able to share with other students, and the skills I gained helped to improve my leadership ability, which in turn, is how I have most impacted the FSU community."
After graduation, Brown hopes to pursue a law degree and ultimately, a career with the federal government where he can continue his passion for politics and public service.
---
By Victoria Sagebiel, University Communications Intern
Produced by the offices of Information Technology Services, the Provost, Student Affairs, Undergraduate Studies and University Communications.