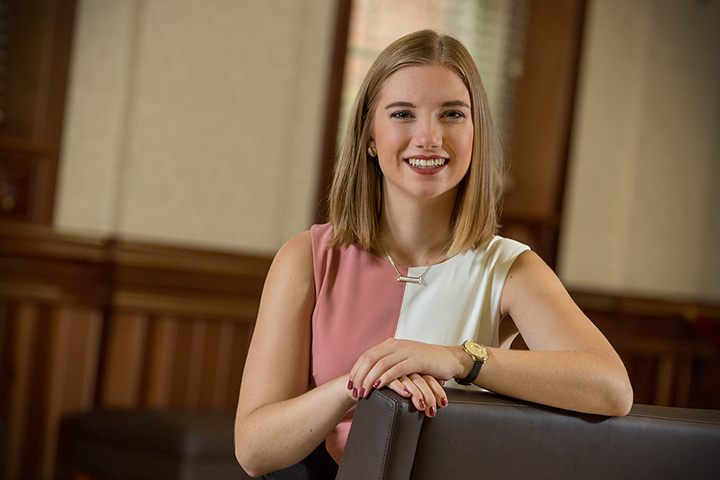 "FSU gives you all of the resources you need to succeed — it's in your hands to take advantage of them"
Streaming down the Seine River, a Frenchman shouted at Kathryn Pentz and a group of fellow students while he was trying to cut off their boat in traffic. The cause of the incident was a simple miscommunication due to a language barrier, but it got Pentz thinking.
Pentz, now a Florida State University student studying international affairs and political science as well as Russian and Eastern European studies, never wanted to experience that frustration and inability to communicate again. So she learned French, and then she learned Russian and then Spanish.
Pentz has crossed the globe multiple times studying world peace and actively participating in creating a better international community.
As a Social Science Scholar, Pentz spent a summer studying conflict resolution and peacebuilding in Switzerland. The Honors student also spent six weeks in Russia immersing herself in the language and culture.
Even with her worldly travels, she still remained involved in Florida State organizations, assisting students and faculty alike. The Melbourne native has been an active leader in Omicron Delta Kappa and has interned at the Florida Capitol.
Through these experiences, Pentz ultimately learned the importance of understanding other cultures and perspectives. Only then, she believes, can communities help accomplish world peace goals.
Pentz also believes it is crucial for students to bust out of their comfort zones and explore the world around them.
"A lot of people have trouble branching out," Pentz said. "I know the feeling, but if you don't constantly challenge your views and push yourself, then you're going to have a limited perspective and be unable to reach out and understand others. Don't stay in too many habits — that's the key to understanding others and gaining a greater perspective."
Pentz is no stranger to the concept of leaving one's comfort zone. While studying in Switzerland at the Caux Scholars Program, she was the youngest student in attendance and the only American.
"People came in with so much experience," Pentz said. "I thought I had a diverse perspective and when I came here, and I realized I was wrong. Through the program, I learned how different people are from you and how no one thinks the same way. It's an important concept to experience and learn first-hand."
Pentz also facilitated her 'leave your comfort zone' creed during her time at Florida State. As treasurer for Omicron Delta Kappa, she helped the organization earn a Clay Grant, which will be used further fund the diversity and inclusion #PowerofWE campaign on FSU campus.
Craig Filar, assistant dean for the National Fellowships and Honors Program works closely with Pentz and sees her consistent passion and driven work ethic.
"In the years I have known and worked with Katy, I have been impressed with her ability to assess complex situations and convey those complexities is a suitable manner for a variety of different audiences," Filar said.
"The work she has done at FSU, especially in her international experiences, has prepared her to pursue a graduate education and to participate in policy discussions, both of the highest caliber. Katy will represent FSU incredibly well as she strives to use policy to improve the quality of life for individuals around the world."
Pentz feels her college experience wouldn't have been complete without the time she served in Model U.N. — an organization she describes as her "heart and soul." As a four-year member of the group that was ranked third nationally among public university Model U.N. teams, she served twice as an officer, including head delegate. Pentz found the most rewarding part of her time with organization was being able to mentor younger students to help them to grow academically and professionally.
Pentz has traveled thousands of miles throughout her time at FSU — and millions of miles out of her comfort zone — which has been an integral part in making all of her successes, growths and experiences possible.
"FSU gives you all of the resources you need to succeed," Pentz said. "Then, it's in your hands to take advantage of them."
---
By Ross Toback, University Communications Intern
Produced by the offices of Information Technology Services, the Provost, Student Affairs, Undergraduate Studies and University Communications.