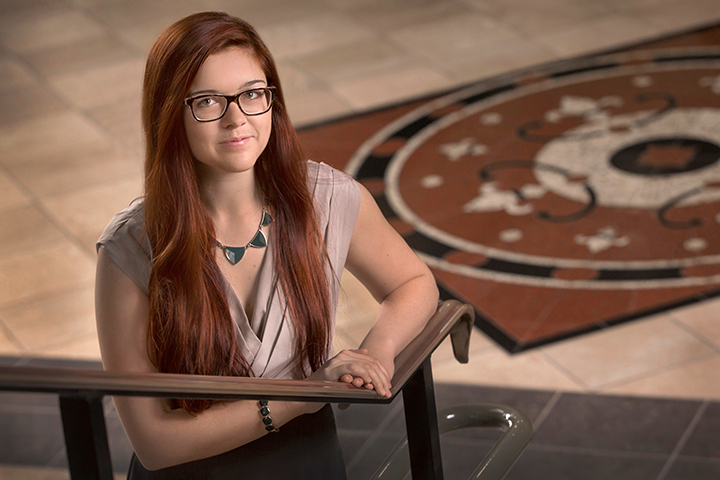 "That's the biggest reward of all of it — being able to give something back that can be used to change the lives of other people."
Molly Conrad's life changed while 4,000 miles away from home as she was speaking a foreign language to a man she had never met before.
The Florida State University senior was volunteering abroad in Morocco when met a local human rights attorney. It was a conversation that opened Conrad's eyes, and from that point on, she knew her career path was to help others and work for the public's interest.
Assisting others was nothing new for the International Affairs and Middle Eastern Studies major. In addition to her work in Morocco studying children's rights and volunteering to help abandoned newborns, Conrad has also done considerable research on the refugee experience in America.
Conrad made great headway in learning about the topic by conducting research on refugees coming to Jacksonville, Fla., and was the first of its kind in that area.
Inspired by her trip to Morocco in Summer 2015, she spent last summer surveying 50 refugee clients and staff in Jacksonville, with Catholic Charities, Lutheran Social Services and World Relief to find trends regarding subjects ranging from job prospects to happiness levels to language abilities.
"The main purpose was to give research to resettlement agencies so they can improve their programs," Conrad said. "I communicate with these agencies so they can improve their programs. That's the biggest reward of all of it — being able to give something back that can be used to change the lives of other people."
The agencies will be able use her research when they apply for more federal funding and ultimately help more refugees. Even though the study focuses on a small- scale population, Conrad's research is making a big impact on the lives of many people.
Mark Schlakman, an attorney and FSU professor, met Conrad through an international affairs class he taught. Schlakman worked with her on the Jacksonville resettlement project, which earned her an IDEA Grant and the opportunity to present her research to FSU President John Thrasher at the President's Showcase. Schlakman believes Conrad is one-of-a-kind.
"She's engaged, responsive and demonstrates a keen capacity for critical thinking," Schlakman said. "Beyond the rigors of academia, my strong sense is Molly will accomplish meaningful things in this world. She's an extraordinary student and a phenomenal person. Molly stands out."
Conrad, who speaks Arabic and English, asserts her research would not have been as successful or wide-ranging without the help of Florida State.
International students on campus helped her translate her surveys into four different languages so she could interview and survey people from all different backgrounds and perspectives. This gave her data far more weight and accuracy.
"The help I received from my fellow students was incredible," Conrad said. "One of the biggest things I learned from the IDEA Grant is that you have to ask for help. I had dozens of people who helped volunteer, and I am so thankful. It wouldn't have happened without all of them."
Conrad also has played a major role in helping veterans and student-veterans in the FSU and Tallahassee communities. She served as president of Students for America's Military (SAM) of FSU, an organization that raises money to send care packages to deployed troops (many of which are deployed FSU alumni), plants flags for 9/11 victims and increases awareness for student-veterans issues on campus.
As the child of two Army veterans, the American veteran experience always played a huge role in Conrad's life, and it was important to her to do all she could for veterans. As leader of the organization they raised more than $800 for solider care packages that semester.
"This was my first leadership role while at Florida State, and I wanted to make sure everyone felt included and important, because they were the ones making everything possible," Conrad said. "It was incredible to be able to develop such a strong relationship with the student-veterans on campus."
Conrad continues to strive to enhance the lives of those around her both on and off the FSU campus by dedicating her time both through her research and her volunteer work.
---
By Ross Toback, University Communications Intern
Produced by the offices of Information Technology Services, the Provost, Student Affairs, Undergraduate Studies and University Communications.