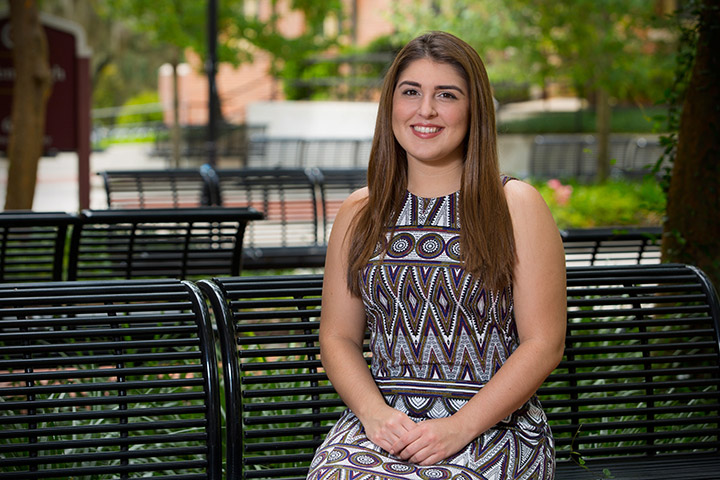 "FSU really is synonymous with opportunity."
People often never meet those they admire the most because their heroes play on football fields, act in movies or perform on stage.
Florida State University student Gabriela Munoz has not only met her heroes throughout her college career — they have happened to live down the hall.
Munoz has been involved in residence life at Florida State since she first stepped on campus her freshman year. Now a senior graduating this fall, the psychology major has served as a hall ambassador, a Resident Assistant (RA) for three different halls and now works as a receptionist for another.
During her time at seven different residence halls, making an impression on her residents has been her favorite part about being an RA.
"What I learned the most (from being an RA) was the impact that you make on others," Munoz said. "I was aware of it before I was an RA, but it comes into play 100 percent when you're in the role. I definitely think that you need to hold yourself to a higher standard, especially for your residents to see you as a role model. If you're someone who when they have a question, they come and look up to you and ask you and want the advice from you, it's because they see you as someone that has their life together. They see you as someone who got to a place where they want to be. "
Munoz started in residence life while living in DeGraff Hall during the summer of her freshman year before moving to Kellum for the fall and spring. She became very close with her RAs, and they inspired her to become one as well.
"It started my freshman summer when I had a really cool RA," Munoz said. "Then fall started and I had another great RA so I went to an RA interest meeting and immediately knew this was the role for me."
Munoz initially worked her freshman year as a hall ambassador in Kellum Hall, which involved giving tours of the hall to incoming freshmen and their families. Munoz went on to work as an RA in Wildwood, Jennie Murphree and Salley Hall.
While living in three different residence halls can bring its own set of challenges, Munoz remained consistent in her ability to make herself available to all of her residents' different needs.
"One quality I had that made me stand out was the ability to reach out to the residents but also the ability to stand back if I knew they didn't want as much help," Munoz said. "Everyone is pretty different and you don't want to be poking them or annoying them. They need to see that you're present, that you open your door so even if they don't want you talking to them 24/7, if they need to talk to you that they can."
While Munoz worked in Salley Hall, Patrick Heneghan served as her hall director. Heneghan believes Munoz was an extremely valuable member of his team because of her infectious personality.
"She was really bubbly, personable and down to earth," Heneghan said. "She loves the RA job, and she loves bringing the energy and the passion to guide students in their everyday life."
While being a leader in the residence halls has been incredibly fulfilling for Munoz, her experience as the president of Psi Chi, the psychology honor society, also has been rewarding. Munoz led the club of more than 100 members during her junior year.
"I loved being a source for people in the psychology department," Munoz said. "I loved meeting people who were as passionate about psychology as I was. I feel like I really grew as a leader in that role."
Munoz believes her passion for psychology complement her skills as an RA.
"I am very empathetic and interested in others, and I think that overlaps with psychology and residence life," Munoz said. "In both, it's important to know that you're never going to laugh in someone's face. Their problem and concern is valid and you need to understand that. That's definitely something you learn when you're in psychology. They emphasize that during RA training. You have to be understanding of others, and you can't be a judgmental person."
Munoz hopes to attend graduate school for psychology after she graduates in December but that hasn't stopped her from being involved in residence life. She currently works as a receptionist in Rogers and McCullom Hall. She believes her time at Florida State has prepared her for the future — even if that future is not living in an eighth residence hall.
"FSU really is synonymous with opportunity," Munoz said. "There is literally opportunity everywhere. FSU doesn't make you afraid to try new things. They open up interests and sometimes it's the right fit and sometimes its not, but I feel like FSU has given me the confidence to go after things. That's how I became an RA and president of Psi Chi in the first place."
---
By Ross Toback, University Communications Intern
Produced by the offices of Information Technology Services, the Provost, Student Affairs, Undergraduate Studies and University Communications.