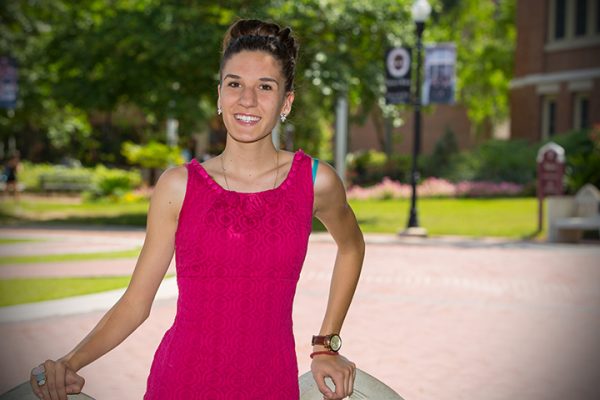 "There are so many opportunities at Florida State to do whatever you want and such a strong support system."
Florida State University student Ljubica Nikolic has lived on four continents, speaks five languages and has inspired hundreds of women to pursue entrepreneurial endeavors that once seemed unimaginable.
Nikolic's travels have taken her to Ghana and Peru over the past three summers where she has aided local women with their entrepreneurial endeavors.
"I've not only learned about different cultures and changed my perspective on the world but I've grown an indescribable passion for international development," Nikolic said.
In the summer of 2014, the senior international studies and history major traveled to Ghana to help underprivileged children. During the trip, she met dozens of talented women who had no business experience.
That experience inspired her to return to Ghana the next summer with a new mission. She spearheaded Compassionate Women, a program that creates opportunities for women to have their own marketplace in Ghana where one had not existed previously.
Nikolic interviewed 30 women in Ghana to discuss their current job prospects, educational opportunities and diverse talents. Through this research she discovered the entrepreneurial possibilities — women made cakes, oils, coasters and dresses and other items. The only problem was, they had no business background to make a profit.
"Their skills varied a lot," Nikolic said. "These women wanted to start their own businesses but just didn't have the funds. A lot of girls only finish middle school. Some of the older women I spoke to hadn't even finished elementary school. With the current situation they're in, they can't really move forward with their skills."
That is until now. Nikolic took the coasters, jewelry and clothes back with her to Tallahassee and sold the goods throughout the community. She sent 100 percent of the profits back to the women in Ghana.
While she sent earnings individually to women based on how their specific product sold, Nikolic discovered how different their culture is based on how they ultimately divvied up the money.
"The Ghanain culture is very focused on communitarian efforts," Nikolic said. "I remember sending the money back and saying, 'okay, this money goes to this person and this money goes to that person.' They called me back and said they divided the money equally amongst everybody. I was shocked because one woman made dresses, and one woman made bracelets. That's very different income. It showed me that the way we look at things in the U.S. is very different."
Nikolic's international efforts don't stop in Africa. The globetrotter, originally from Serbia, spent this past summer in Peru. While living in the Andes Mountains, she worked with a textile factory operated completely by women called Awamaki.
"Peru was challenging in all sorts of ways because I only spoke Spanish while I was there," Nikolic said.
Nikolic's work abroad hasn't gone unnoticed. Last year, she received the Humanitarian of the Year award from College of Social Sciences and Public Policy. Although she has helped countless women across the globe, she still feels extremely humbled to be recognized.
"That was really crazy for me," Nikolic said. "I never expected that. I always felt guilty that I got it because I felt that somebody else should have gotten it."
Nikolic also is a Social Science Scholar, a distinction only she and 17 other students received in 2016. The director of the Social Science Scholar program, John Mayo, believes Nikolic — who goes by Kiki — is one of a kind.
"Kiki is an intelligent, highly motivated and socially conscious student," Mayo said. "She, more than the vast majority of students I have known, has been willing to go the extra mile to extract and benefit intellectually from what a large research university has to offer."
Nikolic moved to Sarasota when she was 10 years old after her parents won a green card lottery. She believes the move changed her life drastically and for the better.
"I think if I lived in Serbia my life would be completely different," Nikolic said. "I don't think I would ever think about going to Ghana or Peru. I don't think I would have the same mindset that I do now. It opened me up to a lot of opportunities and a lot of different mindsets and understanding people in a different way."
Nikolic believes all of her accomplishments and future aspirations wouldn't have been possible without her ultimate decision to attend Florida State.
"There are so many opportunities at Florida State to do whatever you want and such a strong support system," Nikolic said. "Using what I have learned here, I want to continue working on compassionate women and teaching people about the issues there and inspiring young people to pursue their dreams no matter how crazy they might be."
---
By Ross Toback, University Communications Intern
Produced by the offices of Information Technology Services, the Provost, Student Affairs, Undergraduate Studies and University Communications.