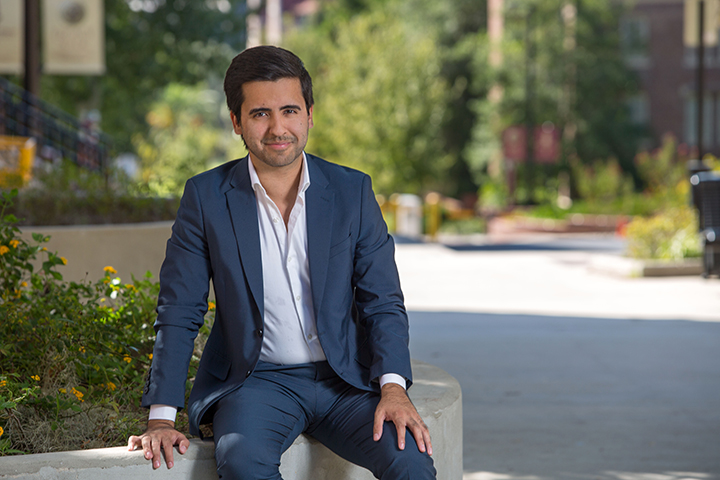 "I feel like the research I've taken on has taught me way more than I could have imagined."
A few short years ago, Florida State University honors student Daniel Duque's entire academic career hung precariously in the balance.
"When my parents and I arrived in America, my American half-sister was legally allowed to request citizenship for my parents, but not for me as her brother," Duque said. "This left me undocumented throughout my four years of high school."
After graduating from G-Star School of the Arts in West Palm Beach, Duque began to realize how difficult it would be for him to attend college in the United States without the proper documentation.
"The time came when I graduated high school and I couldn't go to college because it was so incredibly expensive," he said. "I would have had to pay as an international student."
On the advice of legal counsel, Duque resolved to return temporarily to South America in order to acquire a permanent resident green card from the American Embassy in Bogota, Colombia. He hoped that this process, which would make it easier for him to secure documented residency in the U.S., would take no longer than a month.
After two appointments with the embassy, Duque was informed that his documentation requests had been delayed indefinitely.
"That whole odyssey turned out to be 11 months living out of the country," Duque said. "I was locked out of the United States, the country I considered home."
Duque, now a senior at Florida State, says that the frustration of that experience taught him to value his opportunities. Years later, the memory of those challenges continues to motivate him.
"Having it all taken away makes you grounded in the things you really want to do," he said. "It's that perspective that pushes me."
Today, Duque is pursuing a degree in finance, with a particular focus on research of financial markets.
"Finance really is what makes the world go round," Duque said. "Understanding the way money works and trying to understand the markets and the flow of money is what really piqued my interest."
Duque chose to attend FSU because of the university's strong prioritization of undergraduate research.
"When I visited campus, I learned about how big of a research school this is," he said. "Seeing the kind of culture that FSU has, the professors, how much support you get to do your own research, it's what catapulted me to come here."
Duque says that his strong convictions toward research were somewhat uncommon for an undergrad in the Department of Finance.
With this in mind, Duque set out to aid in the promotion of research in his department, participating in FSU's Undergraduate Research Opportunity Program and acting as an Undergraduate Research Ambassador. Duque's dedication to raising awareness about research opportunities among his peers stemmed from his belief that rigorous, active research yields its own kind of invaluable education.
"There's a lot of research on finance in the professional field, but not a lot of research done in undergraduates," he said. "I feel like the research that I've taken on here has taught me way more than I could have imagined.
"There's real practical information that you don't get in the classroom. Trying to help students become aware of everything they can do here is very, very important."
In 2016, Duque was awarded the prestigious IDEA Grant from the Center for Undergraduate Research and Academic Engagement at FSU for his research to study the correlation between the 2008 financial collapse and the contemporary student loan crisis.
"We're trying to find the similarities between the mortgage-backed securities, which are what caused the 2008 financial crisis, and what's happening with the student loan bubble," he said.
As he works on his honors thesis project, Duque is continuing to investigate these similarities. He hopes that a detailed understanding of the 2008 crisis may help to prevent similar crises in the future.
"After seeing how it all played out on the mortgages side, I've been trying to find out if we've been seeing a similar thing play out on the student loan side," Duque said. "Student loans have really become a bubble, I think it's up in the trillions now, and we're trying to see if that's a cause for concern."
Associate Professor of Finance Danling Jiang, Duque's former supervising professor, underscored Duque's strong research ethic.
"Daniel has true passion for research," Jiang said. "He takes a proactive approach to tackle research questions and always sets a high standard for himself. He always tries to work harder and achieve more. I believe Daniel will be successful in any career he chooses to have. His work ethic, positive attitude and fast learning ability will pave his way to success."
After graduation, Duque intends to continue to work and study in finance. However, he believes his long-term destination may be real estate.
In May 2016, Duque was taken on as a mentee by an Orlando real estate developer. After a month of shadowing and close observation, Duque became fascinated by the mechanics of the real estate industry, the way that deals are brokered and leases are negotiated. However, the allure that real estate holds over Duque can be traced back to a more basic inclination.
"I just think that the whole concept of making buildings is really cool."
---
By Zack Boehm, University Communications Intern
Produced by the offices of Information Technology Services, the Provost, Student Affairs, Undergraduate Studies and University Communications.