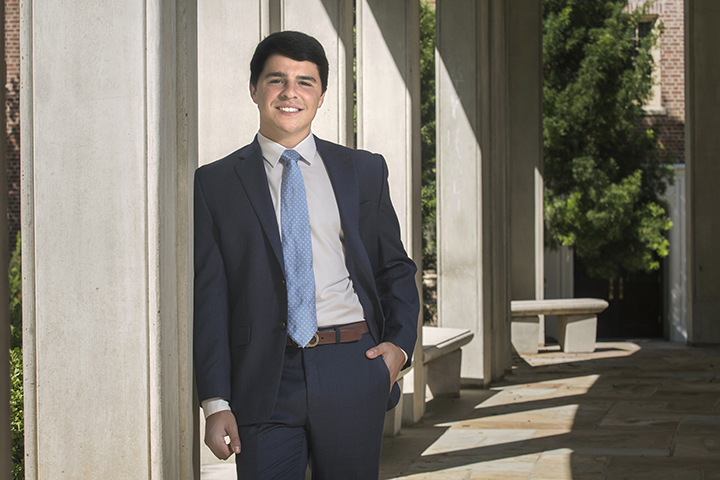 "Students should not have to worry about where their next meal is coming from — let alone be forced to choose between buying textbooks or buying groceries."
The Florida State University senior David Butter is an aspiring law student and member of the FSU Honors Program, who is passionate about finding ways to diminish hunger on college campuses.
Butter developed an interest in food insecurity on campus when he started volunteering at local food banks.
"I became passionate about food insecurity on college campuses when I began volunteering at the Dean of Students' Food for Thought Pantry," said Butter, who has been a Service Scholar since his freshman year.
His time at the Food for Thought Pantry inspired him to join other hunger organizations in the community such as the local Second Harvest food bank. He serves as their community ambassador and outreach facilitator, where he recruits and educates volunteers about food depravation.
"Students should not have to worry about where their next meal is coming from — let alone be forced to choose between buying textbooks or buying groceries," Butter said. "That's the reality that some of our students at Florida State face, and I strive to help those that need it."
Butter's efforts to strike out student hunger go beyond FSU. He has worked with other colleges across the state, raising awareness about the issue and helping to assist Miami-Dade Community College to develop its own campus food bank.
As president of the Alpha Tau Omega fraternity chapter at FSU, Butter has enlisted the Greek community and organized events to benefit the cause.
He organized "Taus for a Cause," a project that united Alpha Tau Omega chapters across Florida to spend the day volunteering for the Orlando Second Harvest food bank. One hundred and fifty fraternity members volunteered at the event and spent the day sorting hundreds of pounds of food and serving meals to needy families.
Butter also created the ATΩPEN Tennis Tournament. The event included participation from 16 FSU sororities, and raised more than $12,000 for families of Spinal Muscular Atrophy, the fraternity's national philanthropy.
Laura Osteen, director of FSU's Center for Leadership and Social Change and a Service Scholar Mentor, described Butter as a unique and exemplary asset to the college community.
"David Butter brings thoughtful, insightful inquiry to questions others assume are unanswerable," Osteen said. "His persistence to understand life's complexities is tempered with the grace of humility, kindness and humor."
As a nominee for the prestigious Truman Scholarship, Butter's commitment to alleviate hunger on campuses extends to the national level. He developed a policy proposal to incorporate the measurement of food insecurity into the Free Application for Federal Student Aid (FAFSA) equation.
"The data would allow policy makers to more accurately assess the degree of hunger amongst college students and perhaps lead university administrators to consider the need for more programs to alleviate hunger on college campuses, such as subsidized meal plans," Butter said.
Along with his aspirations to tackle food insecurity on campus, Butter is also investigating the psychological effects of fraternity culture on male college students.
"This is undoubtedly one of the proudest projects that I pursued during my time at FSU," he said.
Butter is writing his honors thesis on the topic, which is an in-depth exploration of the effects of traditional masculinity on male students involved in the Greek community.
"I think this topic is salient to the Greek community," Butter said. "I want to enable young men to live more consciously. Sometimes, they fall into the trap of what the fraternity culture might push them to be, instead of following their own values."
"By putting greater focus on their individual self, I hope that fraternity culture can become a culture of integrity where men can feel the honor to speak up and defend their core beliefs, rather than conform to the societal norm," Butter said.
Butter's focus on mollifying hunger on campus and tackling important issues in the Greek community show his dedication to improving conditions on campus for students.
After graduation, Butter plans to attend law school and focus on human rights law with the ultimate goal of representing Title VII discrimination victims.
"I have always been passionate about justice and how the law interacts with society, so this aligns with my interests," he said.
---
By Victoria Sagebiel, University Communications Intern
Produced by the offices of Information Technology Services, the Provost, Student Affairs, Undergraduate Studies and University Communications.