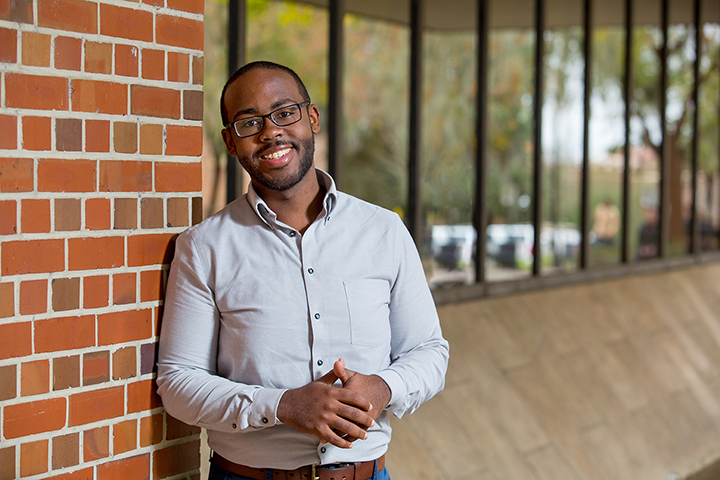 "When an organization invests in me, I feel compelled to invest back through working with the organization as a form of paying it forward."
Since making Florida State his home, Qaree Dreher, a senior majoring in public relations, has yet to stop giving back to the university community.
In his first year he was selected for the Service Leadership Seminar, which helps students engage in service, identity and leadership in the Tallahassee and Florida State communities. This selection paved the way for his acceptance into Service Scholars, a four-year program that honors service and leadership.
"When an organization invests in me, I feel compelled to invest back through working with the organization as a form of paying it forward," Dreher said.
And as the current chair of the Service Scholars program, he does pay it forward. Dreher works to bring high-achieving, service-oriented students to Florida State. He also works as the coordinator of Student United Way, a student-led organization that reallocates money to FSU student service programs like PeaceJam and Dance Marathon.
"Qaree is an amazing young man who creates positive sustainable change in his campus community," said Laura Osteen, Service Scholars adviser and the director of the Center for Leadership and Social Change. "And through his depth and breadth of service, is solving societal problems in our world."
Dreher is also a member of the Garnet and Gold Key Leadership Honor Society, an organization that honors student leaders and provides members with opportunities to learn from their peers.
In his senior year, Dreher worked on Garnet and Gold Key's first annual Town Hall, an event that focused on furthering Florida State as an institution of higher education through discussion between students from all spheres of campus life.
"This is the first time during my time as an undergraduate that members of the theater program engaged with student-athletes, sales team members, SGA representatives, direct support organization chairs and Greek Life presidents," Dreher said. "The event truly highlighted the diversity on our campus.
Dreher upholds this FSU commitment to diversity and challenges his fellow Beta Theta Pi fraternity brothers to do so as well.
"I facilitated conversations with my fraternity about the importance of diversity, inclusion and safe spaces," he said.
"Qaree is capable of engaging in great depth when addressing socially conscious issues," said Rod Kelley, Beta Theta Pi adviser.
Dreher has taken his investment in Florida State even further. For his honors in the major thesis, he is currently analyzing Tallahassee's brand and its resident's attitudes and behaviors toward it. He plans to continue to working in Tallahassee after he graduates in the spring of 2016.
"I believe everyone should feel that their city reflects their interest and who they are, and managing a city's brand helps create that cohesion." Dreher said. "I would love to be a part of movement to continue building Tallahassee's brand."
---
By Erica Frederick, University Communications Intern
Produced by the offices of Information Technology Services, the Provost, Student Affairs, Undergraduate Studies and University Communications.