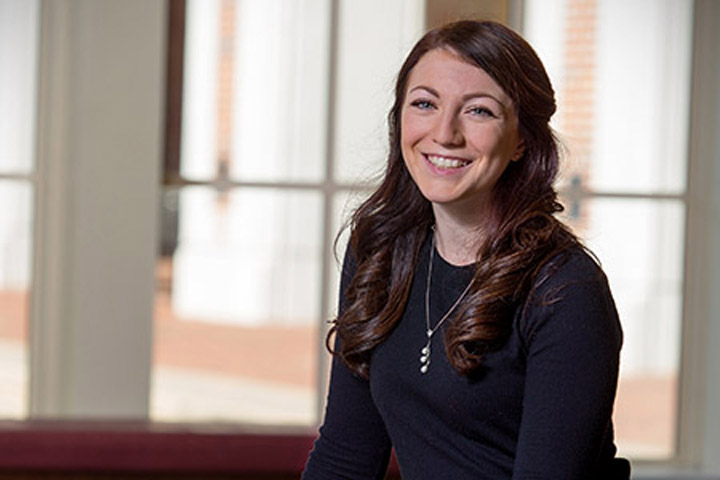 "It is a crazy thought that there are people in this country who might not understand everything a doctor says … ."
Globally conscious Tory Finley spent three years growing up in Italy, an experience that sparked a love of language. She also is passionate about medicine. Now she strives to combine her two loves to overcome language barriers in medicine.
A dedicated student, Finley is a member of Florida State University's Honors Program and expects to graduate with its Honors Medallion. She has made the Dean's List every semester since she began attending FSU, and has maintained a near perfect 3.99 GPA — not an easy feat on a pre-medicine track.
In addition, Finley is a member of Phi Beta Kappa, Phi Kappa Phi, Phi Eta Sigma and Golden Key honor societies, as well as a member of the National Society of Collegiate Scholars (NSCS) and a Garnet and Gold Scholar. She is member of the Spanish and Italian honor societies, was named outstanding undergraduate in the Italian department and received the Winthrop King Scholarship to study at the University for Foreigners in Perugia, Italy, for a summer.
"Quite a few people have expressed real surprise that I was pursuing a medical career as a non-science major, but I really think that it is so valuable to pursue as many of your passions as you can," Finley said. "College is the place to do that, and I won't ever get the chance again, so why not major in something I really love while taking science classes I love just as much?"
Mark Kearley, an honors lecturer in the FSU Department of Chemistry, characterized Finley as a pleasure to teach.
"Her constant smile and eagerness to learn were always welcome," Kearley said. "I was very proud of Tory because she never got discouraged."
Originally from San Diego, Finley grew up speaking Spanish. She spent three years living in Motta Sant'Anastasia in Sicily, Italy, while her parents were stationed in the Navy there.
"Rather than put me in the Department of Defense School on the Navy base, my parents dropped me into the Italian public school, so I learned to speak Italian really fast," she said. "Romance languages are very similar in construction and grammar, so it came a lot faster given that I already spoke Spanish."
But Finley is using her study of Spanish and Italian as more than an expression of her passion for languages. In her sophomore year, she began to understand the implications of being multilingual in the medical field while volunteering at Tallahassee Memorial Hospital (TMH).
"It is amazing how many patients we get who do not speak English," she said. "It is a crazy thought that there are people in this country who might not understand everything a doctor says or might not understand all of the forms they are filling out."
Thus, Finley became a translator for nonEnglish speaking patients while she worked at TMH, and this carried over to her new job at the Autism Institute at FSU and as a volunteer at a local pediatric clinic.
At the Autism Institute, she's working with the College of Medicine on the First Words Project, which is geared toward evaluating children under 24 months of age for the red flags associated with autism spectrum disorder.
"My brother actually has a communicative disorder — not autism, but still definitely a challenge for him," she said. "I wanted to be able to help kids like him and help give them a voice."
Through the FSU chapter of MedLife, Finley was able to travel to Esmeraldas, Ecuador, and work on a mobile clinic. For a week, they worked in the clinic, moving every day to a different town within the Esmeraldas province. The clinic provided several services, including obstetrics and gynecology, family practice doctors, dentists, pediatrics, a tooth brushing station for children and a public health education station.
"By far my favorite days were the days I worked with the pediatrician on staff," she said. "I have shadowed doctors in the United States, but this was a whole different experience in a different country with different cultural norms, especially when working in rural communities. It was a wake-up call in terms of public health around the world."
In addition to these experiences, Finley serves as a Freshman Interest Group (FIG) leader, is a Spanish interpreter for the College of Medicine and the vice president for marketing on the executive board for FSU's Relay for Life, helping to raise $266,000 for cancer research over the past year.
"Tory has demonstrated in many ways her desire to use her talents to make a difference in the lives of others," said Alice Wright, director of retention in the Division of Undergraduate Studies at FSU. "The work that Tory has done for the FIG program provides an impressive illustration of her strengths in teaching and mentoring and her commitment to helping others."
After graduating from Florida State, Finley hopes to go on to medical school. She plans on acting as a Spanish interpreter at the College of Medicine's Immokalee, Fla., campus. She hopes to specialize in pediatric hematology and oncology and to continue her work with the American Cancer Society.
---
By Eliani Lorenzo, University Communications Intern
Produced by the offices of Information Technology Services, the Provost, Student Affairs, Undergraduate Studies and University Communications.