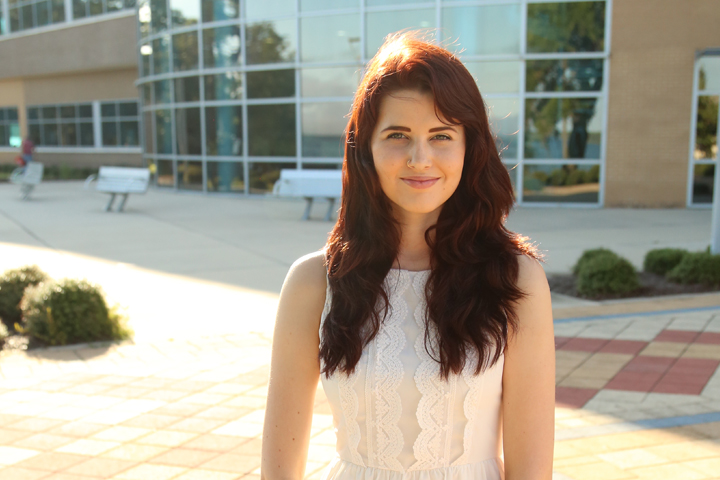 "I have never had so much fun teaching a group of kids.""
Emily Hennessey was drawn to major in computer science for the fun of it.
The Florida State University senior started her academic career majoring in computer engineering, learning to apply the hardware skills of an electrical engineer with the software skills of a computer scientist to design and develop computing-based systems.
Then she met some new friends while taking a physics class.
"They were computer science majors, and they always seemed to be having a lot of fun and doing crazy school and personal projects," Hennessy said. "I really loved the creativity of what they were doing, so I decided to switch majors and try it out myself."
With her major switched, Hennessy joined the group of students who program two humanoid robots at FSU Panama City, Sam E. Nole and Wally. The students take the programmed robots to local schools as goodwill ambassadors for Florida State and computer science.
"During our school visits, we would show off the robots and generally try to educate kids about STEM," Hennessy said. "Sometimes, though, we had smaller sessions where we would actually teach the kids to program the robot. We typically had them program the robot to dance.
"They really loved it, and we got so many thank you letters from the students," she said.
Now Hennessy is working toward a career as a software developer, designing and writing programs, or a software engineer, applying engineering principles to the software they develop.
"I am more interested in the software side of computers, and right now, the job of a software developer seems to fit me better because it involves more of a creative process."
When she was younger, Hennessy was interested in how things work.
"I was always building something out of whatever materials I could find around me," she said. "Computer science is great because I can essentially create something out of nothing. I don't need any materials besides my computer."
Hennessy's commitment to her future profession led her to join in an effort by fellow FSU Panama City students to bring to campus a chapter of Girls Who Code, an organization that works to close the gender gap in the technology and engineering sectors.
"I am so thankful that the FSU Panama City STEM Foundation and administration allowed us to do this," she said.
Over the past year, Hennessy has been teaching weekly Girls Who Code classes to about 10 local girls who range in age from eighth to 12th grades.
"I have never had so much fun teaching a group of kids," Hennessy said. "We get to do so many fun and creative projects, and I feel like the girls really enjoy learning programming together.
"I lead my girls in Scratch projects, which teaches them to program their own interactive stories, games and animations," she said.
Clayton Hughes, a member of the teaching faculty at FSU Panama City and assistant in engineering at the Florida A&M University-FSU College of Engineering, called Hennessy one of the best students he has ever taught.
"Emily was always well-prepared for class, and her relentless analytical approach to the material was impressive," said Hughes, who also commended Hennessy's dedication to her peers and the discipline as equally impressive, citing her leadership roles in the FSU chapter of the Association for Computing Machinery and her outreach to generate interest in computer science.
Parmjeet Cobb, a mathematics instructor at FSU Panama City, praised Hennessy's dedication to her studies and outreach to the community.
"Emily enjoys problem-solving tasks and she has a natural drive to understand challenging concepts," Cobb said. "I am impressed with the way she shares her passion for programming with the next generation of women engineers by leading a Girls Who Code chapter on our campus.
"Not only is Emily a model student, she is also a model citizen," Cobb said.
After graduation, Hennessy plans to gain as much software development and engineering experience as possible as she winnows down the areas of computer science that she is most passionate about. Then she plans to pursue a graduate degree in that area.
At the moment, she is most interested in augmented reality, virtual reality and wearable or other mobile technology.
"I really enjoy working on programs and products that make the user excited," she said. "The field of augmented reality is especially interesting to me, as I think it will play a large part in our future. There are so many ways it can enhance our daily lives."
---
By Jeffery Seay, University Communications
Produced by the offices of Information Technology Services, the Provost, Student Affairs, Undergraduate Studies and University Communications.