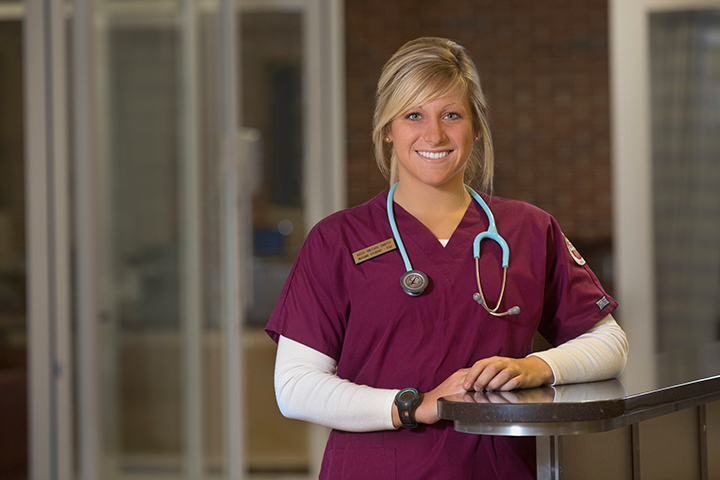 "Nursing is a profession that provides many different and diverse career paths and I am excited for what is to come."
A parent's worst nightmare is to have a child in a pediatric intensive care unit. One thing that can help immensely is a caring and astute nurse at the child's side.
Florida State University senior Megan Smith is that nurse.
In 2012, Smith was a freshman biology major who was interested in healthcare but wasn't sure if she could get into the highly competitive FSU nursing program. The following summer, she volunteered at St. Jude Children's Research Hospital. The enormous impact that a good nurse can have on a young patient and their parents crystalized it for her. She applied to the program and was accepted, her volunteer experience helped.
"Megan's passion for nursing began well before she entered the nursing program by her extensive volunteer work in pediatrics. She will be a true asset to the nursing profession and with any patient she encounters," said Theresa Winton, a member of the College of Nursing's teaching faculty.
Once in the program, Smith excelled in the "hospital" room and in the classroom. Among other honors, she is the recipient of the Lettie Pate Whitehead Foundation Scholarship, Florida Bright Futures Scholarship and the FSU College of Nursing Humanitarian of the Year Award. She is also a member of the Garnet and Gold Honors Society, Sigma Theta Tau International Honor Society — highest nursing honor society — and president of the College of Nursing's Class of 2016.
Jim Whyte, an associate professor in the College of Nursing and Smith's thesis director for her work in the Honors in the Major program, characterized her as "a force of nature."
"As a retired naval officer, I have had the opportunity to work with fine young people from every walk of life," Whyte said. "I would rate Megan as one of the top five people who I have worked with over the past 25 years. Megan has a special combination of intellect, tireless motivation and a caring demeanor, all at a level I have seldom seen before."
Lauren Kendall, a member of the college's specialized teaching faculty, echoed Whyte's praise of Smith, calling her "an exceptional woman who truly exemplifies the qualities and characteristics of a caring and compassionate nurse in all that she does."
"She is a natural leader among her peers and will positively influence the nursing profession," Kendall said. "I could not be more proud to have her representing the college of nursing as she embarks on her nursing career."
As for the near future, it lies in a PICU. Smith is applying to some very prestigious hospitals and is weighing her options. While studying here, she participated in a nurse externship at St. Jude Children's Research Hospital in Memphis, Tenn., and worked with a Pediatric Bone Marrow/Stem Cell Transplant Unit and would love to return there.
"After I gain clinical experience as a registered nurse, I plan to further my nursing education at the doctorate level," Smith said. "Nursing is a profession that provides many different and diverse career paths and I am excited for what is to come."
---
By Andrew Myers, Division of Undergraduate Studies
Produced by the offices of Information Technology Services, the Provost, Student Affairs, Undergraduate Studies and University Communications.