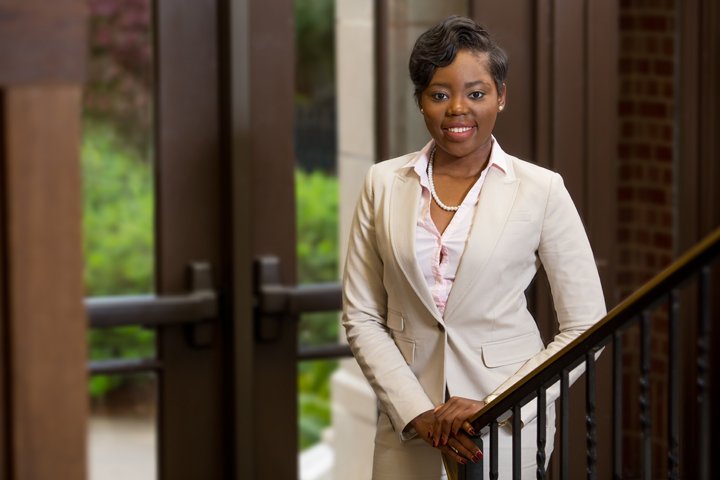 "At these schools we're not just trying to get scores on tests, we're trying to get a child to believe that they're loved."
Some children will grow up believing that college will never be an option for them because of a lack of skills and resources. Florida Sate University student Shaquala Butler hopes to fight that mindset among at-risk populations.
Butler, a senior from Blountstown, Fla., is studying political science and criminology and was recently accepted into the Teach for America program. She committed to teaching for two years at an at-risk Alabama elementary school starting this August.
"Studying criminology made me realize that a lot of things going on with the criminal justice system are embedded in our education system," Butler said. "I felt that my passion fell with kindergarten through third grade kids, because that's when you make it or break it. What you learn at that age determines your future."
As a first-generation college student, Butler hopes to teach children that going to college is possible for them, even if they are the first in their family to go.
"At these schools we're not just trying to get scores on tests, we're trying to get a child to believe that they're loved, and even make sure they've eaten or that they're hydrated," Butler said. "If you instill that confidence in them, the test scores will come."
Butler was further inspired to help future generations through her involvement with CARE, the Center for Academic Retention and Enhancement. CARE gives Florida State's first-generation students the resources and the mentorship needed to navigate such an unfamiliar environment.
"Coming to CARE and seeing such a diverse population was shocking, I was exposed to not only education, but different social and economic statuses," Butler said. "CARE is the root of why I want to do Teach for America."
A little more than a year later Butler would become a CARE ambassador. She contributed to helping more than 350 students adjust to college through things such as regular tutoring and financial workshops. She even lead her own personal team of 13 students through their first year of college, providing them with time management and study skills, but ultimately teaching them that they can be successful students regardless of their backgrounds.
"They'd ask me, 'How do you email a teacher?' or 'How do you go to office hours?' So I teach them how to be students," Butler said. "Everyone is here because they're smart, but not everyone makes it because they don't know how to do it. I'll graduate knowing all my kids are still here in college, and that's my biggest accomplishment."
Butler is also a passionate member of the Alpha Kappa Alpha sorority because of its extensive community outreach service. She has served as its financial secretary and currently serves on its standards committee.
"We do a tutorial lab every Saturday, we tutor all ages of kids for two hours and feed them snacks to reinforce education," Butler said. "Right now we're raising money for the Flint Water Crisis. We pretty much have hands in everything."
After leaving the Teach for America program, Butler hopes to attend law school and continue in the educational sphere by becoming a law professor.
"Education is always going to be in the forefront for me," Butler said.
Knowing about the educational and racial inequalities people still face reminds her she has the power to bring about change, she says.
---
By Mackenzie Raetz, University Communications Intern
Produced by the offices of Information Technology Services, the Provost, Student Affairs, Undergraduate Studies and University Communications.