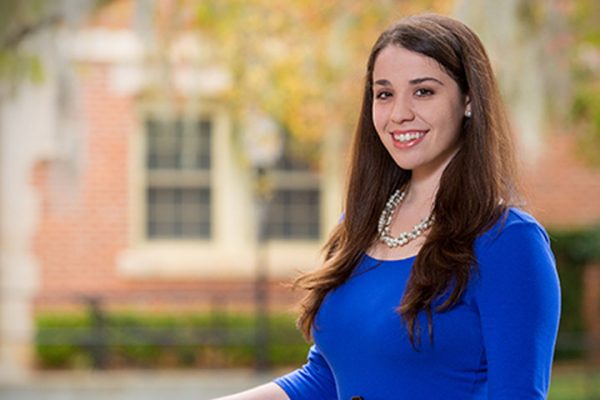 "Her grace and sense of humor add to the picture of a very talented woman who no doubt inspires others."
Stephanie Porven is a writer with a passion for social justice and a story to tell.
A member of the President's List for four consecutive semesters as well as a member of the Phi Eta Sigma Honor Society and the National Society for Collegiate Scholars (NSCS), Porven has maintained outstanding academic scholarship during her time at FSU. But it is her zeal for writing that makes Porven stand out.
A dedicated poet, Porven has worked as a reader for the Kudzu Review — FSU's undergraduate literary magazine. She also has read her own written work at Peace Jam's annual Broken Beautiful Music and Arts Showcase, a fundraiser that helps generate scholarships to send young adults to the national Peace Jam conference. At the conference, participants hear a Nobel laureate's life story and learn about global issues and how to take steps to create sustainable social change in the community.
In April of 2015, Porven achieved what she calls her proudest moment at FSU when she received her first publication credit for her poem, "Little Red," which she has read at Broken Beautifulfor the past two years. The poem was published in the third issue of The Birds We Piled Loosely, an online literary magazine.
"She has invariably demonstrated curiosity, maturity and intellectual transference," said Andrea De Giorgi, assistant professor in the Department of Classics. "She is also an avid reader, a capable researcher — one of those who think that real gems lie hidden in the stacks — and, not least, a very talented writer. Her grace and sense of humor add to the picture of a very talented woman who no doubt inspires others."
Porven also is heavily involved at Florida State and in the Tallahassee community. In her sophomore year, she served as a second-year mentor for the Social Justice Living and Learning Community (SJLLC) on campus, where her job was to engage first-year students in the program to help them identify social issues and their root causes. She organized co-curricular events and local service projects for students to participate in. Through her position in this living-learning community, she also conducted a research project about illiteracy, which resulted in her earning a certification as an adult literacy tutor for Literacy Volunteers of Leon County.
Currently, Porven is serving as a Freshman Interest Group (FIG) leader for the second time.
"One of the most challenging yet rewarding experiences I've partaken in during my time at FSU has been serving as a FIG Leader," Porven said. "It has given me the opportunity to teach freshmen about writing techniques and resources FSU provides that can help undergraduates succeed academically, as well as increase their extracurricular involvement and help them grasp the importance of pursuing their ambitions.
Overall, Porven said that she is looking forward to not only sharing her lesson plans with her students, but also listening to their thoughts on the subject matter that they will be going over together.
"Stephanie is a calm and smiling presence, so you might not necessarily see her as the hard worker she really is," said David Kirby, Robert O. Lawton Distinguished Professor of English at Florida State. "I'm so glad she's teaching poetry to her FIG students. They'll learn from her instruction, but they'll learn more from her work ethic."
After graduation, Porven plans on pursuing her Master of Fine Arts degree in creative writing. Before she begins her graduate studies, she hopes to travel to London to visit places such as the Globe Theatre to watch one of Shakespeare's plays and Kensington Gardens, which had a hand in inspiring author J.M. Barrie to write his world-renowned book, "Peter Pan."
"I could not possibly begin to explain the multitude of ways that Florida State University has impacted me individually on an intellectual, artistic and spiritual level," she said. "However, I believe that in return for all the incredible experiences I've been given by the university, I myself have been able to leave an impact on the FSU community by serving as a genuine source of support for the individuals I've mentored over the years."
---
By Eliani Lorenzo, University Communications Intern
Produced by the offices of Information Technology Services, the Provost, Student Affairs, Undergraduate Studies and University Communications.