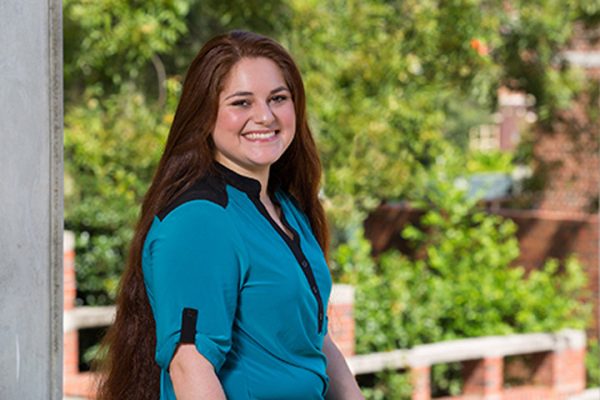 "I felt there was a story there, something that was waiting to be told."
As a young scholar with a love of the arts, Danielle Wirsansky uses her strong ties to her Jewish roots as well as her passion for writing and theater to tell poignant stories — especially those focused on the Holocaust and World War II.
"My interest in the Holocaust stems from my own Jewish and Israeli background," Wirsansky said. "My interest initially stemmed from my grandfather's experience. He served in the Navy and was a part of the invasion of Okinawa and spent much time helping Jewish people in the Shanghai Ghetto."
Wirsansky has written and directed three different plays produced on FSU's campus in 2014: "Mr. Yo Mama," "Blonde" and "Falling in Love is Such an Easy Thing to Do." Her plays are inspired by personal and true stories, but she also likes to bring her love for the absurd into her work. Currently, she is working with George Aigen, an American liberator at Dachau, to tell his wartime experiences through a play.
"Her work is consistently concerned with issues of outreach and informational access, both locally at FSU and internationally through her outside productions," said Sean Bartley, a doctoral candidate in theater studies at FSU.
Though Wirsansky prefers to write plays and works of fiction, she also has a vast background in journalism and currently serves as the FSU editor for Uloop News — an online marketplace and university news site. In her work with Uloop, Wirsansky said that she most enjoys the freedom of getting to write about whatever topic or genre she chooses.
"With Uloop, I can explore writing for the areas I never had the opportunity to in the past," she said. "I particularly love writing about the local Tallahassee arts and culture scene. I do a lot of interviews and try to help artists of all kinds share about their work."
Wirsansky, whose love of writing stems from a passion for reading, chose Florida State after being impressed with both the creative writing and theater programs.
"Since the beginning, I knew exactly what career path I wanted to follow," she said. "As a kid, when we had to draw or write about what we wanted to be when we grew up, I always wanted to be an author."
Wirsansky seeks to do more with her writing, however. Through the Undergraduate Research Opportunity Program (UROP), she served as a research assistant to Nathan Stoltzfus, associate professor of Holocaust studies. Stoltzfus, who became a mentor to Wirsansky, would later sponsor her for the Mentored Research and Creative Endeavors (MRCE) research grant that she was awarded in the summer of 2014, as well as the Undergraduate Research and Creative Activity Award (URCAA) that she received for the summer of 2015.
With her research grants, Wirsansky traveled to France to study the fake city of Paris that was built by the French during World War I to fool the German army and keep the real Paris safe from bombings. Wirsansky first heard about the city while scrolling through Yahoo News in 2011. Finding herself inspired by the story, she did extensive research on the fake city.
"I felt there was a story there, something that was waiting to be told," she said. "However, my area of study is World War II, not World War I, so I wanted to find a way to connect the city to the Second World War."
In the summer of 2014, her first trip to Paris, Wirsansky was able to interview the journalist who discovered the fake Paris in 2011, as well as search through national archives. Upon returning to the United States, she wrote a play based on the mystery behind the city and held a public reading on campus. The following summer, Wirsansky returned to the city and continued her research, which helped her turn her play into a musical. At also prepared her for producing the musical on FSU's campus. The musical is set to debut in the spring of 2016.
"I support Danielle with great enthusiasm," Stoltzfus said. "She has rare capacities and the energy, passion and commitment for outstanding accomplishments."
After graduation, Wirsansky seeks to pursue a Master of Arts in Holocaust studies and a Master of Fine Arts in playwriting.
"This way," she said, "what I learn in my Holocaust studies, I can help teach to audiences through my writing. I would do this by continuing to interview World War II veterans, Holocaust survivors and other people who had experiences during this time period. The importance of first-person accounts cannot be overstated."
---
By Eliani Lorenzo, University Communications Intern
Produced by the offices of Information Technology Services, the Provost, Student Affairs, Undergraduate Studies and University Communications.