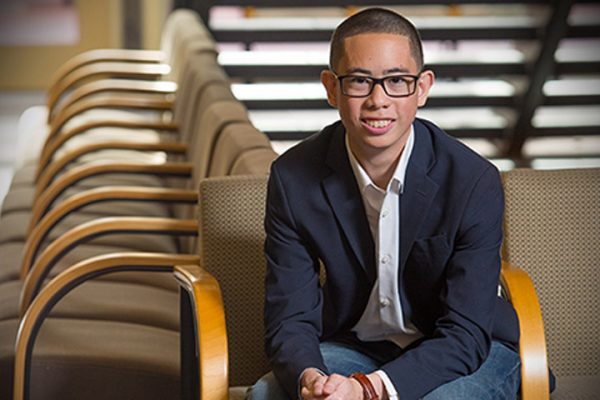 "What I value most about my experience with RENEW is that I have the opportunity to create a culture of feedback and inclusivity that allows RENEW to grow and develop."
James Rujimora, a sociology and psychology student at Florida State University, is on a mission to promote emotional wellness.
From the moment he stepped onto campus, Rujimora had a focus on creating community and enhancing the holistic health of Florida State's students, according to Laura Osteen, director of the Center for Leadership and Social Change.
"He is a focused and bright mind with a kind and compassionate heart," Osteen said.
Rujimora has been working to create a better community, and to invest his time and energy to areas of campus where he could learn and grow.
Since his freshman year at FSU, Rujimora has been an active member in Realizing Everyone's Need for Emotional Wellness (RENEW), holding a position on the executive board since his first spring semester. RENEW, sponsored by the University Counseling Center, is one of the largest psychological peer education groups in the southeastern United States. It specializes in instructional individual sessions, group presentations and outreach.
Rujimora has found meaning in his work with RENEW. He led the effort to rewrite its mission statement, reorganize the membership application process and develop a curriculum for the new member retreat. Through this organization, Rujimora also served as a panelist for the 2013 Jon C. Dalton Institute on College Student Values.
"What I value most about my experience with RENEW is that I have the opportunity to create a culture of feedback and inclusivity that allows RENEW to grow and develop," he said. "My experience in RENEW has allowed me to empower and develop students into value-based leaders."
In addition to his dedicated work in RENEW, Rujimora served two years as a resident assistant (RA) for University Housing.
"As a resident assistant, my purpose was to create an atmosphere where my residents could feel safe, respected and welcome," he said. "Part of my responsibility was to mentor and guide first-year RAs so that they too can create meaningful and lasting bonds with their residents."
As an RA, Rujimora learned to prioritize what really mattered to him. He accepted the responsibility of creating a positive atmosphere in stride.
"By happenstance," he said, "the community developed within RENEW was strongly influenced by the community-building techniques I learned from my role as an RA."
Rujimora's impact doesn't end with his involvement in the FSU community, however. He also is highly involved in Camp Boggy Creek, a camp for children ages 7-16 who have been diagnosed with chronic or life-threatening conditions.
"As a former camper, Boggy Creek was my introduction back to life," Rujimora said. "Serving as a volunteer for these camps bring me a sense of immeasurable satisfaction."
Moreover, with the help of the Social Science Scholars Program, Rujimora embarked on a service trip to Ireland. There, he spent a week working and playing with children at Barretstown's Camp, which provides therapeutic recreation programs for children with serious illnesses. He concluded his time in Ireland by participating in the half marathon portion of the Dublin Mountain Challenge, a 26.1-mile fundraising hike for Barretstown.
"James can be extremely passionate about certain topics and can infuse new knowledge into all that he is involved with," said Robin Searcy, assistant coordinator for Salley Hall. "He holds himself accountable and pushes himself to venture outside of his comfort zone."
But it doesn't end there for this scholar. He also completed a summer internship under the direct supervision of psychologists at the Child Study Center at New York University. He implemented an evidence-based summer treatment program for children with ADD and ADHD.
"James Rujimora is a deserving student who understands the value in upholding the standards of the Florida State University community," said Rodreyous Kelley, assistant dean and director of Student Rights and Responsibilities. "He recognizes that these values must apply not only to the students who go through the conduct process but also to himself and his fellow board members. Since I have known James, he has always been committed to serving others and improving their experiences."
Rujimora, whose interest in psychology and sociology dates back to his middle school days, has big plans for after graduation, including pursuing his master's and doctorate in counseling psychology.
"My focus is on the mental health outcomes of children and their families," he said. "What makes me happiest about my future is that I found an area of research and focus that makes me wake up in the morning and hit the ground running."
---
By Eliani Lorenzo, University Communications Intern
Produced by the offices of Information Technology Services, the Provost, Student Affairs, Undergraduate Studies and University Communications.