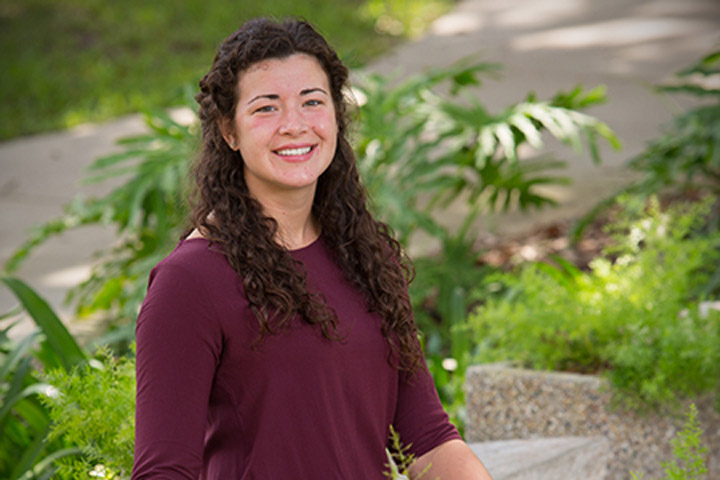 "My achievements have started a fire under my drive for improvement and success, and have given me the initiative to reach for far more than I initially intended to accomplish."
With an impeccable academic record and a knack for research and service, Ashley Ward is making the most of all the opportunities and resources Florida State University has to offer.
Having received the Freshman University Scholarship for academic excellence upon her acceptance to FSU, Ward was inspired to achieve the highest level of performance. Right out of the starting gate, she quickly earned the Top General Chemistry Student Award for general chemistry during her first fall semester. She joined Phi Eta Sigma National Honor Society and the Honors Student Association. In addition, she maintained a perfect 4.0 GPA for three consecutive semesters.
Yet, Ward is not only noteworthy for her academics — she has also done plenty of research as a member of the Undergraduate Research Opportunity Program (UROP). Through UROP, she has conducted research in chromatin biology. Ward was granted an Undergraduate Research and Creative Activity Award (URCAA) for her research project proposal on the live imaging of BAF53a, a chromatin-remodeling protein complex.
"My achievements have started a fire under my drive for improvement and success, and have given me the initiative to reach for far more than I initially intended to accomplish," Ward said.
Inspired by her UROP leaders, Ward became interested in becoming a leader. She was chosen to serve in the program in 2015.
"I cannot express how excited I am to facilitate undergraduate research engagement here at FSU," she said. "I have come to realize that guiding people, whether through teaching or mentoring, is something I am truly passionate about. It is something I want to pursue for the remainder of my career as a student and beyond."
Ward is mentoring students as a teaching assistant in biology over the 2015-2016 academic year. She most looks forward to using her teaching and mentoring positions to be a guiding force and set an example for her peers.
Aside from mentoring, Ward is highly active in the FSU chapter of Medicine, Education and Development to Low Income Families Everywhere (MEDLIFE). Most recently, she had the opportunity to travel to Lima, Peru, on a volunteer mission trip, where she and her group of volunteers set out to deliver basic necessities to the impoverished communities in the area.
"Global health is very important to me," she said, "and I find it extremely rewarding to be able to give back. Visiting Lima was a life changing experience that gave me the chance to help those in need and an understanding of the gap in health, resources and education between developed and underdeveloped areas of the world."
Ward continues to work closely with her network of undergraduates, professors and other faculty members to understand the mechanisms and relationships between chromatin-remodeling protein complexes. Further, she recently presented her research at the university's Undergraduate Research Symposium.
"Ashley is one of the most deserving students I have worked with in the 10 years I have been at FSU," said Mark Kearley, honors lecturer in the Department of Chemistry and Biochemistry. "Not only is she extremely intelligent, she has a level of scientific curiosity that rivals most mid-level graduate students. She asks thought-provoking questions that illustrate her mastery of the material and makes connections that most students are unable to comprehend."
After graduation, Ward plans on pursuing her doctorate in molecular biology.
"My dream would be to travel the world," she said, "collaborating with an international network of scientists while also volunteering my time to help others in need by constructing basic facilities such as bathrooms and classrooms."
Her ultimate goal, however, is to contribute as much as she can to the scientific community while continuing to learn about the fascinating realm of biology.
"I am inspired by how little I actually know about certain things," Ward said.
---
By Eliani Lorenzo, University Communications Intern
Produced by the offices of Information Technology Services, the Provost, Student Affairs, Undergraduate Studies and University Communications.