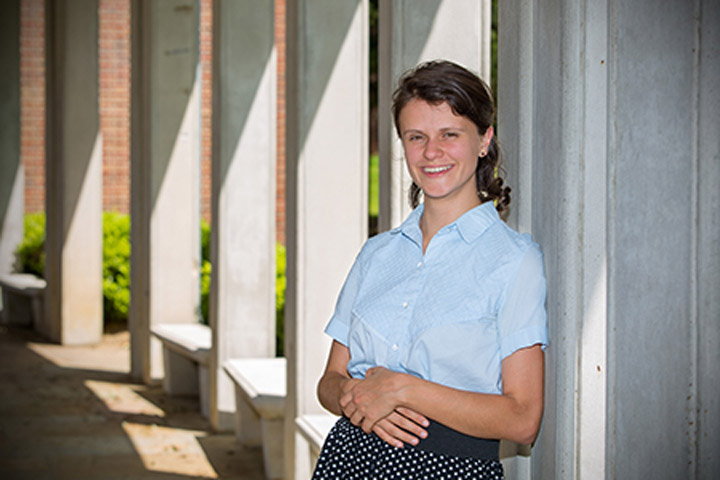 "You don't have to be a professional musician to make really good music. Regardless of your class you should be able to participate in cultural activities, you should be able to go to the opera, you should be able to do whatever you want."
Described by her professors as a remarkable young scholar who models integrity and shows great initiative, Sylvia Aycock is a Florida State University student with a mission to tear down cultural and socioeconomic barriers through music education.
She started singing at the age of 11 with the Girl Choir of South Florida, where her feminist choir director — an FSU alumna — had the students sing songs written by female composers. It was then that Aycock decided to become a music teacher.
During her sophomore year at Florida State, Aycock began conducting research under the direction of College of Music Professor Bill Peterson. That year, she assisted him with his jazz piano textbook and learned about creative research methodology. After taking an honor's seminar in music and international human rights, Aycock applied for a Mentored Research and Creative Endeavors Award (MRCE), which she won. With her grant, Aycock travelled to Brazil to study gender and music education.
As a woman of Brazilian heritage, Aycock jumped on the opportunity to visit Brazil. To supplement her research, she attended the world conference of the International Society for Music Education. It was here that she was introduced to the Guri Santa Marcelina, an organization that provides music lessons as well as social services to the youth of Sao Paulo, Brazil.
"When a kid comes here looking for music lessons, they don't say, 'Oh you're just here looking for music lessons,'" Aycock said. "They treat the whole student. If the student needs a psychologist or help finding a job, there is a social worker on staff to help them get that."
The organization currently has 46 locations in Sao Paulo, and it provides a network of referrals for youth in need of any kind of assistance. In the summer of 2014, Aycock won an Undergraduate Research and Creative Activity Award (URCAA) to return to Brazil to conduct research to learn more about the theoretical and practical aspects of the organization's work. Over the 2015-2016 academic year, she will continue her research in an honor's thesis on the same topic.
"Something really, really special happens when people sing together," Aycock said. "It's kind of (like) all your people differences, all your social differences that you might have stop existing for a while … everybody sings and everybody can sing and every time we meet together … every single person matters just as much."
Aycock has also travelled to Peru through the Global Scholars Program at Florida State. In Peru, she led weekly music classes and had the opportunity to collaborate with local musicians. Upon returning from Peru, Aycock was left with the question of how to teach music classes as a part of social justice.
"You don't have to be a professional musician to make really good music," she said. "Regardless of your class you should be able to participate in cultural activities, you should be able to go to the opera, you should be able to do whatever you want."
Locally, Aycock volunteers at for the Practical Academic and Cultural Education (PACE) Center for Girls as a choir teacher. She, along with two teachers at the center, started the choir and began rehearsals in 2014. Under her tutelage, her girls have performed three shows.
"Aside from her wonderfully personable teaching style and passion for music, she has demonstrated a love for our girls and a great dedication to understanding their lives, behaviors, goals and dreams," said Rochelle Cornwall, a counselor at the PACE Center.
On campus, Aycock is highly regarded by her professors for her academic achievement as well as her passion for the craft.
"Sylvia Aycock is a wonderful student and human being," said William Fredrickson, associate dean and professor of music education in the College of Music. "Her musical talents and interest in becoming a teacher are only two aspects of this multi-faceted individual. (She) has much to offer her future students."
After graduation, Aycock hopes to become a music teacher in the state of Florida, or perhaps continue her research in Brazil by applying for a Fulbright Award.
"Someday," Aycock said, "I hope to start my own community music organization where I can ensure more people have access to a creative arts education, through which they can learn to express themselves and communicate through music."
---
By Eliani Lorenzo, University Communications Intern
Produced by the offices of Information Technology Services, the Provost, Student Affairs, Undergraduate Studies and University Communications.