---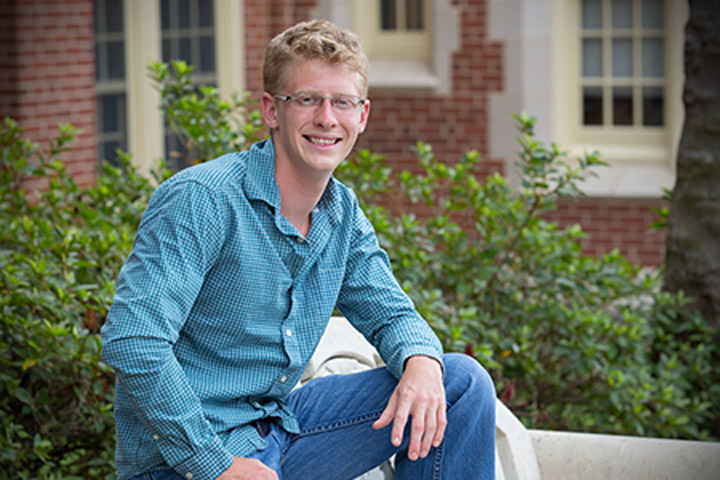 "My interest in chemistry stems from a desire to understand the molecular world around us. I am interested in how we can learn about the physical processes around us by understanding the properties of various molecules."
Chemistry-savvy altruist plans on making his mark in the nonprofit world
Major: Biochemistry
Graduation: Fall 2016
---
Joseph Accardo, a chemistry-savvy, southwest Florida native with an altruistic heart is leaving his mark on Florida State University's campus with his research and service, and he has vast plans to continue achieving success.
"My interest in chemistry stems from a desire to understand the molecular world around us," Accardo said. "I am interested in how we can learn about the physical processes around us by understanding the properties of various molecules."
Accardo, whose chemistry research involves using organic molecules to gain insight into biochemical mechanisms, has done extensive research under Johanna Paik, assistant professor in the College of Medicine. Together, they studied chromatin metabolism.
In addition, Accardo received a 2015 Undergraduate Research and Creative Activity Award (URCAA) studying organic dyes under the supervision of Lei Zhu, associate professor of chemistry. Accardo has continued his research in the Zhu laboratory, synthesizing a proposed fluorescent molecule.
Described as personable and studious by his professors, Accardo's influence at Florida State does not end with his research — he's also an altruist. Volunteering with the Advocates for World Health (AWH), Accardo collects excess medical products and supplies to redistribute to developing nations around the world. He also has served on the organization's executive board for two years.
"As about two billion pounds of medical supplies are generated each year, I found Advocates for World Health to be an extremely effective way of moving extra waste from landfills and (using it) in a meaningful manner," he said.
Nonprofits with broad, far-reaching missions are of special interest to Accardo. In the case of Advocates for World Health, he likes that the redistribution of medical supplies provides aid to communities in need and diminishes waste in landfills.
A recipient of the Knight Foundation Scholarship, Accardo has used scholarship funds to grow the nonprofit, which reaches far past the Florida State community to work with the Big Bend Homeless Coalition.
"I believe my biggest accomplishment through Advocates for World Health, with the help of my dedicated teammates, was to establish fruitful connections between our organization and medical centers. This allowed us to have constant sources of recollected medical supplies."
Replete with academic honors, including making both the Dean's and President's lists, Accardo plans on furthering his education after graduation from Florida State. He hopes to pursue a doctorate in chemistry. For now, he sees his career taking him into academia or the nonprofit world, and he one day hopes to be an educator in one of these fields.
"I love what I do," he said. "Without the amazing faculty at Florida State University, my mentors, friends and family, I would not have been able to find what truly motivates me and gets me excited in the morning!"
---
By Eliani Lorenzo, University Communications Intern
Produced by the offices of Information Technology Services, the Provost, Student Affairs, Undergraduate Studies and University Communications.